Emily Raboteau: Finding Strength in a Fictional Misfit
Raboteau joins Lidia Yuknavitch, Marcy Dermansky and More for the Next Red Ink Event
In the next installment of the Red Ink Series, host and founder Michele Filgate will lead a conversation with Emily Raboteau, Lidia Yuknavitch, Marcy Dermansky, Sarah Gerard, and Melissa Febos on the subject of "The Misfit," sponsored by Archer Roose wines. In anticipation of the event Filgate asked panelists to talk about their favorite literary misfit.
Emily Raboteau: Of all the great literary misfits that come immediately to mind—Boo Radley, Miss Havisham, The Invisible Man, The Underground Man, Harriet the Spy, Jane Eyre, Raskolnikov, Holden Caulfield, Benjy Comson, Don Quixote—my personal favorite is the lesser known protagonist from Bessie Head's mind-bending autobiographical novel, The Question of Power. Her name is Elizabeth and she's "insane."
The Question of Power was originally published in 1974 as part of Heinemann's innovative African Writers Series. I first read the book in the fall of 2001 as a graduate student at New York University in a kind of fever-dream shortly after 9/11 while the air was still redolent of burnt electrical wire and human flesh. I mention this because when we encounter a book affects its imprint upon us at least as much as does its content.
I was 23 when the book was assigned me. It was then, as now, a time of uncertainty, nationalism, double-speak, fragmentation, flag-waving, xenophobia, division, and fear. Emerging from the subway one night that semester, a man lobbed a bottle at my head and told me to go home. I guessed it was because of my racial ambiguity that he had mistaken me for an Arab. Even as I bled, I knew that others had it far worse. Yet throughout my life as a person of mixed race I had been told in micro-aggressive and outright aggressive ways that I didn't belong here, and now I felt convinced I didn't wish to belong. I was ashamed to be an American citizen because Americans acted deplorably. We started wars we had no business starting, our leader was a despot, we were ignorant about the larger world's justifiable dislike of us, and our story about ourselves as a freedom-sharing harbor was a lie. That we remained fiercely divided along tribal lines pained me because my body was supposed to represent the opposite. My impulse was to get the hell out of dodge. I found in The Question of Power a reflection of our national psychosis, and in Elizabeth, my own ambition to discover something undivided within myself.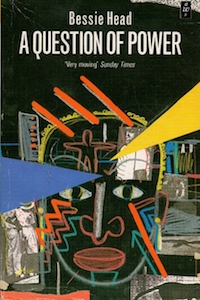 The book's jacket, which looks like something cooked up in a bent spoon and intravenously transferred to canvas by Jean Michel Basquiat, mesmerized me. So did the trippy prose. Allegedly, Bessie Head wrote this, her third novel, under severe mental strain while recovering from a psychotic breakdown. The plot tracks Elizabeth's struggle to emerge from an oppressive society, and from the nightly hallucinations that torment her. Elizabeth (like her author) is biracial, or "colored" according to the racial caste system of South African apartheid. It's evident that she's internalized the madness of colonialism like a disease. Her condition felt immediately familiar to me, but also radically different. She seemed a far more nuanced character than the archetypal tragic mulatto characters central to the 19th and early 20th century American novels Passing, Showboat, Uncle Tom's Cabin, Pudd'nhead Wilson, The Autobiography of an Ex-Colored Man, The House Behind the Cedars, and Imitation of Life, who usually traded black solidarity for white privilege at the cost of conscience. Although Elizabeth is alienated for being neither black nor white, A Question of Power is more preoccupied with critiquing systems of racial oppression than with pitying or glamorizing her misfit condition. Head understood that in writing about her crackup, she was laying bare the crackup of her nation.
Early on in the book we're told how a cruel mission school principal revealed Elizabeth's origins: "Your mother was insane. If you're not careful you'll get insane just like your mother. Your mother was a white woman. They had to lock her up, as she was having a child by the stable boy who was a native." Elizabeth, like Bessie Head, was conceived in an out-of-wedlock union between a black man and a white woman of social standing—a union outlawed in South Africa, her country of birth. It is never clear to Elizabeth whether this revelation influences the onset of her own mental illness, but it is clear that the cultural psychosis of her country makes her sick. Having left a domineering husband, she flees South Africa with her small son and is living as an exile in the rural village of Motabeng, "the place of sand," in neighboring Botswana where people look at her with suspicion as an outsider. There, Elizabeth loses her job as a schoolteacher soon after exhibiting odd behavior, and devotes herself instead to a community gardening project. The villagers dislike her intellectualism and her skin color, which is light like the despised local tribe of "bushmen." By day, she gardens, and by night, she's tormented by terrifying dreams. Straddling two races and two countries without belonging to either, Elizabeth's fragmented vision and social isolation cause her to see a parade of characters that aren't really there, but who are real to her and (since the novel's point of view is an almost suffocatingly close third person) to us.
Part of the novel's unusual power derives from the fact that, as readers, we're fully immersed in Elizabeth's delusions. Head offers no solace, commentary, or guidance with the difficult plot. It is as if, in the process of writing, she herself couldn't distinguish which characters were real, but also as if, in the process of writing, she delivered herself from that confusion. This was a lesson to me, as an emerging writer—not merely that writing fiction could be therapeutic but that it could put external chaos into relief. Head attends Elizabeth's deconstruction of self from the inside. Eventually we witness Elizabeth emerge from that turmoil through her sense of obligation to her child, her friendship with an American Peace Corps worker who is her intellectual equal, and her commitment to the act of communal farming she sees as prerequisite for economic independence from colonial rule.
A few months after I read the book, I was invited to an artists' colony in Brazil in order to finish writing my first novel. I felt enormously relieved and grateful for the opportunity to evacuate the US. After my residency ended I lingered on, swimming daily in the ocean, learning Portuguese, playing capoeira, studying Candomble, and having sex, unwilling to return. During that time, which seems to me now like a dream, I befriended a rakish old man named Serge who ran a pousada on the island of Itaparica off the coast of Salvador do Bahia. He liked to cook me delicious pizzas, a type of food impossible to find elsewhere. He was French, and fat, and had lived there for decades as an expatriate, having sailed across the ocean and fallen in love with the place. One of his eyes was missing. It was because he'd been attacked during a robbery perpetrated by a group of boys who climbed over the wall outside Serge's pousada, which was now studded with jagged pieces of colored broken glass that seemed less protective than decorative. He described the ordeal of holding his eyeball in his hand as he waited for the slow ferry to deliver him to the hospital on the mainland. He said his experience of time was divided by that moment, like BC from AD.
The moment of losing the eye? I asked.
No, he said. The moment of insight gained when he was struck so hard in the head that the eye popped out of his skull.
Serge recognized the boy who'd struck him, and had forgiven him for it. Quite suddenly, as if someone turned on a light, he understood the desperation that made his attacker climb the wall, and relatedly, his own obligations to the community as a person of privilege. He saw an opportunity for civic engagement rather than estrangement or dilettantish retreat. After that, he began to know and care for his neighbors. The boy was a grownup fisherman now, and they had become good friends. One morning, Serge pointed him out to me, untangling his net on the sandy beach. He called the man over to purchase some of the day's catch. The two of them embraced like few straight men in America ever do, but should. There was another lesson for me in that conciliatory embrace.
Eventually, I ran out of money and returned home to find a job. By the time I flew back, they'd reopened the airways over Manhattan. The plane's altitude was low enough to make visible the island's individual buildings and dense grid of streets but high enough to show the corona of bridges spiking from its edges. I remember touching the window with a sense of rapprochement when we crossed over the green oasis of Central Park. I may not have been ready to forgive my country for failing to live up to its ideals, but I was prepared to struggle. I guess that's another way of saying I was willing to bear witness from within its borders. The book that I finished writing in Brazil takes its epigraph from The Question of Power. "As she fell asleep she placed one soft hand over her land. It was a gesture of belonging." I am still trying to evince it.
Marcy Dermansky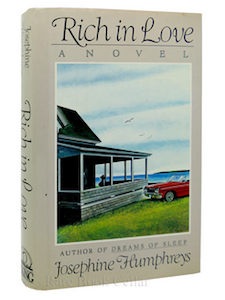 My favorite fictional misfit in fiction is Lucille Odom, the 17-year-old protagonist of Josephine Humphreys' Rich in Love, a novel first published in 1987 that I have read over and over and again.
I just loved Lucille.
Because she rode her bicycle to Wando High when everyone else was driving cars. With a helmet. Because she once shoplifted a lipstick because she couldn't bear to go through normal channels. Because she simply stopped going to school, didn't take her exams while her family was in the midst of a family crisis, and decided high school didn't matter. Because she always said what she thought.
Because she slept with her sister's husband, even though she knew it is wrong, because she wanted to. Or had to. Somehow, Lucille didn't even know that it was wrong at the time—she was so incredibly happy to be in love. To be recognized for who she was.
Lucille was also smarter than everyone else and didn't know it. She was pretty, too, and somehow, didn't know this either. She didn't bother herself with vanity or self-doubt. She just kept on moving forward, making mistakes big and small as she went. Lucille was everything I wanted to be when I was a teenager and wasn't, when I didn't fit in, when I when home for lunch every day instead of sitting with everyone else in the school cafeteria. When I somehow never fit in. Unlike Lucille, I always wanted to.
Lidia Yuknavitch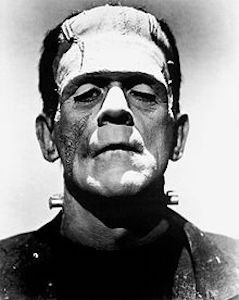 My favorite fictional misfit is hard to narrow down because the great thing about literature is that it's a heartland for misfits! Ha… but AMONG my favorites are Frankenstein, Pecola Breadlove (The Bluest Eye), Tayo (Ceremony), Abhor (Empire of the Senseless), Pew (Lighthousekeeping) and Caliban (The Tempest). What all of them have in common is a liminal and nomadic existence—a placelessness that forges their identities. They're like free-floating signifiers across a sea of cultural inscriptions. And they are hated or outcast to varying degrees, and yet it is from that outsider position that they gain insight into a culture that would destroy them.
---