Emily Flitter on What She Learned From a Source's Silence
"The book itself didn't matter. The act of listening to the stories I was hearing and responding with care and concern did."
It is a rare thing when a reporter learns something from a source's silence. I met "A" while researching my book The White Wall: How Big Finance Bankrupts Black America. We'd spent an intense period on the phone going over her experiences as a Black woman working on Wall Street, and the details were settled: She'd be in my book, identified only by her middle name, but I'd ID her fully to her former employer—a large bank—just to make sure her story checked out.
It was not a happy tale. She'd been young and brilliant, with an engineering degree from an Ivy League school, when the bank recruited her to a prestigious division, the only Black woman on a team of white male junior bankers overseen by a white man. Before too long, she began to notice that she was not getting the chance to do the same things her teammates were doing.
While they were attending pitch meetings with new potential clients, she was in charge of maintaining flower arrangements. While they were cooking up new investment strategies, she was stapling together informational booklets. When she asked her boss why she wasn't getting any meaty assignments, he told her that she—the engineer among English majors—was "not technical enough."
She seemed to think that simply not telling me her middle name would freeze me in my tracks.
"A"'s story was remarkable because of what happened next: She complained to the bank's human resources department and officials eventually determined that she was right. She was being treated differently from the rest of her teammates. Her boss was told to knock it off, to let her in on meetings and assign her to meaty projects.
This was rare. Usually the stories I heard about racial discrimination at big Wall Street firms ended with the firm declaring that there was "no evidence" of discrimination or unfair treatment. I had spent months untangling what the phrase "no evidence" really meant, and had realized that it was not a finding about whether bad things had happened but a pronouncement that those bad things could not be proved and therefore did not matter.
"A" was on a short medical leave and was at home with her family when she got the call from a human resources representative saying that an investigation had found that she had been the victim of racial bias. The HR rep told her that when she returned to work things would be different.
When "A" got back, she found her boss willing to give her better assignments. Her coworkers, too, acted warmer toward her and suddenly wanted to collaborate.
But it wasn't enough. She soon left the bank. She wasn't fired, she just needed a transfer to another city that nobody was willing to give her. She works in an entirely different industry now.
It was as "A" and I were wrapping up our interview that I'd asked how she wanted to be identified in the book and she'd asked to go by her middle name. "Ok," I said, "What is it?"
"I'll email it to you," she said.
Months passed, and no email. I began to worry that "A" had decided she didn't want me to use her story after all. She seemed to think that simply not telling me her middle name would freeze me in my tracks.
I texted her a couple of times: "Hi! How's it going? Want to catch up on the phone soon? Hope all is well!"
No response.
I decided to move on with my reporting process. I had permission to use her full name to check out her story with representatives of the bank and make sure it was accurate. When I did, the bank confirmed everything: that "A" had complained; that the investigation had upheld her complaint; that her boss had been told to treat her differently going forward.
Independent confirmation that there's a reason for your bad feelings, that you're not getting what you need, rarely ever comes.
But "A" was still not responding to me. I decided to try to figure out on my own what her middle name was. I did some Googling, looked through public records, then composed a note to her.
"I hope you remember me," I wrote to "A." "You shared your story with me and agreed to let me use it in my book identifying you by your middle name. I know your middle initial is A., but you never did email me and let me know what it stands for."
Here I offered my best guess. I went on to tell her that I'd asked the bank about her story.
"They basically confirmed everything," I said, "except (you may or may not be surprised to hear this) they never put in writing that the HR investigation found evidence of racial discrimination. In their files, they only had that the investigation found that you were being treated unfairly and that conditions on your team would have to be altered."
I added that the bank did not deny the idea that someone had called "A" and said over the phone that they believed she had indeed been a victim of racial bias.
"Thank you for sharing your story with me. Yours is the only one I could find in years of research where an HR investigation confirmed the existence of bias on the level at which your team was operating. It's vital to my book, and I think it's going to make a big impact on how these cases are handled by large corporations in the future. You have done an amazing service."
I hit "Send" with my fingers crossed, but I did not really expect to hear back from "A." I told myself it was time to let the story go.
Then she called.
She was crying. She told me that after we'd spoken, she'd started to panic, to worry that her story wasn't real.
"I couldn't believe that everything I'd described could have come to pass with so little acknowledgement of what I'd been through," she said. "They told me that my boss and my team would treat me better, but nobody apologized. Nobody really admitted to what they had done. When I went back to work everyone pretended like the investigation had never happened."
I knew exactly what she meant. I had spent a lot of time—with the help of a therapist—learning about how easy it is to stumble through truly awful experiences wondering whether anything that is happening is wrong enough or bad enough to matter.
Some of the conversations with my shrink had been about a boyfriend I'd lived with who had made two of my friends cry. He'd smashed up one of our dining room chairs by slamming it repeatedly against the floor while I cowered under a coffee table. He'd punched a hole in the wall, torn a print we bought together out of its frame and shredded it. He'd pulled my dress up above my waist in a grocery store. We'd been kicked out of an apartment we were renting because the neighbors couldn't stand the screaming and door-slamming. Near the end of our relationship, when I'd offered to return some earrings he'd just given me, he'd swiped the little jewelry box from my hand and tossed it out the bedroom window, saying:
"You'll either be the bitch that took them or the bitch that left them behind."
In retrospect, it feels ridiculous that I ever wondered if things were really "that bad." But while I was living it, it was just life, and I felt guilty over whatever I must have done to make him so mad.
Understanding how alone we are during our most difficult experiences doesn't make them any easier to bear, but having those experiences recognized and validated does.
My therapist had explained to me that I'd been acting like an elite athlete unwilling to stop pushing myself until my body completely broke down, believing that giving up any sooner would be a sign of weakness. Like a professional urged by coaches and team owners to play through injuries, I could not expect other people to show me mercy, the therapist said. I had to learn how to be merciful to myself.
"It's OK for you to say to yourself and to the world: This hurts, this is bad, and I don't want to put up with this any longer."
My therapist's message applied to "A" as well. Independent confirmation that there's a reason for your bad feelings, that you're not getting what you need, rarely ever comes. "A" had felt terrible, but when she looked around, she couldn't see in the behavior of her peers any signs that that terrible feeling was being acknowledged.
So that's what I told her. "It happened," I said. "It hurt, and it was real. No matter what happens after this, let me be a person who tells you that what you went through was bad and wrong and not okay."
By this point, we were both sniffling. I'd been worrying, as every author does, about whether I could actually accomplish my aims for the book. But as "A" and I spoke, that worry faded. I felt—briefly at least—that the book itself didn't matter. The act of listening to the stories I was hearing and responding with care and concern did. Understanding how alone we are during our most difficult experiences doesn't make them any easier to bear, but having those experiences recognized and validated does. I was glad I could do it for "A" as my therapist had done it for me. (And especially glad, as the abundance of horror stories I ended up collecting for my book meant that "A"'s did not make it into the final version)
As we were saying goodbye, "A" told me her middle name.
_____________________________________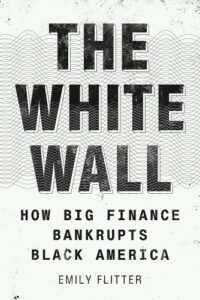 The White Wall: How Big Finance Bankrupts Black America by Emily Flitter is available from Atria/One Signal Publishers, a division of Simon & Schuster.
---