Emerging from the Ruins of An American Dynasty
How Frances Stroh Survived the Downfall of the Family Beer Empire
I stood in the center of a white room, darkened and soundproofed, with six videos playing on screens surrounding me, each one featuring an enormous talking mouth. I was trying to see the installation as others saw it. Visitors to the exhibition took in the cacophony of voices—a family of six telling the family story from disparate points of view.
As I stepped closer to each screen, I could single out its distinctive voice.
"There were years and years during which our family lived in denial of who and what we really were," said one young man.
"I'm sure there are families with problems similar to our own," offered another, "somewhere out there …"
"My life has not unfolded as I thought it would," the mother said. "I lived in a dream when I was young."
"Happiness is not something you turn on and off like running water." The father smiled and puffed on his pipe. "Life doesn't work that way."
Over and over again, I had listened to these pronouncements in a cramped, dark editing room. I was a twenty-six-year-old installation artist whose work had been selected for this group exhibition at San Francisco Camerawork Gallery, The Family Seen. The ruined family projected on the screens was my own.
The people around me gazed at the talking mouths as if hypnotized, unaware that one member of this family stood in their midst. No one knew they were watching me reflect on my own father's alcoholism or my brother's drug addiction. Nor could they know we were part of a multigenerational corporate legacy whose products were all-American household names. But, then, we'd all been groomed since birth to never discuss this, least of all in front of a camera.
When my brother Charlie said, "Let's hope the family business picks up so I can take early retirement along with everyone else," viewers might have assumed he was a hardworking employee at, say, a faltering hardware store, not a brewery heir turned convicted drug dealer.
When my own mouth on the screen spoke—"I always felt I was somehow special because I was my father's favorite"—I alone knew that my father had abandoned his dream to be a career photographer in order to join the family business, then rejoiced when I myself took up photography. I also knew this video piece could not have been what he had in mind when he gave me my first Nikon at age sixteen.
It was revenue from Stroh's Beer, Old Milwaukee, Schlitz, and Schaefer that paid for things like that fancy camera. My family had been brewing beer in Detroit since long before the invention of the assembly line and the Model T. We'd survived Prohibition by selling ice cream and malt syrup for home brewing, and then entered the mid-twentieth century with a beer brand emblematic of the American dream itself—Stroh's. Our products came to symbolize at once the American working class and, by way of college kids who drank Schlitz at Nantucket beach parties and served Stroh's on draft at their campus fraternities, the carefree youth of the seventies and the eighties. By the mid–1980s, taglines like "Stroh's Is Spoken Here" and Old Milwaukee's "It Doesn't Get Any Better Than This" were as recognizable as Budweiser's "The King of Beers." But within a handful of years a century-and-a-half-old brewing tradition would be verging on extinction, Stroh's Beer vanishing from the national landscape.
Our family business blazed the trail of economic decline in America. By the late eighties our beer sales were faltering even as our personal tragedies had begun to mount: my brother Charlie's drug conviction, my parents' divorce. By 1993, the time was ripe for my video piece; my immediate family members all agreed to the interviews, the floodgates opened, and the story of a real American family flowed forth.
It had filled with people now, the small installation room. They stood in tight clusters, the ambient light of the screens flickering off their faces. The scent of gallery red wine floated in the air. No one seemed to notice my absorption in the content of the interviews.
I stepped closer to Charlie's screen. "As a kid I used to lie to Dad, and he used to whip me. But the only reason I lied to him was because I was intimidated by him."
I moved toward my brother Bobby's screen. "My father is a very talented, very artistic person, and I think it's a shame he hasn't done more with himself." He frowned through his mustache. "When he's dead and gone I wish there would be more he could leave behind, like gallery shows or what-have-you."
I walked over to my brother Whitney's screen. "Dad is an overbearing, controlling son of a bitch. I've tried to get along with him but he's always a prick to me, so fuck him."
The crowd bristled with tension.
"It's so cathartic," one viewer said to her companion in a hushed voice.
"If you like your catharsis with a side of explosives," he whispered back.
We'd each said things to the camera that we wouldn't want the others to overhear. Now our voices rang out in a nexus of crossed indictment. To anyone else, the effect might have been "cathartic" and "explosive"—but not to me. After all, I had lived it. And our downward spiral unfortunately had a long way to go yet.
Many years would pass before I would come to see that the Stroh's Beer story, my family's story, and the story of the once great city of Detroit were all intertwined, our destinies and histories so enmeshed that in their final days the brewery, the family, and Detroit all tumbled together, a long-eroded cliff falling whole into that inland sea.
New York City, 1973
The shopkeepers of my youth were eager men and women who would turn up the lights and smile extravagantly when my father and I walked though their doors.
"Hello, Mr. Stroh" echoed through the dusty chambers of Madison Avenue antique stores, Broadway camera dealers, the elite pipe shops of London. My father always addressed the shop owners by their first names, as if they were old friends, while they led us toward elegantly appointed back rooms. Armored doors opened into velvety interiors with the most prized discoveries of the season: a pair of nineteenth-century celestial and terrestrial globes; an engraved gold-and-silver-plated antique firearm set. My father handled the items with confidence and familiarity, a cigarette hanging off the corner of his lip, the muted excitement in the room making my breath uneven.
I remember one of our trips to Madison Avenue, when I was six. My father and I stood in the back of the shop inspecting a pair of ivory-inlaid revolvers. The dust in the room spun around in a beam of light from the window. The shop owner broke the silence with chatter, perhaps trying to ease any guilt he imagined my father might feel at spending such excessive sums.
My father interrupted him. "Are the holsters original? I bought fakes in Chicago once."
"Those are double loop Western holsters, Mr. Stroh, by A. M. Nash. A hundred percent antique."
My father ran his thumb over the embossed leather, scratching the finish with his thumbnail. "Patina's good," he said.
The shop owner nodded. "You won't find a better set." His few strands of hair, combed over an expanse of receding hairline, had been carefully gelled into place. He walked over to a dusty shelf of books and pulled out a volume. "Oh, and I meant to call you about this Dickens series, Mr. Stroh." He opened the gold-embossed leather-bound book. "It's a first-edition collection of the totality of Dickens's novels, circa 1880. Twenty-nine in all."
My father put the holsters down on a table and took up the volume. "A Christmas Carol!" he said, smiling over at me.
I leaned against a silk-upholstered divan and dug my hands deeper into the pockets of my Sunday overcoat, a vague feeling of dread constricting my throat. We had watched A Christmas Carol three Christmases in a row in the library, our tree sparkling in the corner of the living room, glasses of eggnog sitting on coasters next to us. I watched the movie only to please my father. The truth was, I always had terrible nightmares afterward, my sleep haunted by the three ghosts.
As he looked through the volumes, my father's face succumbed to that expression I'd seen so often on these shopping trips, the sort of glow I'd seen on worshippers' faces at Christ Church as they sang from the hymnbooks, and I knew my father would buy the Dickens set no matter the cost, putting him in a good mood for at least a few hours or, if I was lucky, the entire day.
Afterward, my father and I walked over to Park Avenue in the brisk April wind to have lunch at the Regency Hotel, my father's English leather shoes grinding the pavement as I struggled to keep up with him. He took my hand and led me across the street against a throng of rushing people. My father pointed up at one of the tall buildings. "That one there?" he told me. "It's the most expensive apartment building in the world."
The limestone building rose up toward the sky, as if primed to launch, with perhaps a thousand windows. Power surged from its interior, as if the game of the world—a monstrous game of Monopoly always under way—were being played day and night by its inhabitants. The air around us seemed to crackle with excitement, and I felt at once proud that my father knew such things and disappointed to be only passing by. I wished we could go inside the building's walls of polished stone, ride the elevator to the top floor as we had at the Empire State Building, and look out on the world.
"Maybe you'll even live there someday," said my father, sensing my fascination.
I felt thrilled. And doubtful. Though my father constantly bought expensive things, my mother often worried that we couldn't afford them. "Really?" I asked tentatively. "I could live there?"
"Sure." My father smiled. "You can do anything you want. All it takes is money."
I could feel the solid warmth of my father's hand as he led me along the sidewalk to lunch; his happy mood seemed to promise me the world.
We walked through the marble-floored lobby of the Regency Hotel into the dining room and were seated and given menus. Plates traveled past us to other tables in the hands of black-tied waiters. My stomach knotted with hunger. The menu looked like the one at our country club—lamb chops, filet mignon, whitefish. My father glanced around for the waiter.
"I'll have a hamburger, extra well done, please," he said when the waiter arrived. The waiter raised an eyebrow. "That's right, cook it like a hockey puck."
My father turned to me. "My daughter would like a hot dog, French fries, and a Coke." With the exception of the Coca Cola, the items he ordered were not on the menu.
The waiter came by with a tray of rolls and placed one on each of our plates with a set of silver tongs. Perfect balls of butter sat atop crushed ice in a silver bowl.
"How about we swing by Schwarz after lunch?" my father asked me. He took a roll and slathered it with butter. "Then we'll have tea at the Plaza." His light-blue eyes fixed on mine, and I felt a rush of excitement. He'd remembered.
We'd been to FAO Schwarz—my favorite destination—a few times before. Just down from the Plaza Hotel, the toy-store windows sparkled with elaborate displays, beckoning to every child passing by. One year an entire kingdom of Madame Alexander dolls inhabited castles and locked towers, fought dragons and rescued princesses. "Okay," I said shyly, not wanting to show my father how much I'd hoped he would suggest it.
My father took a second roll, this time from my plate, and smiled at me. Whenever he was happy, I felt I was at the center of a benevolent universe.
* * * *
Having thrived in Detroit for five generations, my father's clan was infamous for spending money nearly as quickly as they made it, my father's generation in particular.
My great-great-grandfather, Bernhard Stroh, had come over from Kirn, Germany, in 1848 with a family recipe. In 1850 he established the Lion Brewing Company in Detroit because the local water tasted so good. Bernhard made a Bohemian-style brew in his basement and sold the barrels door-to-door out of a wheelbarrow, saving every spare penny to buy a horse-drawn carriage. Later, thanks in no small part to Henry Ford and his Model T trucks, Bernhard's sons, Julius and Bernhard Jr., expanded the company's distribution throughout the entire Midwest, renaming it the Stroh Brewing Company.
By the 1970s, the third and fourth generation of Strohs were running the family-owned brewery. They made a regional beer brand—Stroh's Beer—that went national in the early 1980s after the purchase of the Schlitz and Schaefer breweries, a consolidation of the industry that landed thirty beer brands in our portfolio, making the family company the third-largest beer maker in the United States, behind only Anheuser-Busch and Miller. The majority of Stroh's brands targeted inner-city subcultures, the blue-collar segment and—because the beer was cheap—college kids. At its peak, the Stroh Brewing Company launched an enormous commercial and residential real estate project in downtown Detroit, built its own biotechnology research center in Durham, North Carolina, and underwrote a private plane for its CEO. Named in the Forbes 400 list from 1984 to 1992, the Stroh family possessed the largest private beer fortune in America.
For decades, the money was flowing and the Strohs lived like kings. My father's notorious collecting landed him on every dealer's A-list, making him the poster boy for the Strohs' spending habits. He loved the attention, the grandiosity, and the elusive hit of immortality he felt when he walked into a shop. It seemed inexhaustible, the pipeline of beautiful objects—and the money to buy them—and we never grew tired of wandering the shops' dusty back rooms.
But as my father's health declined in the decades to come through the various stages of heart disease, and my life and work took me elsewhere, our shopping trips gave way to brief visits in this or that city, to catch-up calls with tenuous overseas connections, and the team we'd formed in my youth slowly dissolved.
My father died alone in the hospital in 2009. I was stunned he hadn't wanted me at his side. He hated to show vulnerability, of course; still, it hurt that he'd been so stubborn all the way to the end. In my sorrow I realized that the small girl who so loved and admired him had never really left. It was that same small girl who despairingly called his answering machine in Michigan for months, until the house was sold, just to hear his voice on the outgoing message, incredulous that he was no longer there.
When the time came for me, as the executor of the estate, to put my father's collections up for sale, a crippling fatigue settled in; I yearned to wade in my grief for as long as my spirit needed to, not haggle over consignment agreements and auction contracts. My father had left me the whole of his collections—a nod to the years we'd spent together buying them, and perhaps, as some sort of apology. The gesture, though, was like a loaded pistol; the Stroh Brewing Company had been sold ten years before, in 1999, and my father had spent the bulk of his share of the proceeds. The collections—and the Grosse Pointe house in which they sat—were all that remained of my father's legacy, and disinheriting my brothers seemed nothing less than cruel.
It felt as if the collections and the money they represented had formed an invisible web in which I'd been caught all my life, and I found myself secretly wishing I could give everything to charity with a single phone call. But as I'd decided to split my father's possessions with my brothers, or at least their value, assessing, dividing, and selling off the collections was what I had to do. The freedom I'd coveted came only gradually, as things of real value so often do.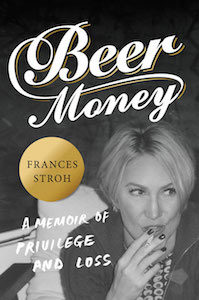 From BEER MONEY by Frances Stroh. Copyright (c) 2016 by Frances Stroh. Reprinted by permission of Harper Books.
---