Elif Shafak on the Cairo of Naguib Mahfouz
A Writer Torn Between Longing for Freedom and Loyalty to Country
I first read the works of Naguib Mahfouz in Istanbul in Turkish. Back then, as a university student, I used to frequent a second-hand bookshop—a low-ceilinged, musty-smelling place with plank floors, just a stone's throw from the Grand Bazaar.
The owner of the bookshop—a sour-tempered, middle-aged man with thick glasses and a haircut that had never been popular in any era—genuinely loved books and equally disliked human beings. At times he would randomly pick a customer and quiz him or her on their knowledge of literature, history, science or philosophy. I had seen him scold people before, and though I had never witnessed it myself, urban legend held that he refused to sell books to customers who failed his tests.
No doubt there were many other bookshops in the city where you didn't have to inhale dust or risk bumping your head on the door frames, and where you could choose books without being grilled by the owner. Yet I kept returning to this place. Getting the bookseller's seal of approval felt like a rite of passage, an unspoken challenge. Young and vain as I was, I secretly wanted him to question me on French, English or Russian novels in translation, which I believed were my "strong point."
But on this rainy day in late autumn, he looked at me and asked, "So, have you read Mahfouz?"
I froze. I had no idea who he was talking about. Slowly, I shook my head.
The bookseller said nothing, though his disappointment was visible. When I finished perusing and walked to the till, ready to pay for the books I had selected, he turned towards me with a frown. For a moment I feared he was going to kick me out of the shop. Instead, he grabbed a book from the shelf behind him and pushed it into my hands. Then he said, loud and clear: "Read him!"
The book that the grumpy bookseller in Istanbul sold me on that day was Midaq Alley. For a while, I postponed reading it. Then, about two months later, I started the book, not knowing what to expect. Inside, I found a rich world that was at once familiar and magical, well-founded and elusive. The stories of the people of the alley—families, street vendors, poets, matchmakers, barbers, beggars and others—were so deftly told that I felt as though I knew them, each as the individuals they are.
Istanbul, too, was full of such streets and neighborhoods unable to keep up with the bewildering changes surrounding them, and it remained both isolated and central, both inside the city and on its periphery. By delving into this world with a sharp mind and compassionate heart, Mahfouz had shown me the extraordinary within the ordinary, the invisible within the visible, and the many layers underneath the surface. His writing, just like Cairo itself, pulsed with life and a quiet strength.
Mahfouz's Cairo was a fluid world. Nothing seemed permanently settled; nothing felt solid. As a nomad I was familiar with that feeling, and suddenly I found myself looking for more Mahfouz books to read.
And here was the odd part. Mahfouz was not well translated into other languages in the region for a long time. It was only after he received the Nobel Prize in Literature—the first author writing in Arabic to do so—that more of his oeuvre crossed national and ethnic borders. It troubled me back then, and still does, that in the Middle East we do not follow each other's writers and poets as well as we should.
Over the years I continued reading Mahfouz, mostly in English. He was a political writer. He knew that novelists from turbulent lands did not have the luxury of being non-political. I also read his interviews with interest. In these interviews there were moments when I did not agree with his views, which at times could be nationalistic, but I always respected his storytelling.
Many of his books were banned in Arab countries, in the very language he breathed in. This must have hurt him deeply. Mahfouz knew first-hand how painful it is to carve out a personal space of artistic freedom in lands without democracy and without freedom of speech.
Significantly, he was among the literary figures who supported Salman Rushdie's right to write after a deadly fatwa was issued against the author. It is noteworthy that Mahfouz did this at a time and in a country where it wasn't easy for him to do so—although he later also made negative comments about Rushdie's novel, which he said he hadn't read.
In 1994, Mahfouz was stabbed by an extremist, who accused him of being "an infidel." The year before, in Turkey, Aziz Nesin, a prominent writer and satirist, who had announced his decision to publish The Satanic Verses in Turkish in defence of freedom of speech, was attacked by a mob of fundamentalists in the Anatolian town of Sivas, where he happened to be for a cultural festival.
His hotel was set on fire and 35 people were killed—most of them were poets, writers, musicians and dancers. Once again in human history, fanatics targeted art and literature, words and notes, and destroyed innocent lives.
Mahfouz thankfully survived the attack in Cairo. Always a prolific writer, the physical damage and the constant pain he suffered afterwards, considerably slowed him down. This, too, must have saddened him.
Throughout his entire literary journey, Naguib Mahfouz produced stories, novels, plays, scripts, experimenting with forms. One thing remained constant: his unwavering love for Cairo and its people. This city had made him who he was and in return, he re-created Cairo on the page.
It is this existential challenge that strikes me most deeply perhaps. Mahfouz clearly yearned for freedom and autonomy, but he also had a remarkable loyalty towards and a longing for the motherland that denied him these basic rights.
I was excited when I learned the news that 18 previously unknown stories by Naguib Mahfouz had been recently discovered among his old papers. Irrational as it may be, there is a part of me that thinks he must be very happy. I imagine him caressing this new book while smoking a slim cigarette, with a cup of strong Turkish coffee by his side. I imagine him with a smile on his face, not a tired one, but the hopeful smile of the young novelist he once was.
One of the stories in this beautiful new collection ends with a striking dialogue: "I've enough misery to deal with," says one of the characters, to which the other responds: "So have I. Each of us needs the other." Writers and readers from countries that have seen enough misery, injustice and sadness need each other, just like that.
__________________________________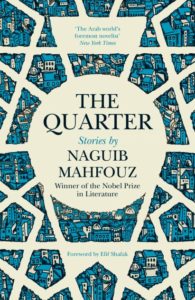 Foreword by Elif Shafak from The Quarter, by Naguib Mahfouz (Saqi Books, 24 September 2019 $14.95)
---