Eight Books That'll Help You Ask Braver Questions of Yourself
Jenna Kutcher on the Literature of Empowerment
"What are you holding back?" My massage therapist gently nudged against my hips, noticing how tense my entire body was. It was a rare moment of calm that allowed me to honestly reflect on exactly what I was running away from.
We live in a loud world. One that tells us that we need to fit our bodies into society's limiting expectations. One that forces us into categories and pigeonholes us into certain roles. A world where we're overlooking the beauty of a human soul and selling it for the cost of a dying earth, a 30-second advertisement, and a trend over a truth.
In the midst of the chaos, how can we really get to know who we are? How Are You, Really? is my unapologetic demand for a quiet space for us to address the questions that have been gently tugging at our sleeves for our entire lives.
Of course, there are some empowering voices worth listening to. It'll come as no surprise when I say I could've never arrived at the work I do without support from a community. Each of these writers has helped me ask better questions of myself. Let this list be a celebration of powerful, talented, successful women who are living in the beautiful thick of their own truth—and an invitation for you to do the same.
*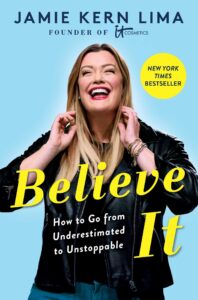 Jamie Kern Lima, Believe IT
(Gallery)
Jamie hit refresh on my perspective on the "IT girl" from the moment I learned about her! From the ground up, her work in telling the stories and creating space for visibility of all kinds of women has been a breathtaking, necessary movement that has bled out from the beauty space into so many others. I loved learning how she built a billion dollar business in such unique, seemingly backwards ways that still have people scratching their heads. Jamie has overcome impossible odds, so let her show you how to do that for yourself!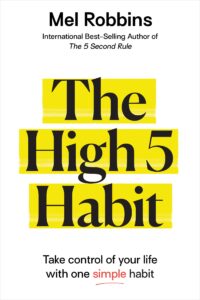 Mel Robbins, High-5 Habit
(Hay House)
As someone who's spent a lot of her lifetime writing and listening to the stories of other people, Mel is actually the one you want to listen to. She encourages us to focus on the story we've been tuning out: our own. Far more than a simple self-boosting method, Mel's charted a course in this book with an incredibly unique perspective on how to rewire your brain little by little—all starting with a high-five.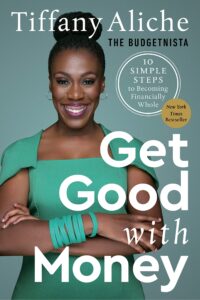 Tiffany Aliche, Get Good with Money
(Rodale Books)
While I think a lot of us read the word "budget" and feel like it's smart and impossible, Tiffany flips the script on the boundaries of a budget. She's created a path towards financial freedom that doesn't demand that you spend so many years of your life just waiting to retire. Life can be enriching, stable, and adventurous the entire way through. Read this if you finally want to have fun while learning how to conquer your financial goals!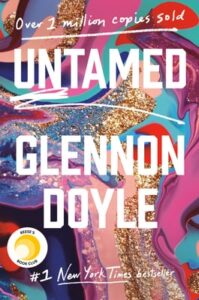 Glennon Doyle, Untamed
(Dial Press)
Read. This. Book. Or listen to it; basically, consume Glennon's stories however you possibly can. I'll be learning from the fierceness within Chapter One alone for the rest of my life. That spicy-warm spirit of Glennon, her bravery, humility, and willingness to "do the hard thing" shattered every last one of my own excuses to ever be someone I'm not.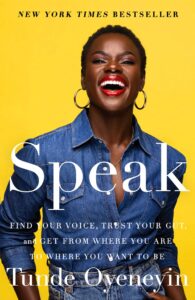 Tunde Oyeneyin, SPEAK
(Avid Reader Press)
If you've ever pressed play on a Peloton ride with Tunde, then you know exactly what it's like to feel her words propel you. It may be a spin class, but she's anything but stationary. Tunde's mantras truly carry people, and the powerful words she's embedded into this book will inspire movement in your life like no other. So, when Tunde is speaking, the best thing we can do is listen.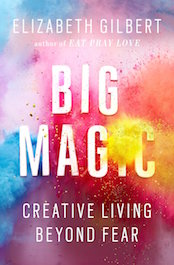 Elizabeth Gilbert, Big Magic
(Riverhead)
We don't always get to be there for the moment when our favorite authors lean over the dining table and whisper the story behind the story. But in Big Magic, we do, and it's unmistakably life changing. Elizabeth Gilbert is no stranger to marking us with her experiences, but this book takes us one level deeper into her process for pulling those stories, those truths, out of her ether.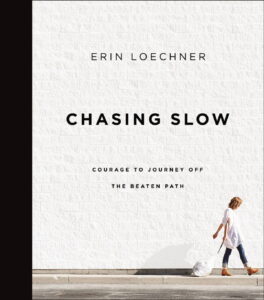 Erin Loechner, Chasing Slow
(Zondervan)
Erin has a knack for pulling you into the page without you even knowing she's doing it. In a blink, you're another few chapters deep into Erin's stories about stripping down her life until she found the good stuff. The real stuff. This is an incredibly important, candid conversation about what we might have to "give up," risk, or get uncomfortable with in order to discover what really matters to us. Erin did it first, so let her guide you!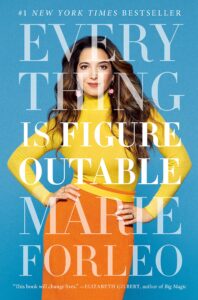 Marie Forleo, Everything is Figureoutable
(Portfolio)
This book is classic Marie: you can't read it and walk away as the same person. Marie changes people in little nudges and movements through her remarkable combo of experience-backed strategy and sheer confidence. Trust me, she's the kind of person you want teaching you about how to figure it all out, because if anyone has the keys, it's Marie. One of the things I've learned is that we're all always progressing, so this is a "I'm going to read that over and over again for the rest of my life" kind of book.
_______________________________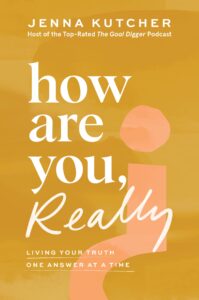 How Are You, Really? by Jenna Kutcher is available from Dey Street Books
---