Edgar Allan Poe, Editor and Original Hatchet Man
On the Literary Magazine in which "The Fall of the House of Usher" First Appeared
During Poe's lifetime, he was just as well known for curation and criticism as he was for his short stories. From 1835 to 1846 alone, Poe worked as an editor for four different magazines. This kept him financially afloat—just barely. It also provided him a platform from which to gut his inferiors (Poe was popularly known as "The Tomahawk Man") and applaud those he admired. And it was through his fiction and criticism both that Poe intended to change American publishing; as he wrote in a letter to his older brother, "If I fully succeed in my purposes I will not fail to produce some lasting effect upon the growing literature of the country."
William Burton, an English actor living in Philadelphia, founded Burton's Gentleman's Magazine in 1837. The magazine targeted a general audience and included fiction and poetry as well as commentary on theater and sporting life. In July 1839, overwhelmed with his work on the stage, Burton hired Poe to help with the magazine.
Poe was paid $10 a week for dedicating his attention to the editorial duties of Burton's. He agreed to contribute 11 pages of original material a month, and he had his name added next to William Burton's on the cover. In September of that same year, Poe's contributor pages included "The Fall of the House of Usher," his now infamous haunted story of familial sickness and incest in a crumbling mansion. But what else was in that issue? What was Poe like as an editor? And how did he choose to contextualize one of his most famous stories?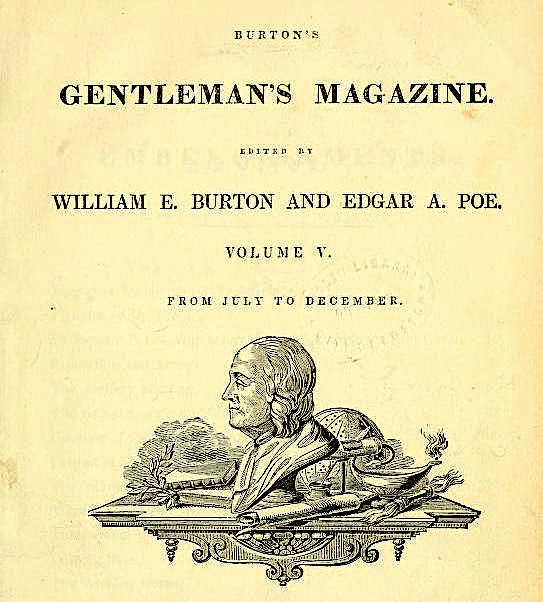 In addition to "Usher," the September 1839 issue of Burton's contains a lot of maritime stories and pirates. There are anxious dandy men and vulnerable waifish women. Some contributions serve as tributes to perceived heroes, others as takedowns of rude morons. The issue opens with a four-page biography of one Richard Penn Smith, an American playwright and contemporary of Poe and Burton's. The passage seems like more of a strategic entry than anything else; writers and editors of the time commonly traded compliments and barbs within the pages of their respective publications. And this particular biography is overly personal and specific, invested heavily in the minutiae of Smith's professional life, concluding with the information that Smith is also Secretary of Comptrollers of Public Schools, "a situation that yields him a handsome income."
Fortunately, the content improves from there, with two chapters from a serialized novel called "The Privateer: A Tale of the Late American War." Chapters IV and V contain a lifeboat drama, a sensational rescue, and several pirate attacks. The storytelling is lush and action-packed, providing a slice of mid-19th-century romanticism in the spirit of a writer like Herman Melville. "It was daybreak on the sea," the chapter opens, "and a solitary yaw with two men was drifting many leagues from land, away to the eastward of Cape St. Roque."
Later in the issue comes an un-credited portion of another serialized story called "The Infernal Box." In it, a rich, powerful man notices from his opera box a new girl in the audience; he makes a bet with his wealthy buddies that he can seduce her. "In Paris exists a class of men who have made the art of seduction a perfect science. They attack a woman as a fortified palace," the narrator says. "If pitiless, it is because they have not been pitied. They retaliate upon others the mortal blows which they have received. They not only seduce. They avenge themselves."
The extent of Poe's involvement in acquiring "The Infernal Box" is unclear, but it's difficult not to see his hand in this story. Its twisted suspense reflects some of Poe's well-known virtues as a writer. He's been credited with inventing the genre of the detective story, and "The Infernal Box" moves like a procedural as the narrator patiently analyzes various possibilities and avenues towards his ultimate goal. Less charitably, Poe also had a dark obsession with women as victims. He once wrote that "the death of a beautiful woman is, unquestionably, the most poetical topic in the world." Poe's mother died of tuberculosis when he was three, his step-mother died when he was 20, and he married his 13-year-old cousin, who died of tuberculosis herself 11 years later, when he was 27. The chapters of "The Infernal Box" contained in Burton's September issue focus on a self-escalating pattern of male aggression, embarrassment, and fear.
Hopping across a few poems—including one titled, unsurprisingly, "The Dying Wife"—and another, duller maritime narrative, we finally arrive at "The Fall of the House of Usher." "During the whole of a dull, dark, and soundless day in the autumn of the year, when the clouds hung oppressively low in the heavens, I had been passing alone, on horseback, through a singularly dreary tract of country," Poe writes. From the opening plunge, it's clear that we're in the hands of a master, a writer who can quickly and powerfully render a scene and place the reader in it. The story is both manic in its approach and obsessively focused. Darker, more interesting, and more complex than "The Infernal Box," the woman in this story is a victim—her brother accidentally buries her alive—but she's also a threat. She comes back from the dead and, in bloodied robes, attacks her brother—frightening him to death and bringing the mansion crumbling down.
Poe's now-iconic story is followed by an essay entitled "A Rummage in My Old Bureau," in which a 90-year-old man goes through one of his old dressers, stopping at letters from old acquaintances, a boat whistle, and the "skull of a New Zealand warrior" given to him by his son. In its slow reminiscence over the mundanities of the past, the piece shares a lot in common with the contemporary autofiction of a writer like Karl Ove Knausgaard. Yet it, too, has strange register regarding women: the narrator spends just as much time reflecting on a silver chain given to him by a sailor as he does on the time he was out on a boat with his new wife and a spar hit her in the head, killing her.
Burton's September issue concludes with a series of book reviews on ephemeral texts by publishers who have all since long-disappeared. Upon hiring Poe, Burton had disarmed him of his hatchet, the effect of which is on display in these largely uncritical reviews. He once warned Poe in a letter, "You must get rid of your avowed ill-feelings towards your brother authors—you see that I speak plainly—indeed, I cannot speak otherwise. Several of my friends, hearing of our connexion, have warned me of your uncalled-for severity in criticism."
Not far into their partnership, disagreements over literary approach and business led to some nasty exchanges between Burton and Poe. "When you address me again, preserve, if you can, the dignity of a gentleman," Poe wrote in a May 1840 letter. "If by accident you have taken it into your head that I am to be insulted with impunity I can only assume you are an ass." There were editorial disputes, and Poe defensively perceived Burton to be accusing him of alcoholism, and bitterness over money once borrowed.
Poe left Burton's in June 1840. The magazine was struggling, and Burton soon after started suspending payments to writers. A theater manager once wrote of Burton, "As an actor, Mr. W.E. Burton has no superior on the American Stage—but as a manager, his faults are, first, want of nerve to fight a losing battle; in success he is a great general, but in any sudden reverse, his first thought is not to maintain his position, but to retreat." By the end of that year, Burton's had ceased to exist.
We see in the saga of Burton's Gentleman's Magazine two bullheaded creators with immense intelligence and talent participating in the minutiae of their cultural and economic moment. They built something that pretty quickly failed, but not before providing a platform for some moments of remarkable, if occasionally troubling, writing.
Poe's influence—as an editor, and a popular writer in his own right—manages to bleed across this September issue, highlighting the brilliant parts of his work as well as the offensive or humdrum. He used Burton's as a stage for himself—for his own tastes and sensibilities, and his own poems and stories—and the magazine lives on in memory primarily due to the fact that Poe once worked there.
William Burton would probably hate that.
---