Double Vision: A Reading List of Twins in Literature
Becky Chalsen Recommends Curtis Sittenfeld, Brit Bennett, Jandy Nelson, and Many More
Sometimes, the most powerful stories to read are the ones you see yourself, or a part of yourself, reflected back in.
Growing up as a quadruplet, I always knew there was something rare about me and my sisters. Strangers at the mall would stop our stroller procession and ask questions like, Hold on, are those two sets of twins!?, or look at us with wonder and posit, How does it feel to be born with best friends? When we were very little, our brother (only eighteen months our senior) once growled at strangers flocking to us with inquisitive looks in their eyes.
It was fascinating and strange and humbling, growing up keenly aware that there was something statistically unusual about me. Luckily, there was another anomaly in our youth: besides me and my quadruplet sisters, our kindergarten grade contained four other sets of twins. (There was an entire yearbook spread dedicated to all twelve "multiples" when we later graduated high school.)
I remember bonding with the other twins through the years—one of whom would become my high-school-sweetheart turned husband—about the experience of being a multiple. Of hating sharing clothes or being called the wrong name or answering too personal questions about our mothers' pregnancies. Of having someone by your side for nearly every major life moment, for better or for worse. Of still having no real way to answer the question, "so, what is it like?" other than the honest-yet-perhaps-disappointing "it's the only thing I've ever known."
Through all the ups and downs of adolescence, reading was always my comfort. If the house was chaotic, or my sisters were getting on my nerves (four teenage girls experiencing high school at the exact same time was as wonderfully moody as you might suspect), books were where I could turn to, stories were how I could find and see and learn more about myself and where I fit in the world. While it was rare to find quadruplets reflected back in books or on screen, that didn't stop me from flocking to books about twins like a moth to a flame.
When I started writing my debut novel Kismet, I knew I wanted to tell a story about twin sisters. From a character standpoint, twinhood is the perfect playground for juxtaposition. Being a multiple is such a specific connection, a defining way that to learn how to relate not only to yourself and to your sibling, but also to the world. Yet it also requires a special sort of balance, in how an individual can cultivate uniqueness while still belonging and protecting and prioritizing the group.
For my whole life, I wanted to be different from my sisters while clinging to quadruplethood as my identity, to my sisters as my best friends. I loved reading stories about twins to see how other multiples answered, or ignored, that intrinsic call, finding comfort and escape through the novel's pages.
Here are a few of my favorite books that feature twins.
*
Curtis Sittenfeld, Sisterland
In Curtis Sittenfeld's luminous third novel, she gives her twin leads a power befitting the magic of sisterhood. I'll never forget reading Sisterland, fervently speeding through the pages, desperate to soak up the story of identical twins Violet and Kate and their visions.
When Violet has a vision about a looming earthquake arriving in their hometown of St. Louis, she decides to go public about her abilities, warning the city but changing everything with her sister in the process. Kate is now inadvertently catapulted into the spotlight, risking the "normal" life she worked so hard to build.
I loved what the novel says about family, trust, and identity, all with Sittenfeld's signature brilliant and charming touch.
Brit Bennett, The Vanishing Half
I've always found it fascinating how twins can be raised together in childhood but choose vastly different paths in adulthood, from cities and careers to religion or tradition and more. No one explores this more powerfully than Britt Bennett in her exceptional novel, The Vanishing Half. Desiree and Stella are identical twins, light-skinned Black sisters, but their roads verge when Stella disappears and decides to start a new life, passing as a white woman.
In a sweeping, multi-generational family saga, alternatively spanning from the 1940s all the way to the 1990s, Bennett paints an illustrative portrait about family, identity, abuse, racism through the dichotomies of these twin sisters.
Elin Hilderbrand, The Identicals
One would be hard-pressed to find an Elin Hilderbrand book that I didn't inhale in one-sitting, but none more so notably than her 2017 novel, The Identicals. With signature sun-soaked prose, Hilderbrand tells the story of two forty-year-old identical twin sisters who have been estranged for years. Tabitha and Harper couldn't be more different, though they only live eleven miles apart: one on Nantucket, and the other on Martha's Vineyard.
With richly complicated family dynamics and quintessential summer escapism, The Identicals is a moving and page-turning story about sisterhood, family, forgiveness, and the ties that bind (or divide) us.
Donna Tartt, The Secret History
Donna Tartt wrote the bestselling The Secret History long before "dark academia" became a modern trend on TikTok, but the mysterious literary thriller following a group of elite classical studies students at a private New England college is worthy of its decades-long trending status. The mystery is propulsive, the world is rich, and the characters are complicated, especially the two fraternal twins at the center of the friend group, the wealthy and beautiful Charles and Camilla Macaulay.
While their thorny twinhood isn't exactly one that provides wish-fulfillment or escapism in its eventual turns, it powerfully builds into the larger tapestry of this novel's look at guilt, power, knowledge, and control, culminating in a modern-day Greek tragedy.
Christina Lauren, The Unhoneymooners
While the main plotline for Christina Lauren's delightful laugh-out-loud funny The Unhoneymooners follows the enemies-to-lovers romance between Olive and Ethan, the book is set into motion because of the relationship between Olive and her twin sister Ami. Olive is Ami's Maid of Honor, and I loved seeing the differences and similarities of their heartwarming sisterhood come to light through wedding planning.
Olive has always felt like the unluckier of the twins, until Ami's wedding day, when nearly the entire wedding party falls sick from food poisoning. The only lucky guests who had opted out of the stomach-sabotaging shellfish? Olive and Ethan, the Best Man and Olive's sworn nemesis.
Not wanting the honeymoon to go to waste (bride Ami had won it in a contest), Olive and Ethan decide to pause their hatred and take the free vacation to Hawaii. What follows is a hilarious and heartfelt exploration of romance and relationships, with a warm and nuanced twin sister dynamic woven in.
Raymond Fleischmann, How Quickly She Disappears
Raymond Fleischmann's debut, How Quickly She Disappears, is a fast-paced and instantly captivating literary mystery set in Alaska, in 1941. The novel follows a woman named Elisabeth whose twin sister Jacqueline disappeared twenty years ago.
Elisabeth has always sensed that Jacqueline was out there, that they'd be reunited one day, though no one else believed it. When an unexpected visitor arrives in her small town, claiming to know the truth about Jacqueline's whereabouts—and confirming that her sister is still alive—Elisabeth is willing to do anything in exchange for his answers.
Told through present-day plot and flashbacks to the twin sisters' childhood, How Quickly She Disappears is an atmospheric look at sacrifice, duty, grief, loneliness, and obsession.
Sarah Bonner, Her Perfect Twin
Packed with rollercoaster-reveals, Sarah Bonner's Her Perfect Twin is a deliciously dark debut. Megan and Leah as estranged, identical twins who couldn't be more different, but when Megan spies a sexy photo of Leah on her manipulative husband's phone, she confronts her sister for a heart-to-heart. Yet the argument heats into murder, and soon Megan is left with a dilemma: in order to get away with killing her twin sister, she must become her, too.
Gripping from the get-go, Bonner's twisty, psychological thriller about sibling rivalries, abuse, deception is not a sisterhood I'd want, but one I couldn't look away from.
Jandy Nelson, I'll Give You the Sun
I'll never forget reading Jandy Nelson's I'll Give You the Sun, eyes brimming with tears, heart bursting with emotions. With vivid, singular prose, Nelson's novel follows fraternal twins Noah and Jade, who were once inseparable best friends, but are now facing a newfound rift in their teenage years. The story is split between the twins' perspectives at two different ages (Noah's at thirteen, Jade's at sixteen) as they deal with grief, love, competition, identity, and family secrets.
It's a moving journey and a beautiful portrayal of twins forging their own paths, dealing with growing up and the growing pains that follow.
Ren DeStefano, How I'll Kill You
I know this list is meant to feature twins…but who doesn't love a book about triplets?! I devoured Ren DeStefano's debut following identical triplets, orphaned at birth but desperate to cling to the family they do have, even if it means covering up their shared sensibility: murder.
Sissy is often the only cleaning up the killings of her sisters Moody and Iris, but now it's finally her turn. Yet as she falls unexpectedly hard for their latest mark, Sissy will find herself torn between duty to her sisters and to her heart.
Part thriller, part romance, How I'll Kill You is a singular look at family, obsession, revenge, and self.
Honorable Mention: Ann Brashares, Sisterhood of the Traveling Pants
While the namesake sisterhood in Ann Brashares' series is not technically a blood relation, the four best friends share a close-knit bond that is as thick as any family. The Sisterhood of the Traveling Pants was the first reading experience that I felt reflected what it was like to be a quadruplet—the give and take of balancing a four-person dynamic, of forging an identity amidst a larger group, of supporting each other and protecting the sisterhood while still pursuing individual dreams.
It's no surprise that I inhaled each of Brashares' Traveling Pants novels, as Lena, Tibby, Carmen and Bridget's sisterhood became an extension of my own. These stories are when I first fell in love with reading books, and the power that stories hold. And while it's not technically a book about twins, I still owe a debt of gratitude to this defining pair of pants.
______________________________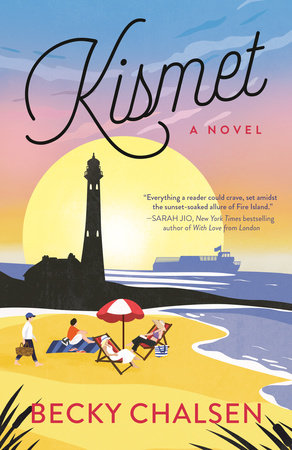 Kismet by Becky Chalsen is available via Dutton.
---