Don't Worry, Classically Trained Concert Pianists Are
Humans Too
Stephen Hough on the Anxieties and Etiquette of a Life in Music
Does the wearing of special clothes change what our bodies are able to do in them? Are our professional abilities affected by how we dress? It is a vast topic, which touches on almost every area of the psychology of our incarnate lives. Clothing is part of the way we make judgements about others and thus about ourselves. From the first makeshift crown placed on one of our ancestors' heads to the peaked hat and epaulettes of the pilot who flies us from city to city, clothes symbolize expertise and authority. 
It is interesting that two groups, musicians and the clergy, have been re-examining the implications of their traditional costumes in recent decades. Since the Second Vatican Council, priests and members of religious orders have changed the way they dress. Almost no nuns today still wear traditional habits, and many musicians, particularly soloists, have stopped wearing the white tie and tails that were de rigueur for so many years.
Both groups now desire a greater informality and have expressed this through dress reform. But are we better musicians or priests if we wear a particular costume? 
I really think I play better when I change into something special—when I drape my jeans on the back of a chair in the dressing room rather than around my hips on the piano bench. And if torn jeans were to be my choice of stage apparel then I would pull on a different pair from the ones I rolled out of bed into 12 hours earlier. Wearing something special is not an empty formality. It is a tacit acknowledgement that something special is planned. It is our wedding attire for the composer. 
But it doesn't have to be traditional, black, evening clothes. When tails were first worn on stage everyone in the hall was dressed the same. To be at a concert in 1909, whether as a performer or as a member of the audience, was to attend a formal event requiring a traditional costume. It's a curiosity that after the First World War audiences began to dress more informally but the musicians on stage continued to be clothed like Edwardian gentlemen—minus the ticklish whiskers.
Over a longer time span something similar was happening with religious orders. Widows, nurses and nuns in many parts of the world dressed similarly until the mid-20th century, and St. Francis did not wear a "habit" but simply gathered some beggar's rags around him held in place by a piece of dirty rope. Stylization came later. A piano recital is theater.
We are inescapably creatures of ritual, and it isn't just common decency that discourages us from capering down the street stark naked.
The lights dim; a nine-foot black box is illuminated; there is a hush; someone expected by an audience of thousands to be a master strides out from the mystery of darkened wings and sits down. There is a moment of silence and then sounds fill the air. I still find this sequence thrilling. The timing of its execution is related to the timing of a dancer's leap or an actor's line. It is drama reaching back to human prehistoric storytelling around a fire. 
There is a place for informality in both the concert hall and in ecclesiastical life—I often talk in a fairly intimate way to the audience from the stage; but there's also a place for formality and distance, and for the dress that underlines such separation. Indeed, sometimes when I'm in the audience myself, an opening night at the ballet perhaps, if I take a little more care than usual with what I'm wearing, my experience of pleasure and of concentration is enhanced. 
We are inescapably creatures of ritual, and it isn't just common decency that discourages us from capering down the street stark naked. The human being lacks natural "feathers" of attraction, unlike the peacock, and our mating calls have no set melody. In fact, they might well sound something like: "Darling, I've got two tickets for a piano recital this evening. Keyboard side."
*
When people come backstage after a concert to greet you, they are usually diplomatic and offer words of praise, which are embarrassingly fulsome or politely restrained or mysteriously mendacious. Very occasionally, though, honest criticism is not withheld and flows forth without scruple. Someone once came back after a recital of mine and said, "Stephen, it's amazing how you coped with that piano. It had such a horrible, nasty tone." Was it a compliment or an insult? I thought the piano itself was rather lovely. 
I remember a long time ago—I must have been about 13—playing Liszt's Vallée d'Obermann for some friends at home. I finished the piece, putting all of my adolescent soul into the performance, and one of the musicians there said, in a quiet voice shaking with emotion, "Stephen, that was really dreadful! I've never heard such a ugly, banging sound in all my life."
I can still remember how shocked I was to hear this said in front of a group of people but our guest was probably right. It was a watershed moment for me. I blushed, spent the rest of the evening playing only the quietest music, and began a lifelong search for beauty of tone at the piano. 
Backstage, immediately post-performance, is not the appropriate place for unrequested criticism. On the other hand, there are masterclasses—forums where you expect to be criticized. There's something intimate about an individual piano lesson but the vibe is completely different when you expose yourself to the stare and scrutiny of a curious, often voyeuristic audience. I've given countless public classes over the years and I'm acutely conscious of trying to pitch my comments with maximum awareness of minimizing any potential embarrassment for the student.
Beethoven was up against a wall through which he was compelled to battle with enormous artistic and spiritual effort.
It's too easy to show off when you are "expert" for the hour and any demonstrations you might choose to give can stop at the first sign of difficulty. I've seen famous pianists and teachers mock, deride and destroy a vulnerable young player; it's a disgusting sight. Only if a student seems completely unwilling even to try one of my suggestions—especially if they play badly—do I up the amount of spice a little in the sauce of my criticism. 
I am reminded of the story of the pianist Sheldon Shkolnik (a great pianist and a dear friend of mine, who died tragically early) playing his own Sonatina for Darius Milhaud at Aspen many summers ago. Judging from Milhaud's own music one might expect the French composer to have been fun, light-hearted and frothy.
In the flesh, however, he was apparently rather dour and humorless, scowling balefully from his wheelchair. He was rolled up to Sheldon as he played. After the first movement came the terse comment: "Beautiful." After the second movement, again: "Beautiful." But after the third movement, a change of tune: "Cheap." Actually Shelley said he was happy to settle for two beautifuls and one cheap from the famous man. 
*
Between 1813 and 1820 Beethoven went through a fallow period and often found it difficult to compose. He wrote just one string quartet (op. 95), the Hammerklavier and two other piano sonatas, two cello sonatas and a song cycle. Admittedly, most of these are great works and many people would be happy to have composed such a string of masterpieces in a whole lifetime, but his output during those years was sparse compared with what had preceded and what was to follow. 
I don't think Beethoven was blocked in the sense of lacking inspiration, but rather that he had reached a certain classical threshold. He was up against a wall through which he was compelled to battle with enormous artistic and spiritual effort. One of the reasons composers such as Haydn and Mozart were able to be so astonishingly prolific was that they worked in fixed forms. When Haydn sat down to write a symphony or Mozart a piano concerto the templates were already laid out on their desks. Their genius was displayed as they worked against as well as within these forms, but it was an adjustment of the pocket or lapels, not a total redesign of the suit.
Beethoven was always an eccentric tailor, but by the time of the works mentioned above he was standing outside, not just thinking outside the box. You don't finish writing a sonata such as the Hammerklavier on Tuesday and just begin another one on Wednesday. That monumental work was the mapping-out of a new continent, not the building of a new house. 
The fecund templates of the Classical era are now in museums. The works they helped produce are, thank goodness, alive and well, but simply to use their patterns today, unadapted, would be to produce mere replicas. Beethoven already realized as much during those "fallow" periods. 
__________________________________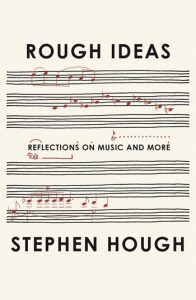 Excerpted from Rough Ideas: Reflections on Music and More by Stephen Hough. Published by Farrar, Straus and Giroux. Copyright © 2019 by Stephen Hough. All rights reserved.
---