Donal Ryan on Mourning the Death of an Unpublishable Novel
"This was my art but it really only benefited me, and I couldn't expect anyone to invest in it or to pay for it."
Shortly after finishing the last draft of my novel Strange Flowers in 2019, I started to write a follow-up set in the same fictional townland of Knockagowny, Tipperary. The narrator was Michael Cranty, known as Mickey Briars. Mickey was a bit player in my first published novel, The Spinning Heart. I spent the next two years in his constant company.
Mickey, approaching eighty but in fine health, sets about the task in the novel of compressing his whole life into a series of stories, recording himself over seven evenings on an old tape recorder he's been given by a neighbor, a novelist suffering from writer's block. His recordings are ostensibly intended as a gift for his floundering young friend, but in reality he is working up to his last story; he's purging himself, preparing for a confrontation with an unspeakable truth he's been denying for the best part of a lifetime, and a conflagratory attempt at retribution and redemption.
Careworn but defiant, Mickey begins his testimony with an expression of faith which in the same breath serves as an abnegation of divine authority. This allows for the explosive events in the book's climax to take place, for Mickey to believe himself to be outside of the command of God or man in his actions. In a way he's kind of a Charon figure for much of the story, ferrying the reader into the underworld of his own dark history, his repudiated truth.
One side of me retained my conviction that creativity needn't be purgatorial or oppressive; the other side of me ceded to that stupid notion, embraced it, loved it.
When I wasn't writing the novel I was haunted by it, or maybe bullied is a better word. Mickey's rasping voice seemed always to be in my head, taunting me, baiting me, pointing an arthritic finger at me and whispering some egregious insult, challenging me to try to get the better of him, to corral him somehow. His stories were about things submerged, suppressed, denied. The earlier parts were fabulous in nature, woven from strands of truth, exaggeration, lies, myth and legend. But his storytelling changed its nature to testimony and confession as the novel progressed; he had to work up to the truth of himself and of his family, to his role in the forming of the deceptions that underlay the foundations of his existence.
When I wasn't working on his story he was berating me. I was his confessor but he had no regard for me. Come on, you eejit, listen to me, I have more to say. We're not finished at all yet. Get back to your desk. His voice infected me with the pulsing insistence of a rotten tooth throbbing in my gum. Like a poison I had to draw, I had to get it out of myself. The writing then was anaesthetic and narcotic, and I worked in a state of gently mounting peace.
Finally it was done. I lowered the hood of my late father's old MG Roadster and drove out of the city and into the Silvermines mountains. I walked to the summit of Keeper Hill and I sent a prayer of thanks heavenward on a column of rising air. My wife was in treatment for cancer but she was doing well. My children were healthy and happy. Mickey's voice no longer wheedled through my thoughts. And I knew as I looked across the Shannon valley towards the opposing Arra mountains where I and all before me were born and where much of the book I'd just spent two years writing was set, that it would never be published.
I'd managed to split myself in half. One side of me retained my conviction that creativity needn't be purgatorial or oppressive; the other side of me ceded to that stupid notion, embraced it, loved it. I must have flickered unconsciously between those opposing states, pushing away any conscious interrogation of my binary creative existence. Writing fiction can by its nature be a wilfully schizophrenic experience; it's necessary sometimes to enter an altered reality, to inhabit a different consciousness in order to gain a sense of what it might be like to be someone else.
No one was going to buy it, though. In any sense of the word. My novels enter some dark territories but this explication of a man's conscience was a relentless hellscape, as funny as the hoary old bastard was, and as much as he had loved and been loved. But even in that moment of acceptance, of explicit understanding of my foolishness, my folly, my other half remained cleaved to my delusions. I descended the mountain and drove home and sent my manuscript to my editor and my publisher.
They're kind people, and emotionally intelligent. They took their time about forming a gentle, reassuring, but clear response to my monstrous submission. It would need to be taken apart and all of its parts either replaced or radically reconditioned. I knew that they were right, of course. What I had convinced myself was faithfulness to narrative integrity, to the truest expression of an artistic ideal, had somewhere become indulgence, weakness. This was my art but it really only benefited me, and I couldn't expect anyone to invest in it or to pay for it.
Writing fiction can by its nature be a wilfully schizophrenic experience.
I hadn't the heart for the repair job, and I knew that I wouldn't have the strength to drown out Mickey's protestations if I started to hack and slice and reform his testimonies. I considered giving up, returning my advance, taking  a long break. I felt embarrassed, too. I'd been telling people about this novel, reading extracts from its early parts at literary festivals; I'd given its working title, The Nearly Man, to the Irish Times. Mickey was right about me. I was the worst kind of a fool. One who thinks he's smart.
I was visited then by kinder ghosts than Mickey Briars. I heard a gentle disembodied whisper, a dear and familiar voice. Start again, the voice said. Forget about that quare fella. Over twelve weeks in the spring and early summer of 2021 it felt as though a confluence of grandmotherly spirits conspired to eject old Mickey from my mind and from my writing life. Through the skylight above my desk in the attic of our house in an estate on the outskirts of Limerick city the stories that make up the parts of the novel The Queen of Dirt Island floated softly down from the blue heavens.
Every time I looked up from my work I felt the warmth of the love of the women of my family. I drew on my cherished memories, and the lifetime of stories I'd been told by and about my grandmothers, and from the indefatigable living strength and scathing wit of my wife, my mother, my sister, and all the women I've been blessed to know, to give my imagined women and their imagined stories a glorious peal of truth.
I know that this isn't exactly how it happened. There were no celestial matriarchs whispering me away from the brink of creative perdition. But they're part of me, those women, and I'm part of them. Every day of that magical season their essence was on the pages that I handed to Anne Marie, and when she smiled at me and told me that it was good, that it was true and right, their voices joined with hers, and I knew that I was saved.
__________________________________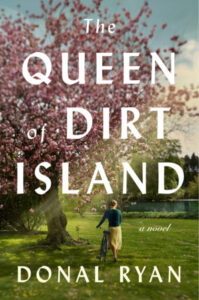 The Queen of Dirt Island by Donal Ryan is available from Viking, a division of Penguin Random House, LLC.
---