Disappearing Books, AI Ghosts, and War Mammoths: September's Best Sci-Fi and Fantasy Books
Thrilling Translations and Vivid Reimaginings From Em X. Liu, C Pam Zhang, Emily Wilson, and More
Fitting for the shifting of the seasons, this month we've got SFF tales of grief and moving on, achieving closure atop a mammoth's back or by digging into an immortality program's source code, leaving behind one home for another. There are retellings or translations of Hamlet and The Iliad, as well as debut fantasies that take place beneath unseasonable pomegranate groves or with as many minor gods as there are drying leaves we'll be crunching underfoot. And if you want to bring that chill to your evening reads sooner, there's a new Indigenous horror anthology reminding you why it's never a good idea to whistle at night…
*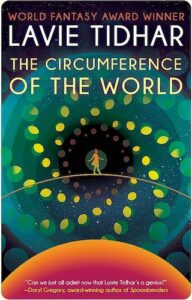 Lavie Tidhar, The Circumference of the World
(Tachyon Publications, September 5)
 Lavie Tidhar's trippy, metafictional ode to the golden age of science fiction is a book within a book—Lode Stars, the novel that may or may not exist, as it disappears after being read. When mathematician Delia Welegtabit's husband Levi Armstrong goes missing after encountering the book, she teams up with face-blind book dealer Daniel Chase to track down the novel's enigmatic author, Eugene Charles Hartley. But Levi has been kidnapped by Oskar Lens, a mobster with his own delusions about Lode Stars… And what about Hartley's other creation, the Church of God's All-Seeing Eyes, and its disturbing beliefs about whether we actually exist or if our memories are just black-hole-trapped fodder for hungry aliens?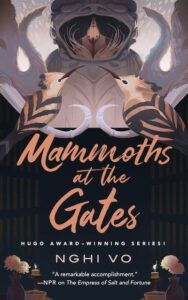 Nghi Vo, Mammoths at the Gates
(Tordotcom Publishing, September 12)
You can read Nghi Vo's Singing Hills Cycle of novellas in any order, but this latest installment sounds like an especially emotional starting point: Wandering Cleric Chih returns to their home after years away, only to discover that their mentor Cleric Thien has passed away. But as Thien's granddaughters prepare to storm the gates of the Singing Hills abbey demanding their grandfather's body, Chih must hold space for their grief as well as their own, while also ensuring that in their anger they don't destroy the storytelling archives to which Thien dedicated their life.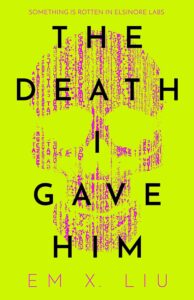 Em X. Liu, The Death I Gave Him
(Solaris, September 12)
When I was in undergrad at NYU Gallatin (you created your own concentration, it was rad), one of my classmates set up a Hamlet rave, where people simultaneously read the entirety of Shakespeare's play while the rest of us created short pieces inspired by various famous passages. I get that same feeling of inspiration and imagination with recent pop culture like the TV adaptation of Station Eleven (which performs Hamlet several times over, each time with a new character taking on the title role) and now Em X. Liu's reimagining of the tragedy as a locked-room sci-fi thriller: Set at Elsinore Labs, where the late Dr. Graham Lichfield has been murdered, yet his son Hayden can access the coveted neuromapper technology in order to converse with his father's digital ghost. Trapped in the lab with his uncle Charles (the prime suspect), as well as the lab's security head Paul and his daughter Felicia Xia, Hayden can only rely on his best friend, artificial intelligence Horatio. I cannot wait to see how Liu recreates "to be or not to be" from a man whose research focuses on longevity—not to mention what form Rosencrantz and Guildenstern might take, if they even make the cut.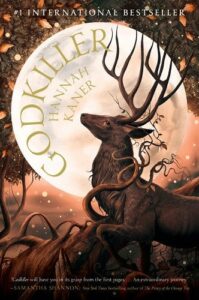 Hannah Kaner, Godkiller
(Harper Voyager, September 12)
I couldn't tell you why, but I've never been a huge fan of fantasy in which gods are fighting and humans get caught in the crossfire… the exception being when instead of a few omnipotent gods, it's countless deities. Like Mindy L. Klasky's Glasswrights series and its hundred-plus mundane divinities, and now Hannah Kaner's new fantasy trilogy: In the kingdom of Middren, there's a god for every quotidian experience, with humans choosing which ones to worship. No surprise, it's mortals who muck things up, turning affiliations into grudge matches—like the fire god worshippers who murder Kissen's sea god-affiliated family. Middren outlaws all worship, hiring people like Kissen as godkillers, eliminating both the divine figures and the flesh-and-blood people who still dare to attach themselves to outlawed gods. But when her latest kill is an innocent young woman attached to the god of white lies, Kissen must figure out a way to separate god and girl without any bloodshed. Joining her on her quest is a disgraced knight-turned-baker, as this motley crew stumbles into all sorts of political and romantic intrigue.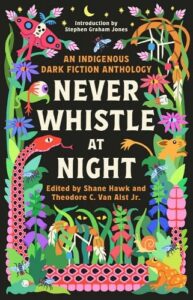 Shane Hawk and Theodore C. Van Alst (editors), Never Whistle at Night: An Indigenous Dark Fiction Anthology
(Vintage, September 19)
Named for the shared belief that an ill-fated whistle after dark will summon all manner of evil spirits, this Indigenous anthology collects haunting tales from Rebecca Roanhorse, Tommy Orange, Darcie Little Badger, and many more. The contemporary horrors range from entitled men colonizing sacred lands and vulnerable bodies, to more speculative fare like doubles and zombies, all engaging with the power of storytelling and the terror of stealing someone's story. Monsters wear many faces in these tales, and violence is both a cruelty and catharsis depending on who's wielding it, the balance of power shifting according to who's enforcing old patterns or carving new ones.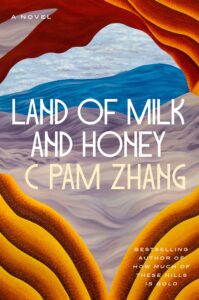 C. Pam Zhang, Land of Milk and Honey
(Riverhead Books, September 26)
In some ways, this season of The Bear has whetted our appetite for a sumptuous speculative novel like this: getting to the heart of what it means to cook with dynamic ingredients, intensive training, and most importantly, the right amount of heart that gives you joy to serve others. But C. Pam Zhang's second novel is set in a climate-ravaged near-future, which complicates all of those aforementioned well-meaning intentions. Because when a chef like the unnamed protagonist in this novel is stuck working with expired ingredients, too ashamed to even claim the title of chef, can you blame her for taking the incredible opportunity to cook for a rich enclave up in the mountains? Yet even as she is spoiled by scarce or even supposedly extinct ingredients—not to mention seduced by other bodily pleasures—this chef cannot help but think of the crucial missing element: the opportunity to cook for everyone, not just those who can pay the most for the privilege.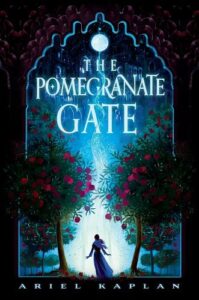 Ariel Kaplan, The Pomegranate Gate
(Erewhon Books, September 26)
Set in a fantasy world inspired by the Spanish Inquisition and Jewish folklore, Ariel Kaplan's adult debut follows Toba Peres and Naftaly Cresques, each strange in their own way: She is unable to run or shout, but can translate books with both hands faster than she can speak; he dreams of another world populated by square-pupiled immortals. Forced out of their home by the Queen of Sefarad's deadly edict—convert, or leave—they stumble upon the eponymous pomegranate portal to the realm from Naftaly's dreams, in which the immortal Mazik reside. But while Toba finds some answers about her peculiar limitations, as well as a connection to the Mazik, this duo discovers that there is another Inquisition at work, one which will hunt them in both worlds.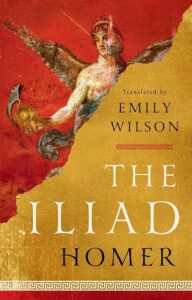 Homer, Emily Wilson (translator ), The Iliad
(W.W. Norton & Co, September 26)
Ever since Emily Wilson stole our breaths in 2017 with the opening line of her translation of The Odyssey—"Tell me about a complicated man"—it's as if we've been waiting for the proverbial other shoe to drop. That shoe, of course, being her translation of Homer's other epic poem The Iliad, the prequel to Odysseus' nigh-impossible journey home. First it's the Trojan War, the gods' meddling into human love affairs and betrayals, Helen and Paris, Achilles and Patroclus, and the Trojan Horse. No, it's not traditional SFF, but it's also the kind of fantastical story that has created the foundation for many other retellings. Waiting breathlessly for this first line feels like waiting for the opening chords of a song you already know will become one of your favorites.
---