Deported at the Dawn of the Syrian War
After a Decade in the US, Lawand Kiki was Forced
to Leave for Damascus
Lawand Kiki was born in 1979, the fourth and final child of a dissident couple in Damascus. His mother told him that, in her native Kurdish language, his name meant "he who is loved." When Lawand was 15, he fled to America with his family and applied for asylum, settling in Fairview, New Jersey. Lawand finished high school there and learned to speak English with the same thick Jersey accent as his mostly Irish and Italian American neighbors. He did a spot-on De Niro impression and memorized lines from Analyze This. He was the kind of guy who made friends easily, chatting up the regulars at the deli and pizzeria. People around the neighborhood knew him as Leo—Leo from Henry Street.
When Leo was in his early twenties, his dad died, and he helped to support himself and his mom. He drove a limo and sold knockoff designer jeans from the trunk of his Lincoln, letting customers know that the jeans were fakes because he didn't have the heart to rip them off. He preferred to feel like they were in on the scam together: These look just like real Diesels, and they're only forty bucks. The family's asylum application had dragged on and was denied after his father's death; Leo eventually overstayed his visa. He was arrested by immigration agents in the winter of 2006 and held in detention. After three months, he was deported to Damascus. When he arrived at the airport, it was his first time in Syria in more than ten years.
The mukhabarat, Syria's secret police, detained him from the plane. The officer who beat and questioned him in a dimly lit interrogation room at the airport was suspicious of Leo's time in America and accused him of being in the CIA. Eventually, he released him into the city. In those first months back in Damascus, as Leo wandered the vaguely familiar streets, he was jarred by the poverty and repression he saw. Like any Western tourist, he walked in awe around the Great Mosque and the sprawling bazaar that surrounded it. In another part of the capital, he could visit the Four Seasons Hotel and a high-end shopping mall that sold real versions of the fake designer clothes he'd once hawked from his Lincoln.
But as he settled into a working-class suburb called Rukneddine, in a bedroom of the colonial-era home in which his paternal grandfather had been born, he realized that many Syrians couldn't afford to own a car or sometimes even to buy meat. He also noticed that no one would talk politics out of fear of the secret police who'd given him such a violent welcome home. "The walls have ears," people warned in hushed tones. Thousands of political prisoners filled the country's many jails.
Leo wanted to return to New Jersey, and he called his mom on Skype every day, but his deportation order barred him from America for a decade. So he started ringing up relatives and old friends from grade school, trying to find a new community. Over time, he began to fall in love with the ancient city. He sometimes thought he could feel Damascus breathing. Already settled in the earliest recorded history—Damascus is mentioned in the oldest surviving records of the pharaohs and in the book of Genesis—the city had served for centuries as a crossroads, drawing in religious and ethnic groups from across Eurasia, North Africa, and the Middle East. It was home to deeply rooted communities of Sunni and Shia Muslims, Alawites, Christians, Circassians, Druze, and Kurds.
The diversity was, on the one hand, part of what made Syria vulnerable to the kind of sectarian tensions that had led to civil wars in Iraq and Lebanon. On the other hand, it was part of the city's unique charm, and if Leo squinted, standing amid the different peoples and accents in Rukneddine, he could catch glimpses of his adopted American home.
In time he found that he'd built a tight-knit circle of friends, like in New Jersey. He was part of a crew of twenty- and thirty-something Syrians who convened to play PlayStation and tarneeb, a Syrian version of Spades. Or they'd sip mate tea from small glasses stuffed with herbs as they passed hours in the city's cafés, puffing tobacco from hookah pipes made of colored glass as the water lightly bubbled in their oblong bases, their voices blending with the sounds of the city.
He's not saying anything that means anything, Leo thought, suddenly afraid. Instead he came out laughing.
In March 2011, the month after Mubarak stepped down in Egypt, protests began in Daraa, a former Roman garrison city forty miles south of Damascus. The protests were a response to police brutality, as in Egypt. Local cops had arrested and tortured children for spray-painting anti-regime graffiti. They castrated one of them, a 13-year-old boy, before they returned his body to his family. The protests in Daraa began to grow when security forces fired on the crowds, then spread to the rest of the country. The protests were peaceful, led by the same kind of liberal, tech-savvy activists as in Egypt, but the response from the Syrian security forces was far deadlier. Hundreds of people had been detained and dozens more shot dead in the streets by the time Syria's young president, Bashar al-Assad, prepared to address the crisis in a nationally televised speech.
Assad, a 45-year-old ophthalmologist, had been living in London when, eleven years earlier, he became the leader of Syria, following the deaths of his father and older brother. Some, like Leo, saw hope in the young and modern image he projected. Assad was defined for them not by the abuses of the mukhabarat but by his promises of reform, by his willingness to dine in public with US Senator John Kerry, and by his glamorous wife, who'd just received a profile in Vogue. Leo bought into Assad's talk of incremental change and believed he was working to fix the brutal and corrupt regime he'd inherited. It was just after 8 p.m. in Damascus, and Leo stared at the TV in his fading apartment in Rukneddine, waiting for Assad to appear on the screen. He thought the speech would be historic: Assad would prove himself the reformer he'd long claimed to be, apologize for the bloodshed, and push for peace. This is a crisis, and he's gonna fix it, Leo thought. Don't worry. Everything's gonna be fine.
As Assad approached the podium, the regime-sanctioned parliament broke into thunderous applause. "I am sure you all know," Assad said, "that Syria is facing a great conspiracy."
Assad rambled on, leveling accusations that the protests were part of some international treachery and warning of "plots being hatched against our country." He threatened the protesters and any Syrian who supported them. The applause continued on Leo's TV. "Burying sedition is a national, moral, and religious duty; and all those who can contribute to burying it and do not are part of it," Assad continued. "There is no compromise or middle way in this."
The speech went on like this for more than an hour. Assad stopped often to accept standing ovations, smiling. He made jokes. He's not saying anything that means anything, Leo thought, suddenly afraid. Instead he came out laughing.
*
In the summer of 2012, Leo arrived with the first surge of Syrian refugees into Turkey, uprooted again, with $100 in his pocket. Civil war had erupted at home, and the mountainous region of southern Turkey that shares a 565-mile border with Syria had become the main staging ground for the rebellion, where fighters could rest and resupply under the watch of a friendly Turkish government. The ancient cities that dot the region were overtaken by the strange ecosystem that comes to life on the edge of a war: rebels, activists, aid workers, and gunrunners, spies, hustlers, and operators of all kinds, and journalists. Newly arrived in Turkey myself, I was amazed when I met Leo amid this blur of faces. It was almost like a dream: a refugee who hailed, like me, from the sprawling towns that ring New York City and greeted me with an accent thicker than my own.
"What's up, bro?" he said.
He was wearing a T-shirt and jeans, his jet-black hair pulled back behind his ears, his brown eyes glowing with a warmth that softened the fact that he otherwise looked like a typical Jersey tough guy. He was still disoriented from his journey.
At first central Damascus had been mostly isolated from the unrest, but Leo could feel it creeping toward him.
After Assad's March 2011 speech, the crackdowns had become deadlier, and the protests had spread. Assad tried to rally his supporters by inflaming sectarian tensions that dated to the division of Islam between Sunni and Shia in 680 ce. Assad and the core of his regime were Alawite, a religious minority in Syria combining some Christian and ancient Zoroastrian beliefs with the tenets of Shia Islam and broadly identifying as Shia. Leo was from another group on the periphery—the Kurds, an ethnic minority that, while predominantly Muslim, was politically suppressed in Syria as in other Arab countries. If someone had asked him before the war how he identified, though, like many of his friends he would have said simply that he was Syrian. Most people were more interested in unity than in division, but the danger of sectarianism was that it existed as a reservoir for the cynical to tap.
Assad peddled conspiracy theories that Sunnis were planning to massacre minorities, and his security forces fired live rounds and sometimes artillery into the protests, hoping to overshadow their message of peace. At the same time, he released hard-line Sunni Islamists en masse from the extremist breeding grounds of the regime's prisons to aid his claims about Sunni radicalism. Among the first refugees fleeing into southern Turkey were many Syrians like Leo who once had bridged sectarian divides. As one young activist there told me later, "I met the most beautiful people I ever knew in jail."
At first central Damascus had been mostly isolated from the unrest, but Leo could feel it creeping toward him. Neighbors and friends were sucked into the conflict. A salesman who worked in a shop that sold designer shoes was arrested at a protest, and when he emerged weeks later, he was marked by torture and filled with rage. A seller of hairstyling products who'd been giving food and blankets to the protesters simply disappeared from his shop one day. There were whispers that he'd been betrayed by another of Leo's friends, a chef who backed the regime. A screenwriter was arrested—he had been speaking against Assad in the cafés—and he, too, was never heard from again. Three brothers who worked as wedding planners became members of the shabiha, the pro-regime death squads that the locals called "ghosts." All across Syria, military personnel were defecting rather than obey orders to fire on the crowds, while bands of civilians, like the former shoe salesman, armed themselves.
Around this time, from a safe house not far from Rukneddine, the Syrian dissident and intellectual Yassin al-Haj Saleh, a supporter of the protests, issued a warning. "The Syrian revolution is starting to regress into a primordial condition; a 'state of nature.' . . . The state of nature is characterized by social dispersion, direct reactive responses, violence—all characteristics of a society losing its self-control and its ability to act uniformly," he wrote in an essay published online. "A state of nature is the equivalent of a civil war—a sectarian war, in which murder leads to murder . . . and hatred animates hatred."
One night in Damascus, Leo stood on a friend's rooftop, watching as a military chopper hovered just above him until he saw it spit a rocket into the streets, shattering another piece of his city. He decided to flee. He called an Alawite friend working as a security officer for the regime, who advised him to drive to a border crossing with Lebanon. There, Leo met another Alawite from his old crew. He took Leo's passport into the customs office, stamped it himself, and brought it back to the car—a final favor inspired by the kind of kinship that was deteriorating so quickly.
"Take it easy," the friend said.
"You want anything from Lebanon?" Leo asked.
The friend paused. "Bring me some tobacco," he said, "if you ever come back."
Leo spent three days in Beirut, sleeping on the floor of a half-constructed home. Then he took a flight to Istanbul, boarded a bus headed south, and rode for 16 hours to the border with Syria, hoping to find work as a translator in the new wartime economy.
__________________________________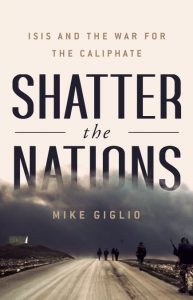 From Shatter the Nations: ISIS and the War for the Caliphate. Copyright © 2019. Available from PublicAffairs, an imprint of Hachette Book Group, Inc.
---