Deeply Flawed Mother Figures of Literature: A Reading List
Mary Kuryla Recommends Toni Morrison, Joy Williams, T Kira Madden, and Others
Many current tales of mothers in disrepute are portrayals of transgressions held in secret. Who can fault these mothers for keeping secret facts that might otherwise blot their reputations? Promisingly, we are beginning to reevaluate our expectations of mothers' roles in their children's lives. Examining the underlying forces compelling mothers to secrecy is essential to this process.
In my novel Away to Stay, Irina, the mother of the adolescent narrator, exemplifies the deeply flawed mother figure—in pursuit of her dream of becoming a ballerina, Irina leads an itinerant life which rarely includes a roof over her daughter Olya's head. Olya is forced to change schools constantly and sometimes go hungry. In the novel's most troubling secret, Irina withholds the identity of Olya's father. But Irina's questionable behavior and quixotic career pursuit become more understandable as we learn of the terror of home and family instilled in her in Soviet Russia and consider her rigorous training at the prestigious Vaganova School of Ballet.
The secretive mothers in these six works resonate for me as nuanced characters who resist the bounds of traditional motherhood to lead unconventional lives.
*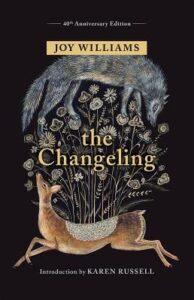 Joy Williams, The Changeling
Joy Williams's novel The Changeling tells the story of Pearl, a gin-imbibing young mother who has taken her baby and fled from her husband. Though her husband retrieves her, he dies soon after in a plane crash returning to his father's remote island. Pearl and her child miraculously survive, but her drinking continues on the island, where she is surrounded by her husband's relatives and their children. Does she drink to drown out a secret ambivalence for her child or to dull the company of the adults? Pearl navigates her ambivalence with a belief that her son was switched for a changeling in the aircraft wreckage. Pearl's true transgression might not be her hallucinatory drunken mothering but the recognition that the only way to endure the gap between what adults say and what they do is to swill gin.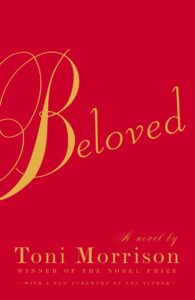 Toni Morrison, Beloved
Toni Morrison's inimitable novel Beloved holds within it one of the most profound and painful maternal secrets ever brought to literary light. Sethe, a formerly enslaved person, now resides with her daughter in a house in Ohio which is haunted by a poltergeist-like spirit. When the spirit takes the corporeal form of a young woman named Beloved, Sethe abandons herself to Beloved's every need, attempting to repair her earlier efforts to kill her children to avoid their recapture. Sethe believes the character of Beloved is the incarnation of the infant that died at her hand. This act and its expiation consume Sethe until she is so reduced by her maternal obsession for Beloved that only one thing will save her: confronting her own need to form a separate identity. The novel, among its many astonishments and radical challenges to hierarchies of power, employs a maternal act of singular transgression to ask a forbidden question: does a mother owe her children and society her life and her soul? Isn't this just another form of enslavement?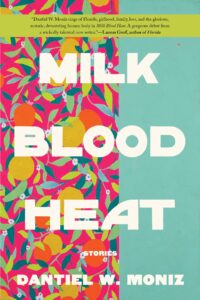 Dantiel Moniz, "An Almanac of Bones" from Milk Blood Heat
Helen, the mother in Dantiel Moniz's story "An Almanac of Bones," is open about her abandonment of her 12-year-old daughter Sylvie, who now lives with her devoted grandmother. Sylvie employs various tactics to distance herself from the hurt of her mother's desertion, including calling her mother by her given name. More than abandoning her child to pursue her own dreams, Helen's greatest transgression may be that she cannot stop talking about herself and her travels, including an adolescent sexual encounter that would make the most devoted daughter squirm.
The discovery of a set of animal bones in the forest animates the story. Sylvie tries but cannot identify them, despite her extensive bone collection. "I was interested in discarded things," Sylvie says, "dead scalp flakes, toenail rinds…" Sylvie feels herself to be a discarded piece of her mother's body, yet she eventually embraces her status and envisions the recovered bones of her own body one day gilded and displayed. Helen deprives Sylvie of maternal attention, yet makes up for it by supplying a potent model of female liberation.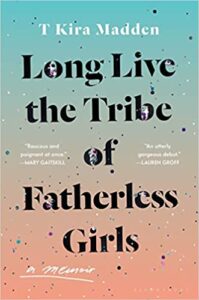 T Kira Madden, Long Live the Tribe of Fatherless Girls
In T Kira Madden's powerful memoir, a department store mannequin that Madden's single mother hauled from the trash to convince passersby a man was in residence becomes, for the young girl, a reassuring companion she names Uncle Nuke. Then there was her life, her mother the mistress of her father and Madden their "bastard child." "My parents seem very much in love," Madden says, recalling her early impression of them.
Though her father will eventually make Madden's mother his wife, thereby scrubbing the social tarnish of a mistress, their marriage will all but seal off the deeper secrets her mother keeps as the price of a wedding band. As a result, growing up, Madden at times feels one step away from unwanted, a feeling exacerbated by being multiracial and gay. But what is not in doubt and perhaps most moving is Madden's love for her mother, love that allows her to uncover her mother's secret sacrifices and heartbreak.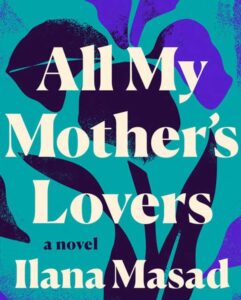 Ilana Masad, All My Mother's Lovers
Maggie's life is interrupted by the passing of her mother Iris, who has left behind five letters to be mailed in the event of Iris's untimely death. In Ilana Masad's intriguing novel, Maggie's decision to hand deliver the letters sets her on an odyssey which will unveil her mother's secret lovers.
Maggie's journey is paralleled by Iris's telling of liaisons in a range of locations, from a retirement home to a seedy Las Vegas apartment, while deploying business trips as cover. Maggie is soon forced to confront the ever-widening gap between what she believed about Iris's apparently staid life and the reality of her mother's frequent departures to pursue romantic trysts. Her mother's secrets and lies are bald insults to Maggie, considering the pain she endured at Iris's discomfort with a queer daughter.
The story underscores the damage a family secret, particularly a mother's, can do to her children's ability to connect and commit to others. But in giving Iris her own version of the tale, Masad denies us easy outrage at the mother's behavior. Instead, we are compelled to question why we expect women to sacrifice heart, body, and soul on the altar of idealized motherhood.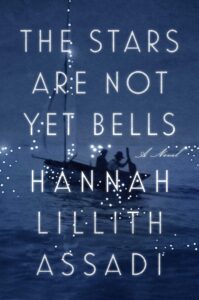 Hannah Lillith Assadi, The Stars are Not Yet Bells
As Elle, the heroine of Hannah Lillith Assadi's novel The Stars Are Not Yet Bells, attempts to report the story of her life in the face of encroaching dementia, the reader is lulled by melodious prose into the tale of her marriage to Simon on the remote island of Lyra. Fact and imagination, memory and forgetting supply tension to Elle's rendering—and it quickly becomes evident that for Elle the true love of her life was not her husband but her "sham cousin" Gabriel, a singular lover lost to the sea.
If the narrator is understandably terrified of "losing all that makes me Elle: my facts," it is the constant burn of a secret regarding her daughter that supplies present day dramatic tension in the novel. Zelda, whose name already blurs in Elle's memory, vibrates with barely suppressed fury from her own flawed marriage. She picks fights with her father, calling him by his given name as if intuiting something not quite truthful in the origins of their bond. The shouting between husband and daughter is soon muffled by Elle 's passionate recollections of Gabriel, whose ghostly presence in her mind seems more material than any fact Elle can summon. In Assadi's rendering of dementia, we are rewarded with a privileged view of a mother's secrets and passions simply by virtue of what insists in the mind and what muddles. Can we be surprised that motherhood and its demands, for all its insistence, winds up in the muddle?
___________________________________________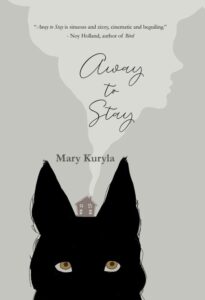 Away to Stay by Mary Kuryla is available now from Regal House Publishing. 
---