Deep in the Literary Journal Archives: Poetry That Takes Risks and Takes Up Space
Nick Ripatrazone Looks Back at The American Poetry Review, Pleiades, and The Hudson Review
Tabloid-sized. Big on the table. A blanket of a journal. The American Poetry Review debuted 50 years ago, with a full-cover photograph of David Ignatow, and poems by Denise Levertov, Donald Hall, David Smith's translations of César Vallejo prose on poetry ("No cultured and enlightened people ever showed an aversion to the noble priesthood of Poetry."), Pablo Neruda translated by Donald D. Walsh, and Joyce Carol Oates on The Complete Poems of D.H. Lawrence: "You don't approach Lawrence, the poet; he approaches you—blunt, exasperating, imposing on you his strangely hectic, strangely delicate music."
My back issues of APR don't fit in a box—literally and metaphorically. They rest in a stack; they take up room. Poetry should take up room. (Even now, in order to write about it, I have to re-arrange my desk, the opened issue draping over the edge.) Poetry is inherently strange and unwieldy: an aberration, an elision of prose.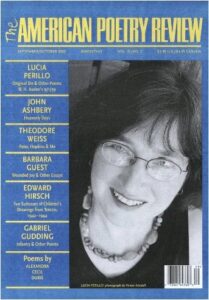 My September/October 2002 issue features a photo of Lucia Perillo on the cover, and a poem by Norman Dubie spanning the entire back cover. These are both quietly radical ideas. The work is what matters—yes, I know—but what also matters is the creator, and her toil and travel and technique. We should see poets. Likewise, the placement of the poem on the back cover—on the outside—is an affirmation that we don't always need to dig in order to discover verse. Errant lines of poems should appear on the sides of buildings, buses, and bridges.
Centered in the issue: Perillo's supplement, ten poems and an essay. From "Original Sin": "When first they told me the serpent beguiled her / I pictured her eyes knocked loose and rattling round / like the gizmo you'd take into the closet / and pump with your thumb to make red and blue sparks. / You needed the darkness. You needed the quiet. / You needed the whisper of sleeves on your cheeks." Those lines enveloped me, commanded me. I stayed with Perillo's strangeness, her stories ("at mass the next day I again held my tongue / & used it only as a platform for the wafer, the body of Christ / about whom my father had his doubts.").
Perillo's poems are followed by her essay about W.H. Auden's "September 1, 1939." What a sequence: the poet as artist, the poet as critic and teacher. "Poets," she writes, "serves to stock the larder of our culture's best ideas," but "I wonder if the nobility of expression that once characterized poetry might belong to the past." Later in the issue, an essay by Theodore Weiss on Walter Pater and Gerard Manley Hopkins: "his work made clear what an audacious venture poetry still could be." Among Weiss's gems from both writers, I most love this line from Pater's Conclusion: "For art comes to you proposing frankly to give nothing but the highest quality to your moments as they pass, and simply for those moments' sake."
*
Pleiades 34.1, from 2014, also includes poetry on the back cover: lines from Jennifer K. Sweeney's "Tuolumne: Variation on Bear and Moon." The excerpt is an invitation inside, where the editors—Wayne Miller, Kathryn Nuernberger, and Kevin Prufer—curate a symposium on "poetic risk." They ask good questions:
1. Has the idea of "risk" in poetry been somehow rendered obsolete?
2. Is it now considered a less important poetic value than it once was?
3. Are there new and exciting ways that poets are currently taking risks in their work?
4. Are the risks of poetry actually quite constant and old?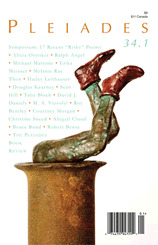 They invited poets to consider recent risky poems. The action is as instructive as it is generative. Rae Armantrout considers an excerpt from Ben Lerner's "Didactic Elegy." She quotes from him: "Love is negative because it dissolves / all particulars into an experience of form. / Refusing to assign meaning to an event is to interpret it lovingly." Armantrout responds: "He's right maybe. Once we assign meaning to something, we can move on, cease to actively engage with it. Now, is that loving? But in the universe of this poem, as soon as you're right, you're wrong. You've frozen something into place, into meaning."
If this were an anthology, or perhaps a speech, we might seek a thesis or conclusion from Armantrout—but the menagerie of literary magazines compels us otherwise. There is an obtuse, incomplete feel to Armantrout's response: elements also endemic to risk. As Cathy Park Hong later says of a poem by Kim Hyesoon in the issue, "She writes towards her terror and she doesn't flinch."
*
"A poem that takes risks is highly subjective: one person's idea of a risky poem may be as dull as a grocery list to another," writes Hong. "It's difficult to prescribe formal attributes to risk—I can only offer a definition that's more from the gut. To read a poem that takes risks is like having all that beige paint torched from your eyes and experiencing something raw and pulsating and sublimely daunting."
Errant lines of poems should appear on the sides of buildings, buses, and bridges.
I feel that way about Dana Gioia's "Monster" from the 2016 issue of The Hudson Review. Sometimes risk arises from comparison; from consideration of a poet's canon. The poem begins: "Night-born, malformed, maleficent, / pale as a pulled root, a monster prowls the woods." The speaker can think of no other explanation "for the gutted deer, the naked / footprint by the bedroom window," the neighbor's "disappeared" dog, and a broken gate. Gioia is moving among the figurative and the real, and his pivots reveal how the two are wedded: "How often now the birds / suddenly go silent in the trees. / What do they hear?"
By the end of the poem, the self has become the flesh of the phantom, although Gioia offers just enough to keep us wondering: "Cry to me from the thorny ravine. / I'm not safe behind locked doors. / I will not answer or embrace // the thing I have created."
For years I have been drawn to the pyrotechnics of sentences and lines, finding risk in form: Thomas Pynchon in The Crying of Lot 49, Ishmael Reed in Flight to Canada, Fanny Howe in Love and I. I'll never forsake them, but a walk through a literary magazine is reminder enough that form and feeling can be risky in equal parts. Sometimes, the pinch and burn of a poem's surprise is enough to leave a scar—the electricity of a familiar name being unfamiliar, and a bit unsettling.
---