Debunking the Coconut Myth: An Economist Breaks Down a Fundamental Misunderstanding of the Cause of Poverty in Poor Countries
Ha-Joon Chang on the Truth about the "Robinson Crusoe Economy"
Coconut isn't just for eating. The immature fruit is a ready source of clean water—long-distance sail ships crossing tropical waters are said to have routinely carried immature coconuts as an emergency water supply. Its oil is popular for cooking. It is known to have been the first vegetable oil used by fish-and-chip shops in Britain, which were set up by Jewish immigrants in the mid-nineteenth century (another example of how many "British" things are actually of foreign origin; also see "Garlic").
Coconut oil is an important ingredient in soap and cosmetic products. It was used as a lubricant in factories before petroleum-based lubricants took over and used to supply glycerine for the manufacture of dynamites (also see "Anchovy"). Coir, the fiber from the husk of the coconut, is used in ropes, brushes, sacks, mats and also as stuffng for mattresses. Coconut is also a source of fuel; its husks and shells are made into charcoal, while coconut oil can be made into biodiesel, as it is in the Philippines.
Coconut being such a versatile and useful thing, it has come to symbolize the natural bounty of the tropics, at least in the minds of many people who do not live there.
It is no coincidence that Bounty is the name of a chocolate bar, popular in Britain and Canada, with a coconut filling—and a coconut tree, clear blue sea, white sand, and an opened coconut on its wrapper. It may not be one of the most famous chocolate bars in the world, but it is still popular enough to be included in the Celebrations miniature chocolate bar collection, made by Mars, Inc., rubbing shoulders with such chocolate bar luminaries as Mars, Snickers, Twix, Galaxy and Milky Way.
The association of coconut with the tropics is so deeply entrenched that the so-called "Robinson Crusoe economy" model that many economists use in order to teach their students some basic economic concepts is a single-commodity economy producing and consuming only coconut—even though there is actually not a single mention of coconut in Robinson Crusoe.
If the coconut symbolizes the natural bounty of the tropical zone in many people's minds, it is often used to "explain" the human poverty frequently found in the zone. A common assumption in rich countries is that poor countries are poor because their people do not work hard. And given that most, if not all, poor countries are in the tropics, they often attribute the lack of work ethic of the people in poor countries to the easy living that they supposedly get thanks to the bounty of the tropics. In the tropics, it is said, food grows everywhere (bananas, coconuts, mangoes—the usual imagery goes), while the high temperature means that people don't need sturdy shelter or much clothing.
As a result, people in tropical countries don't have to work hard to survive and consequently become less industrious. This idea is often expressed—mostly in private, given the offensive nature of the argument—using coconut. The proponents of this "tropical want of work ethic" thesis venture that those tropical countries are poor because the "natives" lie beneath a coconut tree and wait for coconuts to fall, rather than trying to actively grow or, better still, make things.
If the coconut symbolizes the natural bounty of the tropical zone in many people's minds, it is often used to "explain" the human poverty frequently found in the zone.
Quite a plausible tale—except that it is entirely false. To begin with, few sensible residents of the tropical countries will lie beneath a coconut tree, even if they wanted a free coconut. If they did, there is a danger that the falling coconut will crush their skulls (people do get killed by falling coconuts, so much so that there is an urban legend that coconuts kill more people than sharks do, which isn't true). So, even if you are the fictitious "lazy native," you would not lie beneath a coconut tree—you would wait (lying down, if you prefer, although there is no requirement that you do) somewhere else and occasionally check whether any coconut has fallen under the tree.
More seriously, it is a complete myth that people in poor countries, many of which are in the tropics, lack in terms of work ethic. In fact, they work much harder than their counterparts in rich countries.
To begin with, usually a much higher proportion of the working-age population is working in poor countries than in rich ones. According to the data from the World Bank, in 2019, the labour force participation rate was 83% in Tanzania, 77% in Vietnam and 67% in Jamaica, compared to 60% in Germany, 61% in the US and 63% in South Korea, the supposed nation of workaholics.
In poor countries, a huge proportion of children work, instead of going to school. UNICEF (United Nations International Children's Emergency Fund) estimates that, during the 2010–2018 period, on average 29% of children aged five to seventeen in the least developed countries (LDCs) were working (this does not include children doing "children's work"— household chores, taking care of younger siblings, doing paper rounds, that sort of thing). In Ethiopia, nearly half the children were working (49%), while child labour rate (the proportion of children working) was around 40% in countries like Burkina Faso, Benin, Chad, Cameroon and Sierra Leone.
Moreover, in rich countries, the vast majority of people between eighteen and twenty-four, in their physical prime, are in tertiary education (junior colleges, universities and beyond). The percentage of those who are in tertiary education of the relevant age cohort could be as high as 90% in some rich countries (such as the US, South Korea and Finland) whereas it is less than 10% in forty or so poor countries. This means that, in rich countries, most people are not working until they are well into their early adulthood, many of them learning things that may not directly raise their economic productivity, although I believe these are very valuable things for other reasons—literature, philosophy, anthropology, history and so on.
It is a complete myth that people in poor countries, many of which are in the tropics, lack in terms of work ethic. In fact, they work much harder than their counterparts in rich countries.
In poor countries, a lower proportion of people survive into post-retirement age (sixty to sixty-seven, depending on the country) than in rich countries. But insofar as they are still alive, old people in poor countries tend to work much later into their lives than do their rich-country counterparts, as many of them cannot afford to retire. A very high proportion of them work until they are physically decrepit, as self-employed farmers and shopkeepers or as performers of unpaid household work and care work.
Moreover, when they work, people in poor countries work for much longer than those in rich countries. People in poorer, "hotter" countries like Cambodia, Bangladesh, South Africa and Indonesia work around 60–80% longer than do the Germans, the Danes or the French, and 25–40% longer than do the Americans or the Japanese (who are, by the way, despite their reputation for being "worker ants," these days working less than the Americans).
If people in poor countries are actually working much harder than their counterparts in rich countries, their poverty cannot be a matter of their diligence. It is about productivity. These people are working much longer hours for much greater proportions of their lives, compared to those in rich countries, but they produce much less because they are not as productive.
This low productivity is, in turn, not even mainly due to the qualities of individual workers, such as their education level or health. These things matter for some high-end jobs. But for most jobs, workers in poor countries are, as individual workers, as productive as their rich-country counterparts. This point is easy to see if you think about the fact that immigrants from poor economies into rich ones experience a vast increase in their productivity upon arrival, despite the fact that they do not acquire extra skills or experience dramatic improvements in health in the process of migration.
They experience steep increases in productivity because they are suddenly working with better technologies in better-managed production units (e.g., factories, offices, shops and farms), supported by higher-quality infrastructure (e.g., electricity, transport, internet) and better-functioning social arrangements (e.g., economic policies, the legal system). It is as if a jockey who used to struggle with an undernourished donkey is suddenly riding a thoroughbred racehorse. The jockey's skill matters, of course, but who wins the race is largely determined by the horse—or the donkey—that he is riding.
Now, why poor countries have less productive technological and social arrangements that result in low productivity is a complex story that requires discussion of a whole host of factors that I cannot do justice to in this short chapter: the history of colonial domination that forced countries into specializing in low-value primary commodities (see "Anchovy"), intractable political divisions, the deficient nature of their elites (unproductive landlords, undynamic capitalist class, vision-less and corrupt political leaders), the unfair nature of the international economic system that favors rich countries (see "Beef") are only the most important of them.
However, what is clear is that poor people in poor countries are poor largely because of historical, political and technological forces that are beyond their control, rather than because of their individual shortcomings, least of all their unwillingness to work hard.
The fundamental misunderstanding of the cause of poverty in poor countries, represented by the false imagery built around the coconut, has helped the global elites, both from the rich countries and the poor ones themselves, blame the poor individuals in poor countries for their poverty. Perhaps getting the story about the coconut right will help the rest of us force those elites to answer difficult questions about historical injustice and restitution, international power asymmetry and national economic and political reforms.
_________________________________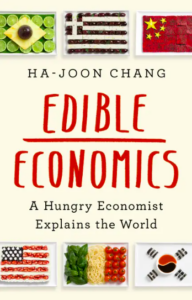 Excerpted from Edible Economics: A Hungry Economist Explains the World, by Ha-Joon Chang. Copyright © 2023. Available from PublicAffairs, an imprint of Hachette Book Group, Inc.
---