Deborah Levy: Finding a Room House of One's Own
"Yes. I wanted a house. And a garden. I wanted land."
I had spent so much of my life peering into the windows of estate agents, searching for my very own domain, my face pressed against the window, along with the ghosts of other dreamers looking for homes we could not afford. Nevertheless, I believed that one day, when I grew up, I would earn myself the keys to a house of my own in the Mediterranean with honeysuckle and balconies. At the same time a mean little voice in my head was always saying, "This is not real, it will never be yours."
Yes, I had spent a long time trying to have a more bourgeois life. Somehow it seemed hard to get one. My colleagues who really did have well-developed bourgeois lives were always trying to be less bourgeois, but I wanted to move into the neighborhood.
Bonjour, isn't the air a delight here! Look at our country cottages with their tangle of pink climbing roses. Look at the lake we made from natural springs. Look! Look on Twitter: our ducks are sleeping under the willow trees! Look at our dining table and its constellation of chairs, look at the art on our walls, our pergola, our salad bowls and oriental poppies, our Victorian porcelain and wild-flower meadows. Look at this slice of buttered toast next to the modernist lamp. Look! Look at you looking on Instagram! Here we are, setting off on our country walk with Molly, our sweet-natured Burmese python!
If real estate is a self-portrait and a class portrait, it is also a body arranging its limbs to seduce. Actually, I couldn't work out why real estate wasn't flirting with me more intensely, its swooning eyes making me all kinds of offers I couldn't refuse. After all, I was at last able to live from my writing. As I lay beneath the abandoned or forgotten key in Central Park and started to think about all this, it was too depressing to linger on the real and pragmatic reasons for still living in the wreck of the London apartment block.
I had spent a long time trying to have a more bourgeois life. Somehow it seemed hard to get one.
I had started writing in my early 20s and was first published age 27, though my plays were performed throughout my early 20s. It has been immensely powerful putting words into the mouths of actors, but it was hard to pay the bills. I thought about the writer Rebecca West, whose books had brought her enough wealth at 40 to buy herself a Rolls-Royce and a grand country house, or estate, in the Chiltern Hills. At the age of 40 my second daughter was 3 months old and I was experimenting with how to make dhal (very cheap) from a variety of pulses and lentils.
While Rebecca West put her foot down in her new swanky car, I was figuring how to combine spices and whether it would be better to serve dhal with rice or learn how to make roti and other Indian flatbreads, which I did: brown wheat flour, water, oil, ghee. Yes, it gave me such pleasure to see how the dough bubbled and puffed up in the frying pan and to simmer butter and strain it. Later I went on to make paratha, much trickier: it required pleating the dough. I couldn't believe it. I was making delicious dhal and rotis and parathas to feed my family and I was writing through the night, familiar with every car alarm that went off at four in the morning. At the same age, Rebecca West was parking her new Rolls-Royce in the grounds of her real estate in the Chiltern Hills and Camus was receiving the Nobel Prize.
Only part of us is sane: only part of us loves pleasure and the longer day of happiness, wants to live to our nineties and die in peace, in a house that we built, that shall shelter those who come after us. The other half of us is nearly mad. It prefers the disagreeable to the agreeable, loves pain and its darker night despair, and wants to die in a catastrophe that will set back life to its beginnings and leave nothing of our house save its blackened foundations.
–Rebecca West, Black Lamb and Grey Falcon (1941)
I was with Rebecca West some of the way, but not with the blackened foundations. If you are not wealthy, you do not want a catastrophe in which your house burns down. My horses! My wok! My little lamp fringed with white pompoms! All the same, those invisible years raising our children and getting to grips with all those parathas were some of the most formative years of my life. I didn't know it then, but I was becoming the writer I wanted to be. I was going to step into her and she was going to step into me. I was pleased I was not wearing the equivalent of sensible shoes to write the stories, novels and plays that preoccupied me in my twenties. I was finding a way through the forest (wearing silver platform boots) to meet the wolf. Who or what is the wolf? Perhaps the wolf is the whole point of writing.
Yes. I wanted a house. And a garden. I wanted land.
To walk towards danger, to strike on something that might just open its mouth and roar and tip the writer over the edge was part of the adventure of language. Anyone who thinks deeply, freely and seriously will move nearer to life and death and everything else we pass on the way. Any cleaner getting up at dawn to sweep offices, railway stations, schools, hospitals, will be familiar with this sort of thinking. She knows she has to be stronger than her most fearful thoughts, stronger than her exhaustion. It is likely there are many people who hear and see her, though she might not be visible on Instagram (Look! Look at the hours I work! Look at my three jobs! Look at my hands!) but that doesn't stop her from thinking big thoughts. Thought is language. Avoiding thought is language.
I once taught a writing class just looking at the words Yes and No. We agreed that a sign on a gate that reads No Blacks, No Jews, No Gypsies is the most impoverished language of all. The signs on public swimming pools in the 1970s were interesting texts, too. No Diving, No Petting, No Eating, No Splashing. Why not put up a sign that just says No. No. No. And what would happen if we were to flip the sign? Yes. Yes. Yes.
Yes. I wanted a house. And a garden. I wanted land.
The key hanging in the branches of that tree in Central Park opened the doors to many other houses in my mind.
I was aware that James Baldwin had spent the last 17 years of his life living in the French town of Saint-Paul-de-Vence. As I understood it, he rented a stone house with orange trees and palms and views of the sea and the mountains. It was his refuge from hostility to his skin color and homosexuality in 1970s America. He wrote in this rented stone house, ashtray on his desk, the fireplace behind his chair. Miles Davis, Stevie Wonder, Nina Simone, Ella Fitzgerald: all made the journey to visit him. He talked long into the warm, Mediterranean night with friends, seated around a table in the garden. His former Swiss lover lived in the gatehouse with his family and nursed Baldwin when he became sick from stomach cancer. Apparently, Baldwin took steps to buy this house when he was dying, but somehow it did not work out. After his death, his rented real estate did not become the James Baldwin Museum.
I, for one, would have made the pilgrimage just to see the glass ashtray on his desk. I would have liked to glimpse where he wrote and thought and welcomed friends. The house was not just a domestic space, it was a political space. He'd had to leave his country and make a kinder world in a house he had rented elsewhere. It was not the first time he had to escape racism in America to survive and to write. He had arrived in Paris from New York in the winter of 1948 with forty dollars in his pocket. At that time, he lived in a crummy hotel in the Rue de Verneuil. A rented house on the Côte d'Azur with orange and palm trees in the courtyard, surrounded by friends, was an encouraging image. I had kept it in my head for decades, like an old photograph in my family album.
__________________________________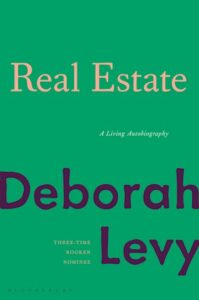 Excerpted from Real Estate by Deborah Levy. Reprinted with permission of the publisher, Bloomsbury Publishing. Copyright © 2021 by Deborah Levy.
---