Dawn Raffel on Constructing Cities, Real and Imagined
Jane Ciabattari Talks to the Author of Boundless as the Sky
Dawn Raffel is a master at making art from language, coming up with ingenious architecture for her stories, creating portals to mystery and surprise. Boundless as the Sky: Fables & Tales, Some of Them True, her third collection, links her passion for Chicago's 1933 World Fair and Italo Calvino's Invisible Cities.
"I first read Invisible Cities in the early 90s," she explained in our e-mail conversation. "What has influenced me most is, perhaps, the fierce attention to language, which is evident even in translation. May I quote Calvino? "Everything can change, but not the language that we carry inside us, like a world more exclusive and final than one's mother's womb."
Part one of Raffel's new collection is inspired by Invisible Cities, which she calls "a book I have loved for years and years, as have so many people. It's a book that gets under your skin, and the quote that I used in the epigraph has stayed with me for decades ('If I tell you that the city toward which my journey tends is discontinuous in space and time, now scattered, now more condensed, you must not believe the search for it can stop.') But I'd never have sat down and said, 'Now I am going to write a book inspired by Invisible Cities.' I'd have been far too intimidated! I just began writing (starting all the way back in 2007) until I realized what I was doing—which is how books often coalesce for me. I deliberately did not want to go for any kind of matchy-matchy, copycat structure. And although I have read Invisible Cities and shared it with reading groups several times, I did not allow myself to re-read or analyze it as I was writing."
The stories in the first section "take place in cities real and imagined; past, future, and in some cases dystopian," she adds. "Part Two takes place in a single city on a single day: July 15, 1933, at the Chicago 'Century of Progress' World's fair. In Invisible Cities, every city may be read a version of Venice. For me, while I wouldn't say every city is Chicago, it's rooted deep in my psyche. My parents were both raised in Chicago, and while I grew up in Milwaukee, we used to visit my grandparents and other relatives there. It was the Emerald City of my childhood. Because I didn't live there and because those memories are old, it's a mythical Chicago. My intention was for the two parts of the book to be in conversation with each other, almost flip sides of the same coin, the real and invented cities—since, really, all cities are invented. As for the title, Boundless as the Sky was meant to reflect both the unfettered hopes of the fairgoers who had no idea what the future would bring and the idea that events that happen in one place and time ripple out through all others." Her book launched shortly after our email conversation concluded.
* 
Jane Ciabattari: How has your life and work gone during the last several years of pandemic and uncertainty and turmoil?
Dawn Raffel: Like many writers, I actually got a lot written during the worst of the pandemic because I had nowhere to go and because I was fortunate to have my health. During the winter of 2020, I had been immersed in archival (non-digitized) research for the novella that is part two of this book. When everything shut down, I was forced to stop going down additional research rabbit holes and just write.
As a collection takes shape, I also look at where something (an emotional note) is missing and another story is needed.
JC: You begin with a brief glimpse of the author: "…She tore the damp stuffing out of the past and filled her fists with synonyms. Flung words like confetti, like fairytale feathers, repeating herself again and again. She believed, in this way, she could bring back the dead, if just this once." What inspired this intriguing description of the writing process? Does this add an autobiographical twist?
DR: It is definitely autobiographical and truer than anything else I can say about myself as a writer.
JC: Boundless as the Sky is structured as a narrative mosaic. Which came first, the stories or the structure?
DR: Structure is my bear. Probably half of the stories were written first, and then as the structure emerged, I continued to write and revise. In some cases, the stories were published in journals in quite different form.
JC: What was your process for ordering the stories?
DR: That is a process that is always intuitive, and as a collection takes shape, I also look at where something (an emotional note) is missing and another story is needed. And I also cut rather mercilessly.
JC:Your first section, "The City Toward Which My Journey Tends," includes brief texts about cities like Sanitary City, where sneezing is illegal; the City of Salt, created by Lot's wife, and the city in Europe with a  cemetery holding no coffins, among others. Which of these cities is real?
DR: The city in Europe with the cemetery holding no coffins is Kisvárda, Hungary, where my maternal grandfather was born. The gravestones were removed so that the original cemetery could be used as an athletic field, and they were placed in a different field at the outskirts of the city. Therefore, there are no bodies in the field where the graves now stand. I certainly hope that the Sanitary City and the City of Salt do not exist.
JC: You have said that the seed for your nonfiction book, The Strange Case of Dr. Couney, was planted when you discovered a note your father had made re: the 1933 Century of Progress in Chicago. Parts of your first section ("The Second City, 1933-34," with the fan dancer and "babies on display in incubation machines") and the second part, draw from that research.  What kept it in your creative mind?
DR: Obsession! Really, I thought I had gotten the Century of Progress out of my system after I wrote the Dr. Couney book, but it was all still there, lying in wait for me.
JC: In July 1933, Italo Balbo, commander of Mussolini's fleet, arrived at the Chicago world's fair with twenty-four Italian seaplanes. You give us glimpses of real and imaginary characters who were there, including Rufus Cutler Dawes, president of the Century for Progress, checking his watch in anticipation of Balbo's arrival, and Thomas Finnerty, Jr., of the Chicago Police department, who is worried about a bomb going off (a later historic footnote indicates that a square box arrived at the Italian Pavilion addressed to Balbo; "Inside the police found a small cake and ate it."). Then Balbo himself: "He has seen things that few will see, captured his impressions, arranged them in words: "Geometrical patterns of water and meadowland, brimming canals meandering like ribbons of crystal amidst tilled fields and equipped with quaint balconies and verandas, which make them appear like toys…." Why did you choose to have your second section revolve around that historic moment?
DR: I was looking for a moment that encapsulated all of the hope and excitement of that era, the belief that technology would solve all our problems—with the reader well aware of what was coming.
JC: You also include the story of Dodo the Bird Girl, who is "discovered" in a Georgia asylum and brought to the Century for Progress. She is based, as you point out in your "Historical Notes," on Koo-Koo the Bird Girl, who was in residence at Coney Island from 1936 to 1960. You saw her? Why did  Mr. R tell her that "freaks" are "the royalty of sideshows"?
I wanted the reader to see these performers as people whose lives mattered as much as the well-known historical leaders and who deserve not to be exoticized or forgotten.
DR: I never saw the original Koo-Koo. (I am old but not that old.) In 2019, I had the good fortune of seeing an extraordinary performance artist and disability activist named Sarah Houbolt, who brings Koo-Koo to life on stages worldwide in act that that is both homage and education. That led me to do more research, both about the horrific treatment of people with disabilities, most of whom were incarcerated in hellish institutions and subject to involuntary sterilization during that time period, and about the Bird Girl herself: For example, she can be seen performing in the notorious 1932 movie "Freaks." For Boundless, I was interested in the juxtaposition of the flightless (and almost voiceless) "bird girl" with the famous aviator, alongside the burlesque dancer Sally Rand, whose act involved ostrich feathers.
Coney Island/Sideshows by the Sea is perhaps the only place in the U.S. where you can still see sideshow entertainment, and once I understood what they were up to, I attended several shows. Contrary to what you might think, these shows are performed with pride, as a kind of activism. The line, "freaks are the royalty of sideshows" is one that I heard the performers use on more than one occasion. In the early twentieth Century, "freaks" could command very high salaries—much more so than, say, fire eaters or sword swallowers. There were often bidding wars among showmen.
That said, I have to admit I was fearful of having my head handed to me for portraying the "freak" artists—but they were an important part of the fair and it seemed wrong to erase them or look the other way. I wanted the reader to see these performers as people whose lives mattered as much as the well-known historical leaders and who deserve not to be exoticized or forgotten. Underlying this is the fact that, while the Jewish characters in the novella are worried about Hitler (while holding onto some hope that he won't last), his first and least remembered victims were children with intellectual and physical disabilities. My "freak show" characters are based on research, but as with all of my characters, any errors and ineptitudes are my own.
JC: What are you working on next?
DR: At this point, I am not entirely sure. I was working on something in the historical sphere again, but it has imploded in the way that tells me I need to rethink things. I suspect there will be elephants.
__________________________________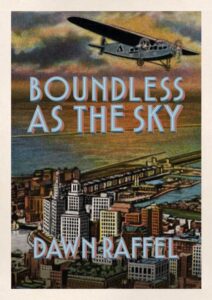 Boundless as the Sky by Dawn Raffel is available from Sagging Meniscus Press.
---