Danielle Evans on Mrs. Dalloway, Black Vaudeville, and Nella Larsen's Quicksand
Rapid-fire book recs from the author of The Office of Historical Corrections

Welcome to the Book Marks Questionnaire, where we ask authors questions about the books that have shaped them.
This week, we spoke to the author of The Office of Historical Corrections (out tomorrow in paperback), Danielle Evans.
*
Book Marks: First book you remember loving?
Danielle Evans: I mean, the very first book I remember loving was a picture book about a lion. Some of the pages had a circle cut out in the middle so that you could put your own face into the book and roar like a lion.
BM: Favorite re-read?
DE: Mrs. Dalloway.
BM: A book that blew your mind?
DE: Toni Morrison's Jazz, Alice Munro's The Moons of Jupiter.
BM: Last book you read?
DE: I reread Sister Carrie this week because I'm teaching it.
BM: A book that made you cry?
DE: Bright Dead Things by Ada Limón.
BM: What book from the past year would you like to give a shout-out to?
DE: The Final Revival of Opal & Nev by Dawnie Walton.
BM: A book that actually made you laugh out loud?
DE: How to Leave Hialeah by Jennine Capó Crucet.
BM: What's one book you wish you had read during your teenage years?
DE: Quicksand by Nella Larsen. I think there would have been both reassurance and a lesson in Helga Crane running all over the world trying to run away from herself.
BM: Favorite book to give as a gift?
DE: Lucille Clifton's collected poems.
BM: Classic book you hate?
DE: I'm afraid that giving my most honest answer here would get me into too much trouble so I'm keeping my mouth shut! I'm not going to be the Twitter main character of the day! Instead can I talk about a book I thought I hated? When I first read it, I thought I hated Romeo & Juliet. I hated it so much it made me suspicious of the whole Shakespeare project, though I had to give him credit for Julius Caesar and Hamlet.
It had been taught to us a great romance, and it's a terrible romance! But then I heard someone talk about it as a book in which the romance is supposed to feel a little ridiculous and the tragedy is teenagers dying over obsessive and fleeting infatuation in a toxic landscape where everyone, adults included, is making terrible choices and I reread it, and I got it. It was a reminder to learn to separate whether, when I'm annoyed with a book, I'm reacting to the book or to something said about the book or something the book has been forced into representing.
BM: Classic book on your To Be Read pile?
DE: Anna Karenina.
BM: Favorite book no one has heard of?
DE: This question is so fraught! People sometimes tag me when they're shouting out one of my books as an answer to this question, and it's like thank you, but also excuse me? I'll go with a book by someone who is no longer with us to have their feelings hurt: Charles Chesnutt's The Wife of His Youth.
BM: Favorite book you were assigned in high school?
BM: Book(s) you're reading right now?
DE: I'm reading a nonfiction book called Waltzing in the Dark by Brenda Dixon Gottschild along with some other work on Black vaudeville performers.
BM: Favorite children's book?
DE: The Little Engine that Could.
BM: Book you wish would be adapted for a film/tv show?
DE: Pachinko by Min Jin Lee.
*
Danielle Evans is the author of the story collections The Office of Historical Corrections and Before You Suffocate Your Own Fool Self, winner of the 2021 Joyce Carol Oates Prize, the PEN America PEN/Robert W. Bingham prize, the Hurston/Wright Legacy Award, and the Paterson Prize, and a National Book Foundation 5 under 35 honoree. Her stories have appeared in many magazines and anthologies, including The Best American Short Stories. She teaches in The Writing Seminars at Johns Hopkins University.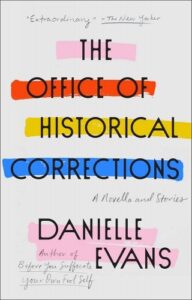 Danielle Evans' The Office of Historical Corrections is out tomorrow in paperback from Riverhead
*
---