Daisy Jones & the Six Balances Authenticity and Fantasy
The Author of Groupies on the Miniseries Adaptation of Taylor Jenkins Reid's Hit Novel
Daisy Jones & the Six, an Amazon Original series adapted from Taylor Jenkins Reid's bestselling novel of the same name, arrives during an inundation of greatest-hits biopics about musicians from Elvis to "Weird" Al Yankovic. Daisy Jones & the Six offers a fictional twist on the genre that blends historical details and shimmery fantasy into an emotionally charged and often genuinely moving whole.
The series' ambitious conceit is apparent from the jump: we're watching a long-awaited tell-all. In the 1970s, the members of Daisy Jones & the Six were superstars, until the group broke up after a show at Chicago's Soldier Field. Across the ten-episode runtime, the band members, those close to them, and industry folk offer accounts of what secrets shrouded that fateful night.
Fans of Reid's novel will find much to love here. Riley Keough captures the headstrong optimism of phenom Daisy Jones, and Sam Claflin's moody turn as troubled rocker Billy Dunne is equal parts sweat-soaked and sincere. The novel's oral history becomes a succession of interspersed talking-head interviews where we see the characters in present-day, spliced with faux-archival footage, like the band's producer, Teddy Price, appearing on The Merv Griffin Show.
Fans of Reid's novel will find much to love here.
The soundtrack hums with warm, classic rock tones that expand and alter the novel's lyrics in standout moments like Keough and Claflin's velveteen vocal blending on "Look at Us Now (Honeycomb)" as they ask, "Is there too much we don't wanna know?" and in the towering rage and desperation of "Regret Me." Unsurprisingly, Daisy's onstage twirling and breezy bell-sleeve blouses mirror Stevie Nicks's witchy aesthetic, as the band's onstage musical confrontations and tumultuous love dodecahedrons evoke Fleetwood Mac's intense onstage (and offstage) drama.
The show doesn't want us to forget for even a second where we are: usually, 1970s Los Angeles. Engine fumes and clouds of perfume rise across the Sunset Strip; blue-lit swimming pools slosh with water outside homes hidden in the hills; characters light joints and snort coke in ecstatic montages. Everything looks so 70s, but how an old posed photograph does, with shadows blurring the corners of a curated scene. Each poster pinned to wood panelling has a decisive tilt; each pair of bell bottoms immaculately hugs its wearer's hips.
When the miniseries slips away from sentimentality, the benefit of taking this story to the screen emerges. Daisy reflects on an assault she experienced in her adolescence as a "baby groupie," and in flashback, we see this young, wide-eyed version of Daisy. On the page, it's easy to forget that it's a "baby" bumming cigarettes and circling through the Riot House. But watching her on screen, it's impossible to do anything but squirm.
When we realize the pain behind this musical drama, we don't really want to be voyeurs anymore.
The miniseries sometimes counters its commitment to authenticity with a hint of fantasy, to excellent effect. When Daisy decides to sing her songs for the first time, she enters an empty bar and sits at the piano. The camera is close to her face, and we watch her form every word as she accompanies herself. As the song builds, bokeh lights sweep across the screen, invisible violins swell—the music layers—the song chimes like radio music over another scene—until it's over and we're back in the empty bar and back to reality. In this break from total truth, we feel Daisy's emotions as the music sweeps her away.
Of course, the conceit of the series means that we're traversing memories, which adds an intriguing layer to the distinction between authenticity and fantasy. Some memories are fuzzy, others are oversold or underexplored, but nearly all are filtered through that nostalgic haze. In memory, every moment feels sacred and secret. We reminisce with the band, remembering what it was like to be these people we never were.
If it's true-to-life recreated rock concert footage you're looking for, you'll find plenty in this faithful adaptation of Reid's novel. But this series divulges something biopics rarely do: not how these iconic moments occurred, but how they felt to live through. In this way, the series' immersive style resembles the book's personal, confessional narration.
Daisy Jones & the Six provides a lens for understanding the ever-enticing personal drama of superstars. We get juicy answers—and a few extra twists—by the end of the miniseries. It turns out those answers are uncomfortable and private. When we realize the pain behind this musical drama, we don't really want to be voyeurs anymore. It turns out that celebrity drama is just as shocking and scandalous as we thought. Meanwhile, people with feelings are living through that drama. The fantasy lasts a few minutes, but then we return to reality—a reality where personal grievances become the stuff of pop culture legends, and a reality where I remember that every superhuman feud and godlike band breakup is caused by pesky human emotions like mine.
_________________________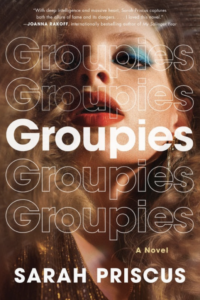 Sarah Priscus's Groupies is out now from William Morrow.
---