Corruption, Inc.: Andrea Bernstein on the Trumps, the Kushners, and the Age of the Oligarchs
The Author of American Oligarchs in Conversation with Dylan Foley
In February 2018, the WNYC investigative reporters Andrea Bernstein and Ilya Marritz started the Trump, Inc. podcast, which explored the corruption in the Trump Administration and the Trump businesses. The show quickly became a must-listen podcast, chronicling Ivanka Trump's real estate fraud in the Trump SoHo project, Paul Manafort's money-laundering brownstone purchase, and the freestyling chaos of Rudy Giuliani.
Now Bernstein has taken a deeper dive into the history of the Trump family and the family of Donald Trump's son-in-law Jared Kushner in American Oligarchs: The Kushners, the Trumps and the Marriage of Money and Power. Bernstein conducted 200 interviews and reviewed more 100,000 real estate and historical documents on the Trump and Kushner families. The Trumps and Kushners are emblematic of the small group of wealthy people who can control the government and the courts by flooding the electoral system with campaign donations.
For the Trumps, corruption started when they hit North America. Donald Trump's grandfather Friedrich made his first fortune running brothels during the Yukon Gold Rush in the 1890s, then became a builder in New York. His son Fred built apartments in Brooklyn and Queens and bought politicians from the Democratic political machine. Donald moved to Manhattan, opened Trump Tower in 1983, suffered bankruptcies in Atlantic City, laundered money for the Mob and Russian gangsters, bought more politicians, and committed large-scale tax fraud to avoid inheritance taxes.
The Kushners story was more brutal, and more heroic. In World War II, the Kushners survived certain death by the Nazis in Poland by tunneling out of a Jewish ghetto and living in the nearby forests with Jewish partisans. In her research, Bernstein discovered that the Kushners entered the US in 1949 using fraudulent immigration documents. The Kushners made millions building houses, and their son Charlie, Jared's father, turned that into billions with more aggressive development. Charlie went to jail in 2004 for tax evasion and witness tampering, the latter involving the entrapment of his brother-in-law with a prostitute.
Corruption as a family tradition has carried on with the new generation: Ivanka Trump worked on a failed Trump Tower in Azerbaijan financed by the US-sanctioned Iranian Revolutionary Guard; Jared Kushner used his White House office to solicit hundreds of millions in loans for a troubled office tower in Manhattan.
In American Oligarchs, Bernstein has created a tight, mesmerizing narrative of multigenerational wealth accumulation and corruption. The book is also a warning of how America appears to be sliding into the world of oligarchic rule.
Andrea Bernstein started work as an investigative reporter at the New York Observer in 1994 and has been at WNYC since 1998, where she won a Peabody Award. I spoke with Bernstein at a restaurant near the WNYC offices in SoHo.
*
Dylan Foley: What interested you in writing about the modern oligarchy in America?
Andrea Bernstein: I was covering [Trump campaign manager] Paul Manafort's trial. There was a political consultant who worked for Manafort in the Ukraine. He was being cross-examined. "Who pays you?" they asked him. "The oligarchs pay me," he said. I was surprised. The richest person in the Ukraine pays political consultants to get the politicians they want, so he can continue to be the richest person in the Ukraine.
After Watergate, there was the Federal Election Campaign Act to deal with the "bags of cash" problem. You could track spending. Conservative foundations bludgeoned these laws. It gets worse and worse until you have the 2016 election, where money floods in from everywhere, including corporations and even foreign sources.
The work I do hangs on to the idea that there is a truth. If I had given up and wasn't all that hopeful, I wouldn't do that.
There is a big structural levee that has been broken. When this happens in times of great wealth inequality, wealthy people give money to elections and get things like the 2017 tax bill, that makes them even richer, so they can give more money, which creates a downward spiral.
There are the broad structural issues, but then are the smaller actions, like the Trumps and Kushners buying off politicians over the years, which helped break the system. We still have elections, we are not Russia, you can vote people in and out. We are not at an oligarchic model yet, but we have been moving toward it very rapidly. Trump as president has sped up the process.
DF: Both Donald Trump and Charlie Kushner were viewed as outsiders as developers. How?
AB: In New York, Trump was always viewed as an outsider. I talked to dozen of people in the New York real-estate community. They always wanted me to understand that "Trump is not one of us." They were affronted that he was never involved in the civic organizations. New York real estate is a very shady business, but his corruption was way off the charts.
Charlie Kushner came from the world of the "Holocaust builders," as they described themselves. They avoided publicity, which Charlie craved, which made him an outsider. He bought the Puck Building in 1986 in SoHo. After his prison sentence, he was like, "Screw you, New Jersey. I'm going to New York."
DF: You discovered 71-year-old documents and a family memoir that showed the Kushners doctored their family status to get into America. What did you learn?
AB: They were stateless after the war, stuck in a refugee camp in Italy. No one would take them. US policy gave preference to fathers and sons. Jared Kushner's grandfather took his wife's maiden name Kushner and on paper became his father-in-law's son. They got the paperwork they needed to come into America. I came across the Hebrew Immigrant Aid Society [HIAS] papers, which documents the change in identity. They did what they had to do to survive.
This story is notable because of how the Trump Administration and their grandson Jared Kushner are responding to immigration.
DF: What lessons do you think the Kushners took from the Holocaust?
AB: There are a complicated set of lessons to be learned from the Holocaust. One of the lessons that Charlie took away was don't play by the rules. Authority always means something bad. He leaned very heavily on that.
Jared's grandmother Rae talked a lot about the importance of Israel. She thought very strongly that if there had been a place to go, you wouldn't have had a million and a half children die at the hands of the Nazis. There was a sense of mission that Charlie and Jared picked up. It's the most right-wing, conservative view of Israel, to be this walled place, where anybody who might possibly be a threat must be kept out, deterred or killed. That view of Israel infects a view of American politics.
DF: Donald Trump and Charlie Kushner appear to have passed down their corrupt business practices to their children: Ivanka Trump developed a failed Trump Tower in Azerbaijan with money from the Iranian Revolutionary Guard and allegedly committed real-estate fraud in the Trump SoHo project in 2009; as a New York slumlord, Jared Kushner used false paperwork to force out rent-regulated tenants. What did you discover about multigenerational corruption?
AB: That's what intrigued me. When I started thinking about what was passed down from generation to generation, it was right after we worked on the Trump SoHo story. More had come out about Ivanka's business practices.
I also spent a lot of money on Post-Its. Sometimes they would cover a table, sometimes they would cover the room.
From examining documents in the Trump SoHo case and by talking to people involved, it became clear that she was following the same business practices as her father. When it suited her purposes, she would outright lie about marketing condos. This was part of my impetus. How does this happen? You have a tight dynastic family and these codes were transferred from one generation to the other. The uppermost idea is family loyalty over everything.
DF: In the Trump Administration, do you see oligarchic behavior in the cabinet?
AB: [Commerce Secretary] Wilbur Ross is a big example. Once the system is broken and you say it is fine to mix business with government, then everybody follows that example. It becomes impossible to track because there are too many things to track. Wilbur Ross's disclosures are all shell companies. How much time can you spend on that?
DF: Could you tell me how you found 377 Union, a Brooklyn brownstone that became Paul Manafort's money-laundering tool?
AB: Trump became president and Ilya and I said, "Okay, let's look at everyone who owns an apartment in Trump Tower and how they might influence the president. We created this Google Doc and started filling it with documents. We got to 43G, Manafort's apartment. We looked at his other real estate and found 377 Union. I noticed that there was a $6.8 million loan on the building, which I knew would be hard to get. We didn't know the money had come from [corrupt ex-Ukrainian President] Viktor Yanukovych. I've covered corruption for so long, but I didn't know so much oligarchic wealth was flowing into New York.
DF: The 377 Union/Paul Manafort story became one of your most famous Trump, Inc. podcasts. Did Bob Mueller fold your 377 Union work into his Paul Manafort indictment?
AB: I don't know what Mueller knew. It's unclear what they developed on their own. One of the patterns with the Trump Inc. podcast is that a lot of people that we write about end up being indicted, some period after we surface them. It happened most recently with Lev Parnas and Igor Furman. (Rudy Giuliani's henchmen in the Ukraine.)
DF: How did you keep the narrative so tight in this sweeping history of the Kushners and Trumps?
AB: For myself, I became a rigorous practitioner of yoga. I also spent a lot of money on Post-Its. Sometimes they would cover a table, sometimes they would cover the room. Some great details were jettisoned for space. I would read so many books with crazy details on Trump, but I could not tell all of them. I was rigorous about editing because I want people to read the book, to make it last. In radio, if people are bored, they turn it off and you are sunk.
DF: In this age of multiple daily lies by Donald Trump, what is the impact on American society?
AB: I don't think we are living in Nazi Germany, but one of the prerequisites for Nazism was moral relativism and the sense that there is no truth. Once anything is a matter of opinion, anyone can be anything. We are heading there and it is very important to lay out the dangers.
When Trump sends out a lie, he sends people scrambling. He knows he's telling a lie. Trump is saying, "I am more powerful than you. I define reality."
DF: In the face of all these lies and disinformation, why do you continue to pursue corruption and truth?
AB: People do say to me, "What's it gonna do?" The work I do hangs on to the idea that there is a truth. If I had given up and wasn't all that hopeful, I wouldn't do that. I do believe that creating a record and insisting that you can have facts, you can have truth and you can have a story that represents what is going on in the world.  This is important and an act of faith and hope.
______________________________________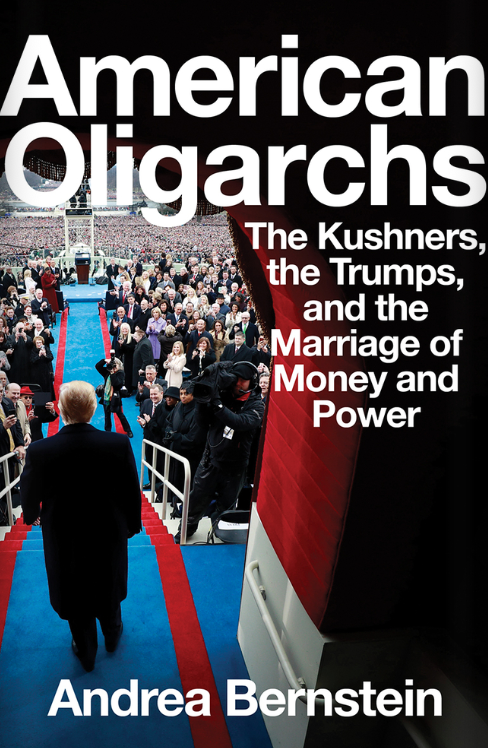 Andrea Bernstein's American Oligarchs: The Kushners, the Trumps and the Marriage of Money and Power, is available now from W.W. Norton.
---