Companion Reading for This Truly Fraught Holiday Season
Simon Han Recommends Eight Books Where Things Don't Go That Well
I once worked as a product manager of collectible Christmas ornaments. When every day is Christmas at your office, your relationship to the actual holiday changes. With hands perpetually coated in glitter—even in July—I would send emails to my angel vendor in Shenzhen in one window, and chip away at a sketch of a short story in another.
As a fiction writer, I'm fascinated by the stories we live through, the ones we accept often without a second thought. The "holiday season" is one such story, with histories and rituals and expectations molded by human hands—even as this time of year also carries meaningful memories that could not be more "real." In my novel Nights When Nothing Happened, a Chinese immigrant family in a Texas suburb begins to unravel after an incident at a Thanksgiving party, and they must face the consequences of existing outside of the traditional narrative of the holiday season. Instead of coming together, they break apart.
But isn't this real, too? These coming weeks and months will be, for many, the saddest time of the year. And during a year like this one, I find it comforting to return to novels and short stories that give space for more fraught experiences of the season. Maybe we can still see them as an escape—"not from the truth," as Alexander Chee says, "but into it."
*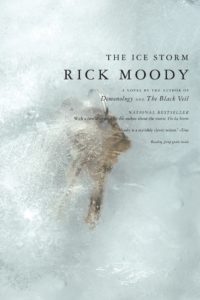 Rick Moody, The Ice Storm 
(Bay Back Books)
The Ice Storm begins a few days after Thanksgiving, going into exacting detail about not only what '70s New England suburbia was but what it wasn't, from "no answering machines" to "no mysterious AIDS-like illnesses" to "no Tiananmen Square." For the Hoods and Williamses, the two families at the novel's center, their private dramas are also rooted in who they are not, yet desperately hope to be. What better time than the holidays to look ourselves in the mirror and feel utterly disappointed by the sight? All this dissatisfaction culminates in the book's infamous spouse-swapping "key party" scene—a very different kind of holiday party—while tragedy unfolds elsewhere, out of view of the myopic adults.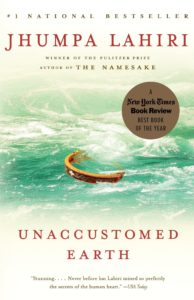 Jhumpa Lahiri, Unaccustomed Earth
(Vintage)
In Lahiri's second collection, the holidays infiltrate the lives of its Bengali characters, isolating those stuck in America, while forcing others into uncomfortably close quarters. In "Hell-Heaven," a Thanksgiving party offers a man the chance to reconnect with the family who first welcomed him in Cambridge, back when he was a lonely student from Calcutta. Told from the perspective of a young girl in the family, we glean the party's second purpose: to announce the man's inclusion into upper-class white society, a development that only embarrasses the girl's mother, who secretly loved him. In the three linked stories "Once in a Lifetime," "Year's End," and "Going Ashore," two would-be lovers narrate to one another across thirty years and multiple continents, and though their moments together are scarce, it's the Christmases that anchor them in time and space, reminding them of all they've lost.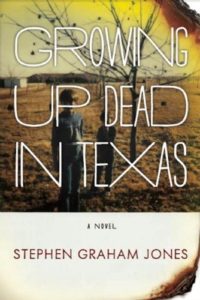 Stephen Graham Jones, Growing up Dead in Texas
(MP Publishing)
The start of December can be a weird time. As some are "cleaning Thanksgiving out of the refrigerator" and others are "whispering to themselves about Christmas," the days can feel inert, caught between a beginning and an end. In Growing up Dead in Texas, categorized as an autobiographical novel (though in Jones's preface he implies that it's nonfiction), December 4th, 1985 marks a more momentous event: a mysterious fire that that ravages a cotton field in small-town West Texas. Genre-bending, time-hopping, dark and delightfully unreliable, this book starts off seeking answers and culprits but leans ultimately in its questions.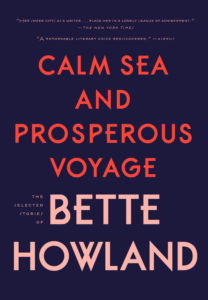 Bette Howland, "Public Facilities"
(Public Space Books)
"Public Facilities," which found a second life in Calm Sea and Prosperous Voyage, a reintroduction of Howland's stories by A Public Space, is an ode to Chicago winters and the places that keep us warm when we have nowhere else to go. The regulars at the Borglum Branch library consist of moneyless men obsessed with the Wall Street Journal, a woman "sloshing out the door" after washing up in the bathroom, and an old man with "a lip like a flat tire" enamored with a librarian that patrons are always telling to shut up. Even after the library's regulars throw out a racist and anti-Semitic intruder, Howland doesn't revel in their victory. "It wasn't going to be a white Christmas," she promises. This is a story of "streaked grime" and "cracked soles, creaking in the mush," and a tender portrait of a community.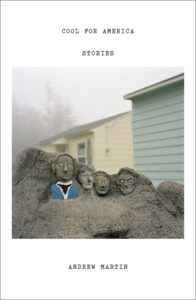 Andrew Martin, "With the Christopher Kids"
(Farrar, Straus & Giroux)
There's never a good night to go to the emergency room, but the narrator of Martin's "With the Christopher Kids" (which appears in his collection Cool for America) really doesn't want to take his cocaine-addled sister there on Christmas Eve. He imagines "terrible Christmas decorations and one sad paper menorah… another unhappy installment of the Christopher kids story," but what he finds are just people, all of them in real pain, and well—no decorations. This is a story about the performance of our true selves: actual addicts pretending to be addicts, actual sad people pretending to be sad. But the roles that come most naturally, without commentary, are that of brother and sister, trying (for the most part) to keep each other alive.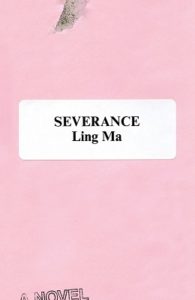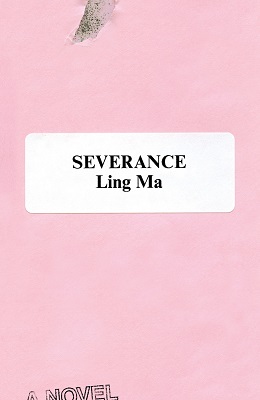 Ling Ma, Severance
(Picador)
A millennial novel, a New York City novel, an immigrant novel, a zombie novel, a pandemic novel… and a holiday novel? I would make the case that this is another hat that Severance gets to wear, even if the characters rarely mention the season. When a band of "Shen Fever" survivors, led by a murderous I.T. guy named Bob, hole up over the holidays in the suburban shopping mall of his childhood, they gather around pancakes, fried Spam, and Anthropologie place mats, pray to some version of a god, and celebrate the one-month anniversary of their self-imposed lockdown instead. Candace Chen, the novel's protagonist and a perpetual wanderer, may be especially immune to the nostalgia that appears to trigger the virus, because unlike the other zombies, she doesn't carry around Saturday-Evening-Post-esque memories of holiday homecomings and family gatherings—her lack the key to her survival.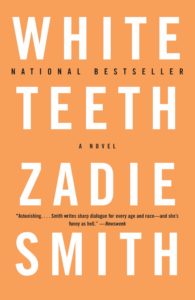 Zadie Smith, White Teeth
(Vintage) 
New Year's Day, 1975 and New Year's Eve, 1992 bookend Smith's much-celebrated first novel, as a butcher's reluctant saving of Archie Jones's life sets into motion a sprawling intergenerational tale of religious tradition and the modern world, accidents and destinies, "split people" and "inside and outside" histories. The final New Year's Eve of the book somehow brings all the characters' threads together in a simmering moment of violence, but even after all the breathless prose, one gets the sense that, "like the signing of peace treaties or the docking of passenger boats, the end is simply the beginning of an even longer story."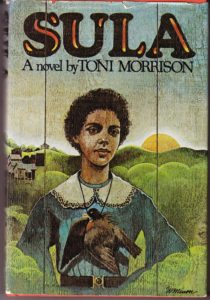 Toni Morrison, Sula
(Vintage)
If the holiday season promises us anything, it's that it will keep on happening. Repetition can unify and create order out of chaos, and in Sula, a traumatized veteran desperate to rein in his fears invents "National Suicide Day," to take place every January 3rd. Though no one takes Shadrack on his offer to "get [death] out of the way," his hangman's rope and cowbell announcing the day become part of the fabric of the Bottom, a Black neighborhood in Ohio located in the hills. The novel's eponymous Sula is a woman who also defies conventions, bringing the community together through their collective disdain of her. Her final departure just before Thanksgiving ruptures that harmony, leading to a January 3rd that changes the landscape of the Bottom forever. Maybe not all holidays are meant to stay.
__________________________________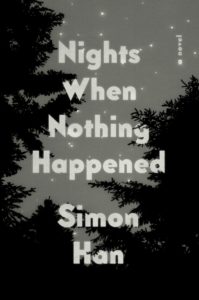 Nights When Nothing Happened by Simon Han is available now via Riverhead Books.
---