Colum McCann on Ulysses, Mary Lavin, and Drinking with John Berger
Also, Telling Writers Block to Fuck Off
Colum McCann's new novel, Apeirogon, is out now from Random House, so we asked him to take our writer's questionnaire.
*
Who do you most wish would read your book?
I'd like the late great John Berger, author of some of the greatest books of recent times (not least Ways of Seeing), to read the book. I became friends with John about 20 years ago and we had a vibrant correspondence by letter and then in person. The question of Palestine kept his eyelids open. Sometimes it meant that he couldn't sleep. He always wrote to the edges, and I hope that he would appreciate the risks that Apeirogon takes. We had many a fine evening of drinking and singing together, John and I. My favorite night was in Paris when he told me, after we were a little over-served, that he was a "patriot of elsewhere." Indeed. A Patriot. Of Elsewhere. He belonged and he mapped and he determined the elsewhere. I miss him and I wish he could have read this book, even if it were to criticize me for my lack of elsewhere.
Article continues after advertisement
What do you always want to talk about in interviews but never get to?
The interviewer. Seriously. I try and I try. I wish they would realize that they would understand me so much more by my questions than by my answers. I am often surprised that I can spend an hour or more with interviewers before they actually turn on their tape recorders. By then, it's too late. They know. They have answered themselves. And that's somewhat wonderful. Look, let's be honest, I was a journalist for many years and still am. I always want to talk about the other person.
What time of day do you write?
There's an Irish song written by Brendan Behan that goes: In the early mornin' /  the screws were bawling /  get up ya bowsies /  and clean out your cells. Well, that's how I feel in the early morning: Get up, ya bowsie. I want to get up before the small mundanities and the stupidities and the prison guards of the Internet. Clean out my cell. Or my cells. Get the words down on paper. A perfect day for me begins in the dark before anyone else has woken, say 4:30 or 5 am. Two hours or so of this. In the quiet. And then, when the house begins to stir, the rest of my life will too. But for a small parcel of early morning hours, I feel entirely free. And then I go out and walk the dog.
How do you tackle writers block?
I tell it to fuck off.
Which book(s) do you return to again and again?
Oh. Ulysses. Because it is there every June 16 and maybe every other day too. And anything that shakes my tired soul out.

Which non-literary piece of culture could you not imagine your life without?
I don't understand the question. Literature is film. Literature is TV. Literature is painting. And literature is, even more so, song. I can't imagine my life without literature.
What's the best writing advice you've ever received?
From my good friend Aleksandar Hemon: It's all shit… until it isn't.

What was the first book you fell in love with?
A beautiful book by the Irish writer Mary Lavin called The Second Best Children in the World. I was seven years old when I first read it. The book is about Ben (who's ten) and Kate (who's eight)—ah, the rhyme!—and the other, Matt, who is "so small that I can hardly see him at all." The kids decide that—in order to give their parents a rest—they will go on a long trip around the world. As they don't want to wear out the soles of their shoes, they walk always on their heels, but soon their shoes grow too small. They return home, having grown up and experienced all sorts of adventures, but Mary Lavin doesn't treat it as a moment of terror or loss.
Instead, the parents come running from their house with open arms and call them the "best children in the world." The kids disagree and their answer is spine-chilling and correct. Ben, Kate and Matt say that if they were the best children in the world, they never would have left in the first place. So they're "second best." And happy to be so. They have gone and they have come back changed. They would have experienced nothing if they had not left. To be best is to be static. It strikes me now, almost 50 years later, that the book is a song for the emigrant. It was singing me in advance.
Name a classic you feel guilty about never having read?
I don't feel guilty about any omission in my life, just stupid for having missed it. But have you ever read Remembrance Of War and Peace In Times Past? I heard it's a great novel by a Belgian writer whose name I can't recall.
Is there a book you wish you had written?
The obvious answer is; Yes, my next. But the real answer is: Yes, my next. And yet the real true answer is that I wish I had written something Dylan Thomas-y that sang in its chains like the sea.
__________________________________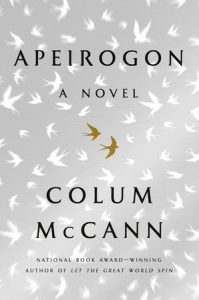 Apeirogon by Colum McCann is available now via Random House.
---