Climate Crisis Reading: Five Books to Check Out in July
Featuring Mario Alejandro Ariza, Ben Ehrenreich, and More
Reading on the beach isn't what it used to be—and not just because we're in the midst of a global pandemic. These days, every time I spread a blanket on the sand I can't help but think about how much of the shoreline will be lost due to rising seas and ecosystem degradation. Climate change is no longer a distant threat—it's here, now, and it's impacting even the relatively climate-stable United States. "Between 1992 and 2010," writes Elizabeth Rush in her brilliant 2018 book Rising: Dispatches from the New American Shore, "Harris County (of which Houston is a part) lost 30 percent of its wetlands to urban development. Had these natural sponges not been paved over, the 'Bayou City' would have fared better during Harvey."
The threats that climate change imposes are impossible to ignore, but one way I manage my worry is to read as much about the crisis as possible. The more I know, the more I can prepare—and take action. Thankfully, this month, several books about climate are hitting shelves, including fiction and nonfiction. Here are five of my favorites, all of them very different but each written with a keen eye toward how climate change is altering the world as we know it.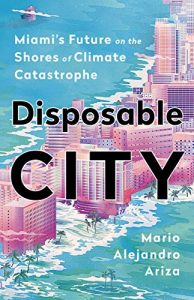 Mario Alejandro Ariza, Disposable City: Miami's Future on the Shores of Climate Catastrophe
(Bold Type Books)
Climate change is often referred to by scientists and philosophers alike as a "wicked" problem, because its scale is enormous. Indeed, when viewed as a planetary condition, the crisis can be seen manifesting in an endless variety of catastrophe: wildfire, rising seas, ocean acidification, melting polar ice, etc. That's why books like Ariza's Disposable City are invaluable. They focus the attention on a specific place so that action feels possible. A Miami journalist, Ariza explores in this book what climate change looks like in the coastal city today—and 100 years from now. The book is grounded in research but comes from a personal place of concern, if not outrage. In addition to revealing Miami's physical changes, Ariza calls out—and unpacks in helpful detail—the political apathy that continues to put his hometown in danger.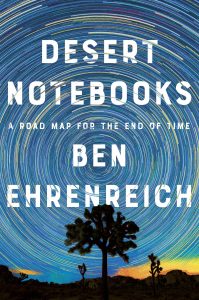 Ben Ehrenreich, Desert Notebooks: A Roadmap for the End of Time
(Counterpoint)
As Margaret Atwood once wrote, climate change is "everything change," because it affects not only the natural world, but absolutely everything, including the very ways in which humans live, think, and imagine. In Desert Notebooks, Ehrenreich, a climate writer for The Nation, draws on science as well as history and philosophy to try and make sense of the profundity of the climate crisis. Here, the desert serves as both case study and metaphor for the planetary changes we're witnessing. The vast and arid landscape evokes images of canyons, gaping night sky, and Vegas-style neon that are at once gorgeous and unsettling. A genre-crossing gem, this book will appeal to readers of science, memoir, and essay writing.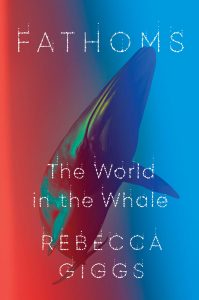 Rebecca Giggs, Fathoms: The World in the Whale
(Simon & Schuster)

Few books about specific animal species are as engaging as Giggs' latest. With sparking prose and a visceral sense of urgency, the science writer delves deep into the vasty deep, shedding light on the lives of whales—some so rare that scientists have yet to name them—and what the mammals might tell us about how our oceans are changing. She travels the world to study whales, from her home country of Australia, where she encounters her first beached whale, to Japan, where she learns how plastic pollution injures whales in ways we're only just beginning to understand. Giggs is also impressively self-aware: Swimming throughout the book is the meta-question of what it means to write about the natural world in a time of climate crisis.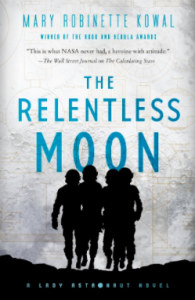 Mary Robinette Kowal, The Relentless Moon
(Tor Books)
Science fiction has long explored humanity's biggest questions about science, technology, and what it means to be alive. And moreover, the genre has increasingly grown interested in climate change. Case in point: Kowal's latest, The Relentless Moon. Written by a Hugo Award-winning novelist, The Relentless Moon is the third installment of the "Lady Astronaut" series, an alt-history trilogy wherein the 20th-century space race has been expedited after a meteor strikes earth. The strike also speeds up climate change, bringing the planet to its proverbial boiling point. NASA's biggest mission is no longer to get men on the moon—it's to establish a colony there so that the human species can survive. And the women protagonists are just the ones to do it. Thoughtful, engrossing, and at times downright funny, The Relentless Moon shows just how inventive and timely science fiction can be.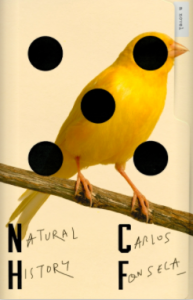 Carlos Fonseca trans. by Megan McDowell, Natural History
(Farrar, Straus & Giroux)
For readers interested in climate change and the natural world—but who prefer books a little less on the nose—Carlo Fonseca's Natural History (translated by Megan McDowell) offers a layered and at times wonderfully beguiling story about art, history, and mystery that hops generations. Animal lovers will delight at the protagonist's obsession with creaturely furtiveness and wild animals' natural ability to self-camouflage. And fans of ambitious structure-benders like Italo Calvino will appreciate the novel's planet- and decade-spanning mystery that connects 1970s New York to the jungles of Latin America. As the protagonist, a curator at a natural history museum, pieces the clues together, she discovers links between art, science, and religion that change forever how she sees the world.
---