Christine Grillo on the Joy of Writing Elderly Characters
In Conversation with Christopher Hermelin on So Many Damn Books
Into the Damn Library Christine Grillo zooms, and what do we talk about? Her inventive, touching, hopefully not too prescient Hestia Strikes a Match, plus all that went into it, like parents and politics and fireplace decor. Plus, she brings along the archly funny and itself harrowing Good Behaviour by Molly Keane. Books, you better believe it!
Subscribe and download the episode, wherever you get your podcasts!
*
What'd you buy?
Christine: Birnam Wood by Eleanor Catton, Eleanor Oliphant is Completely Fine by Gail Honeyman, gardening gloves that go above the elbow, gardening sheers, gardening knife
Christopher: The Bee Sting by Paul Murray, The Lost Journals of Sacajewea by Debra Magpie Earling
*
Recommendations:
Christine: Letters from an American, a newsletter by Heather Cox Richardson, Liberation Day by George Saunders, A Swim in a Pond in the Rain by George Saunders, We All Want Impossible Things by Catherine Newman, The Friend by Sigrid Nunez
Christopher: Remarkably Bright Creatures by Shelby Van Pelt
*
From the episode:
Christopher: Something that I loved is that Hestia is working at a retirement village. She has left her job as a reporter and taken a job at this retirement village. And there were these voices that you created, and sometimes got to write within that were so distinct, and lovely, and a great source of comedy in particular. I'd love to hear about creating them, and when the retirement village came into the picture.
Christine: Yeah, well, in the novel, you know, when the war starts, Hestia's beat changes, or her editors want different stories from her. And she doesn't want to write the war stories because it's too depressing. And so she finds this job in a retirement village thinking, "It's got to be pretty safe." And they have a really good surveillance system, so it feels like a safe place for her to work. There are five elderly characters that we hear from. One of them is Mildred, who is her best friend. I just loved creating all of them. I love that old people, not all of them, but so many of them lose their filter. That is just my favorite thing about old people, they get to say the things that everybody wants to say. I do a lot of interviewing for my job, which is working as a science writer, so I interview a lot of academics and scientists, and I don't know if you've ever worked with academics and scientists, but they are not… They don't give great quotes. And they tend to sound like robots when they talk, except for when they're about over 70. Once they hit that threshold, then the filter is gone and they just say what they mean. They're not going to hurt or improve their careers at that point. One of the reviewers referred to them as the Greek chorus. And I'm like, "Oh yeah, that's that's what I meant all along. Greek chorus." And so they start off in the book explaining how we got here and how the Civil War started and what's going on with it. But as we go throughout the book, they talk more and more about just life, about love and marriage and spirituality and the ego and pain and happiness. I think it's sort of a fantasy of mine. I would just love to have five really smart, no filter 80 somethings tell me how to live. Just give me the guidebook.
Christopher: I love that. This is like a closely held fantasy. Like this is something that you actually want for yourself. I thought it was so brilliant to have these writing prompts that Hestia is giving them and then you include what they said to the writing prompt. I just think it was a great form to get these quick shots. Truly, it almost reminded me of, The Onion, when they have those Man on the Street features (that they've used since the beginning of time) that I would get to hear about, you know, their idea of love or their idea of loss or whatever. I just thought that was great.
Christine: Yeah, well, and I don't know if you remember, but sort of around 2018 or so when I started writing it, all of a sudden I was seeing a lot of ads for, "Don't know what to get your mom and dad? Get them this living history kit!" It would involve a lot of prompts that they could then like speak into a recorder, or write down their answers to the prompts. The commercials were very much centered on these kind of like heteronormative fantasies, I think. And so when I was writing, when I was first creating these characters, I didn't know that I wanted it to be an oral history project, per se. But then when I started looking up some of these prompts, I just felt like, "Oh, God, these are the worst," you know? Like, tell me, tell me the happiest moment in your marriage, and tell us what you loved most about being a parent. And I just thought there are people who don't have those stories to tell. And so I really tried to have that Greek chorus reflect back on, you know, some of us hated our spouses.
Christopher: I mean, I love that they hate the prompt sometimes.
Christine: And they're like, let us start our own.
*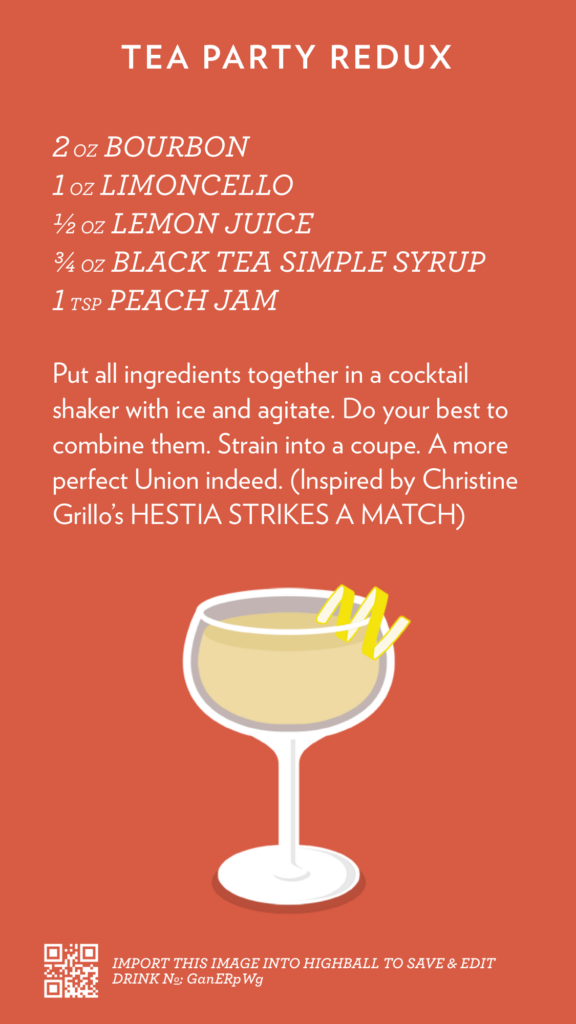 ---