Chill Your Wine in John Steinbeck's Silver Bucket
And Other Memorabilia from the Man's Estate
John Steinbeck, who won both a Pulitzer Prize (in 1940 for The Grapes of Wrath) and the Nobel Prize in Literature in 1962, died 51 years ago, and yet he is still making news. Last month, the Los Angeles Times reported that legal squabbling over his literary estate had finally come to an end after years of lawsuits and appeals. On the heels of that—though apparently unrelated—40 items owned by the author and his third wife, Elaine, are being offered in an online auction closing later this month, having collected dust in an Upper East Side storage unit since her death in 2003. Steinbeck fans can bid on a range of personal keepsakes, from a unique writing journal to an engraved wine bucket.
*
THE WARM-UP JOURNAL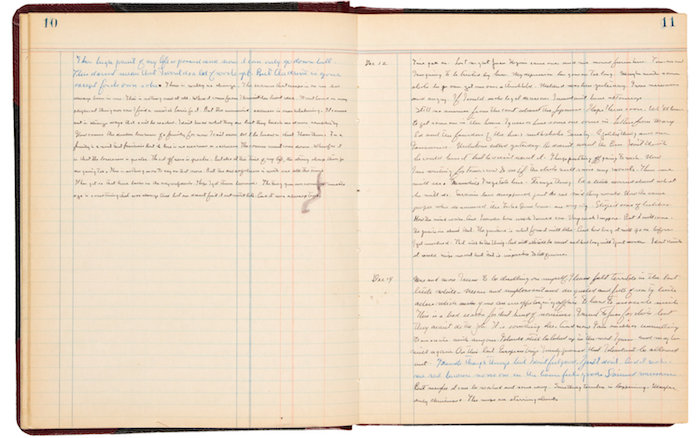 "From 1946 to 1947, this was the journal that he would actually write in before he would sit down and try to write a book," said Elyse Luray of Heritage Auctions of the aptly named "Warm Up Journal" valued at $20,000-plus. Steinbeck himself said it was "one of those interminable notebooks that serves no purpose but to warm me up and sometimes to cool me down." In it he logged his writing goals, as well as his perceived failures. About one-third full, the lined notebook was very much like a diary, said Luray, full of Steinbeck's raw emotions. "There's really nothing like it from a contemporary writer, especially during this time period … It's really unique."
Article continues after advertisement
*
BUST BY RUBE GOLDBERG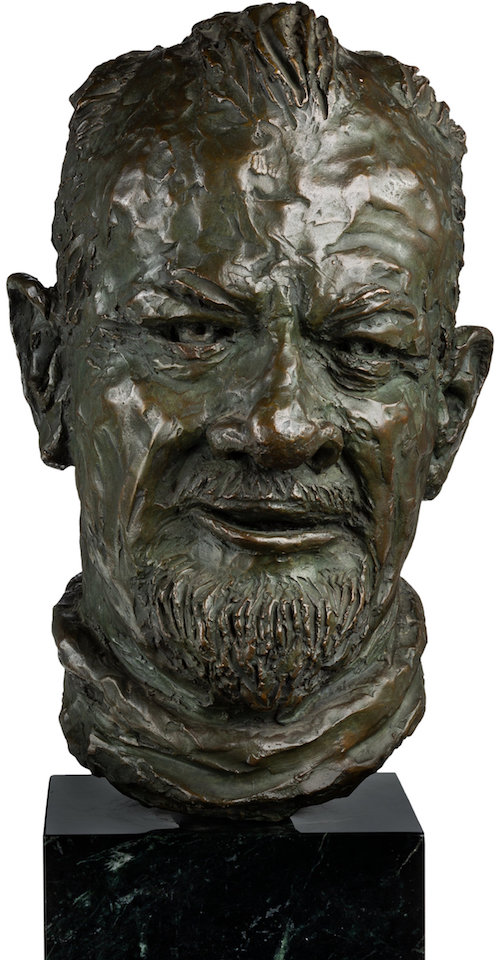 Call it a bust, but it's really just Steinbeck's head and neck, as depicted in bronze by Rube Goldberg. (Yes, the zany cartoonist turned to sculpture late in life.) Standing 11.5" atop a marble base, the statue does a decent job of conjuring up the author's craggy, goateed face. For a bid upwards of $500, it might perfectly complement a home library or perhaps a nautical-themed man cave—Steinbeck loved sailing, and he certainly looked the part.
*
FAMILY PHOTOS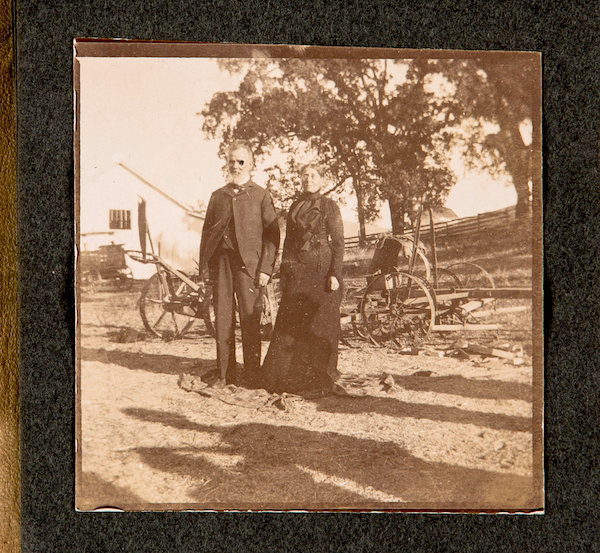 Steinbeck came from old California stock. This green suede photo album contains eight black-and-white photographs of the author's parents, John Ernst Steinbeck (1862-1935) and Olive Steinbeck (1867-1934), and other members of the family standing in front of a ranch, presumably near the family's hometown of Salinas. It seems like the kind of thing that would be deemed priceless, yet it appears likely to sell for less than $1,000. 
*
LETTER FROM JACKIE KENNEDY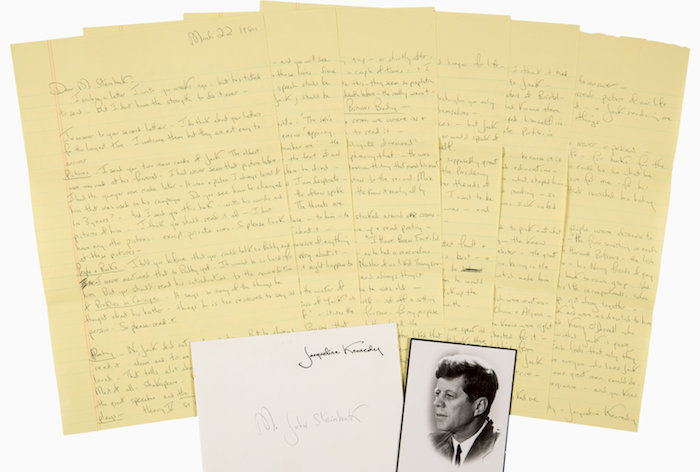 There are more than a few Kennedy-related items in this sale, mostly correspondence between Jackie Kennedy and John Steinbeck, revealing their close relationship. In this six-page handwritten letter, penned just five months after her husband's assassination, Jackie provides biographical details about JFK. As Luray explained, Jackie hoped Steinbeck would agree to write the slain president's official biography. It never happened. This letter is expected to top $2,500 at auction. Bidding on another, less weighty letter written from 1963, in which Jackie thanks Steinbeck for sending a signed copy of his novella, The Red Pony, and tells him how much the story meant to her as a child, opened at $400 and is already on the rise.
*
FROM THE NOBEL ARCHIVE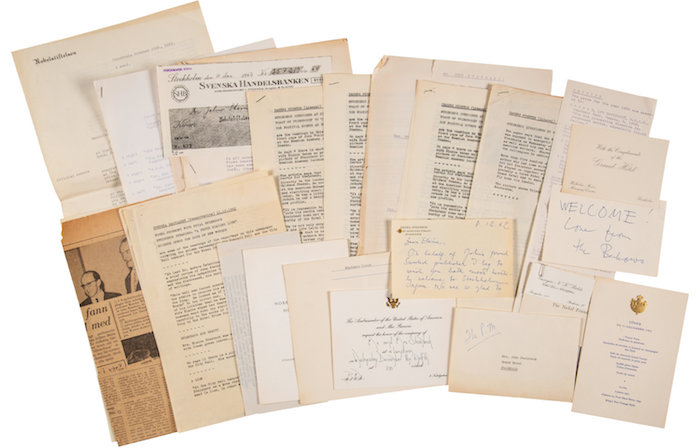 An archive of ephemera related to Steinbeck's Nobel Prize, including news clippings, letters, invitations, and event programs, is collectible mainly because it was Steinbeck's own collection, said Luray. Currently bidding has it in the low three figures—a bargain. Two copies of his signed Nobel speech are also on offer, each in the $1,000-range.
*
FOLIO OF TORTILLA FLAT TYPESCRIPT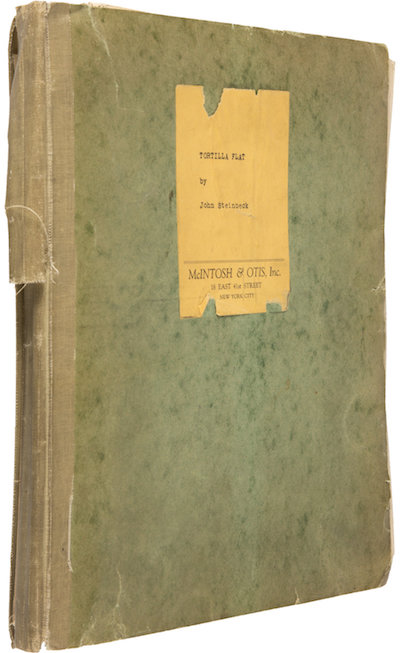 The strictly book-related lots in this sale are outliers, but here's one: a typescript of Steinbeck's 1935 novel, Tortilla Flat. The 200-plus pages are loose in a green cardstock folio that identifies the author, title, and agent on its cover. According to the auction house, the penciled annotations seen throughout the typescript are "printing instructions by the publisher." A serious Steinbeck collector can snap this up for about $5,000.
*
THE GRAPES OF WRATH DUST JACKET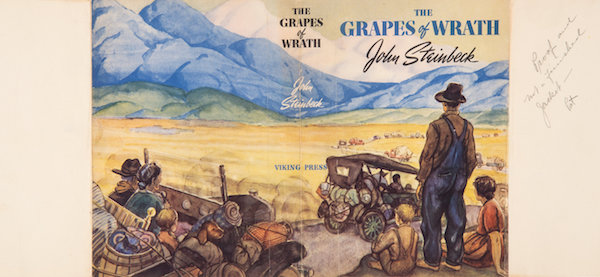 The Grapes of Wrath is perhaps Steinbeck's best known work, and the dust jacket illustration by Elmer Hader portraying the Joads making their way West is pretty recognizable, too. What you see here is just that dust jacket, sans book, for an estimated $1,000. What gives? Well, it was the printer's proof of the jacket for the 1939 first edition, and, on top of that, it was Steinbeck's. Luray said it can take some explaining, but she was bowled over by it. "I took it to show my kids!" she added.
*
SILVER-PLATED WINE COOLER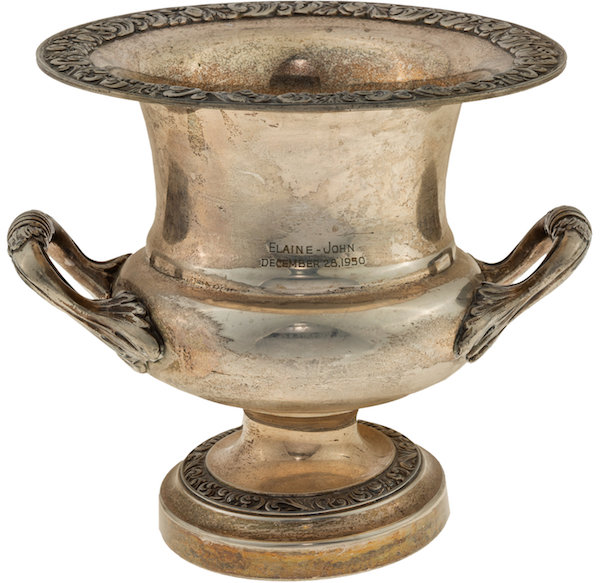 Speaking of grapes, among the Steinbecks' possessions were a few wine-related knickknacks. This silver-plated wine cooler engraved with their names and the date of their wedding, December 28, 1950, is perhaps the most intimate. There's also a mini collection of four tastevins and a group of crystal and glass decanters. All are inexpensive, giving Steinbeck enthusiasts an opportunity to get up close and personal with an author routinely ranked among America's best.
All images Courtesy of Heritage Auctions
---