Life in Wonderland: On Growing Up in My Parents' Cannabis Bakery
Alia Volz Chases Alice Through Her Psychedelic Childhood
I was born in Wonderland: San Francisco, 1977. My parents operated a cannabis bakery out of our warehouse home, producing thousands of magic brownies each week and distributing them throughout the city—decades before it could be done legally. Saturdays, my parents and their friends would fan out to make deliveries. It was always an occasion for dressing up. Garbed as a 1930s heiress, a disco jungle cat, or Cleopatra in ceremonial headdress, my mom would wheel me through the Castro with duffel bags full of contraband hanging from the back bars of my stroller.
Is it any surprise that I would find my first role model in Lewis Carroll's Alice?
My parents' brownie customers were the most curious characters: Day-Glo punks, leather daddies, gender-bending belly dancers, jugglers, drag queens, and tap-dancing nuns. We'd deliver to the disco star Sylvester at his home; in my early memories, he's draped languidly on a divan wearing a silk robe and lamé turban, smoking a joint: the stoned Caterpillar in human form.
I was an early and avid reader, habitually hiding books under my bed to pore over by nightlight when I was supposed to be asleep. An only child, I found company in storybooks. I couldn't relate to princesses who lolled around waiting to be rescued. Alice was a child adventuress exploring a vibrant, chaotic world—like me. Even our names were similar.
I clung to all versions of that story, from the Disney picture book I could read myself to the Lewis Carroll marvel my dad indulged me with at bedtime. I can still hear him pronouncing the words in an exaggerated British accent: "How do you know I'm mad?" said Alice. "You must be," said the Cat, "or you wouldn't have come here."
By then, we had relocated to rural northern California, an area infamous for the cannabis grown in secret gardens. With no siblings or neighbors my age, I'd tromp through the woods behind our house chattering to plants and woodland critters, a solitary girl marveling at an exotic new environment.
When my dad tried his hand at growing pot, I'd tag along to water the crop, scampering to keep up with his long legs. I knew marijuana in other phases—dry leaves that crunched in your fist, sticky buds covered in fairy dust crystals, the fine avocado-green powder my parents used in brownies—but our weed babies were different. Leaning close, I whispered encouragement, until they swayed above my head. I remember looking up at vivid green star points haloed in sunlight. And the tight fists of new buds huddled against the stalks.
Then the caterpillars came.
Alice had one argumentative caterpillar to deal with, but our plants shivered under thousands of writhing blue and yellow bodies. Beautiful and gruesome, they coiled around stems and dangled from leaves. My dad stared in dismay at the ruined crop.
Adult concerns choked our little family: my dad's failure to hold down a job, my mom's weight gain; infidelity, artistic jealousy; bills, bills, bills. I remember my dad appearing taller than himself, bellowing in frustration, while my mom cried enough tears to drown a mouse. And always the joints piled in ashtrays, blackened and rubbery. Always the smoke swirling above their heads, forming cryptic cursive letters.
*
Every month, my mom drove to San Francisco to sell brownies. Sometimes she let me come along. I remember the elation as we emerged from the rainbow-painted tunnel and caught sight of the vermillion bridge and the city scattered across the hills in a haze of fog.
We held court in a Castro motel while customers streamed through. These weren't strangers but people I'd known since babyhood. I twirled around the motel room, told jokes, wiggled loose teeth with my tongue. Like Alice stumbling into the Red Queen's croquet match, I was admitted to the inner circle of a culture I didn't entirely understand. In the middle of the action but a few steps behind the plot. "Curiouser and curiouser." Long blonde curls hung in tangles down my back. I had large blue eyes and snaggleteeth. My favorite outfit was a puffy square-dance pinafore that I called "my Alice dress."
Alice was a child adventuress exploring a vibrant, chaotic world—like me.
Alice's dream collapsed time and again into nightmare, and my Wonderland could be frightening, too. During the 80s, San Francisco was struggling under the highest density of HIV/AIDS cases in the western world. Cannabis emerged early on as a palliative remedy for some of the most common symptoms, especially the nausea and appetite loss associated with the wasting syndrome.
My mom joined the underground network of dealer-healers at the dawn of the medical-cannabis movement. People I adored transformed—becoming suddenly skinny, hunched, dappled with lesions—and then disappeared forever. "I wish you wouldn't keep appearing and vanishing so suddenly." If Alice could face the frightening surrealism of Wonderland with curiosity and courage, I could do the same.
Now that I'm grown, I know that my parents were experimenting with more substances than cannabis. They took LSD, cocaine, and psilocybin mushrooms. They must have acted differently when high—excitable, self-absorbed, perhaps delusional—though it wasn't obvious to me then. I was never neglected; I was fed, clothed, educated, and loved throughout my childhood. But from the start, I was surrounded by adults moving through altered states.
It was my task to traverse this mutable landscape. I saw myself in bold Alice as she maneuvered through one astounding interaction after another. "I—I'm a little girl," said Alice, rather doubtfully, as she remembered the number of changes she had gone through that day. Though she sometimes felt confused, frustrated, or scared, Alice always found her way into the next marvelous scene.
Even when she transformed physically after eating or drinking some Wonderland substance—once sprouting a neck so long that she looked down upon the trees and thought they were bushes—she held fast to her identity. She retained her inquisitive nature and sense of self. While a crying baby might turn into a squealing pig, Alice was always Alice. And I was always me, a big-eyed girl navigating my own looking-glass childhood.
__________________________________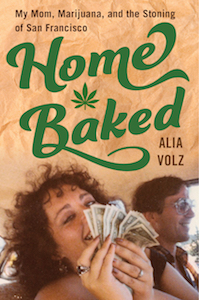 Home Baked: My Mom, Marijuana, and the Stoning of San Francisco is available from Houghton Mifflin Harcourt. Copyright © 2021 by Alia Volz.
---