Changing Me to We: We Should All Try Writing in the First Person Plural
Sharon Harrigan Recommends Stories Told From the Collective Perspective
I collect "we" voice narratives the way people like my brother collect wind-up phonographs. Sometimes it's not the easiest or most convenient way to listen to music or write a book that produces the most memorable results. A Victrola has limitations—especially if, say, you want to rock out on a run. But the raw, visceral sound can make you feel like you're in the presence of a live, quivering thing.
"We" narratives pose technical challenges too. A collective point of view emphasizes the group's commonalities and downplays the individuals' quirks—those distinguishing characteristics that make characters feel so real. But this change of perspective can reveal its own truths, as each book on this reading list shows. Like any unusual writing technique, the first person plural voice can feel gimmicky if it's used to show off. To work, the point of view has to grow organically from the story itself. A successful "we" narrative is one that could not have been written any other way without becoming entirely different—and diminished.
I chose to write my novel Half in the plural voice of two identical twin sisters because I wanted to take the idea of platonic intimacy to its extreme. How close can one be to another person? Close enough that they both speak, think, and act as one. When the narrators can no longer suppress their individual differences, the voice has to break into two "I"s. Readers know from the beginning that the voice is unstable, and part of what drives the narrative tension is the suspense about what will cause the rupture.
At least as an exercise, we should all try writing in the "we" voice.
The challenges were many, including keeping the girls tethered in heart and mind even when they were physically separate. But the benefits, I think, were even greater: By showing this extreme example of closeness, the reader experiences empathy in a raw, visceral way—kind of like music played on my brother's Victrola.
Half falls into the category of "we" narrators telling their own story. The other category, narrators telling someone else's, is probably better known because it's what Jeffrey Eugenides uses in The Virgin Suicides. I'll call this the "bystander" perspective, as Rufi Thorpe does in her own Literary Hub essay on the topic.
*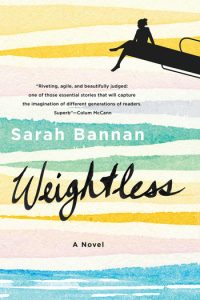 Weightless, Sarah Bannan
In Sarah Bannan's Weightless, the bystanders are the popular girls at a high school in small-town Alabama. At first they welcome Yankee newcomer Carolyn Lessing but later bully her so relentlessly that she hangs herself. The narrators are those who, because they failed to protect her, share the blame for Carolyn's death. Most of the time, the narrators are Carolyn's fellow cheerleaders, but sometimes they are the girls on Carolyn's swim team. By the end of the novel, the collective narration enlarges to include the entire high school, at least everyone who has come in contact with Carolyn, either in person or—even more disastrously—on social media.
Article continues after advertisement
This point of view is so effective because it shows how an entire community contributed to the tragedy, even though the local police and national media pin the blame on only four of Carolyn's classmates. As the narrators look back and realize things they could have done, readers see that Carolyn's suicide is a casualty of high school culture itself. In the voice of the narrators: "What happened between Carolyn and those guys, and Carolyn and those girls, that kind of shit happens every day of the week and we just fucking deal with it, you know?"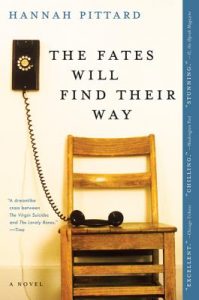 The Fates Will Find Their Way, Hannah Pittard
In The Fates Will Find Their, a group of adults looks back on their adolescence, when "social media" meant phone trees. They tell the story of Nora Lidell, who disappeared when they were all teenagers. So much has changed, as they have had to grow up and become individuals instead of a band of friends. What hasn't changed is this: No one knows what happened to Nora. So they cling to this mystery, this topic of gossip, like rubberneckers at an accident. It's their way to stay connected to a more exciting time in their lives, to each other, and to something bigger than themselves, as their circle becomes smaller. "Nora was gone. And, with Trey Stephens in jail, he was gone, too, in a way. . . It seemed, some days, that life was nothing more than a tally of the people who'd left us behind."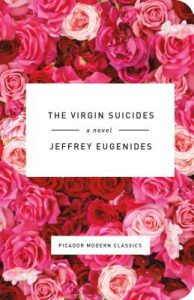 The Virgin Suicides, Jeffrey Eugenides
The Virgin Suicides is narrated by a group of teenage boys who, as in Fates, have since grown up. They are obsessed with five beautiful sisters whose ultra-strict parents keep them increasingly cloistered at home. The girls become all the more desirable because they are out of reach. The plot—five sisters committing serial suicide—is tragic, but the prose feels so gorgeously stylized it's like a fairy tale. Cecilia on the paramedic's stretcher "looked like a tiny Cleopatra on an imperial litter," and the narrators are fascinated by her "spattered forearms and pagan nudity." What is the function of the "we" voice here? According to my teenage daughter, it represents "the male gaze," something she experiences every day as boys and men stare at her as if she's an exotic specimen.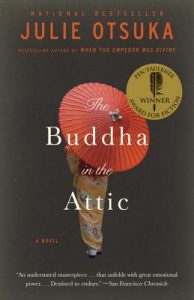 The Buddha in the Attic, Julie Otsuka
In The Buddha in the Attic, the narrators are young Japanese women who sail to California to marry Japanese-American men they have never met. These women, some as young as 14, came from different backgrounds. "Some of us were from Kyoto" and were "delicate and fair" and some "were farmers' daughters with thick wrists and broad shoulders." They had different levels of worldliness. On the boat, "we were mostly virgins" but "one of us knew everything there was to know about men, and it was to her we turned every night with our questions." This plural voice allows a panorama shot, and the first person perspective lends intimacy. In the last chapter the "we" changes to the townspeople who are left after all the Japanese-Americans have been forced into internment camps. That shift in what the point of view means is abrupt and chilling. It's as if our original narrators have disappeared before our eyes. Just as others have taken over their houses, others have stolen their voices.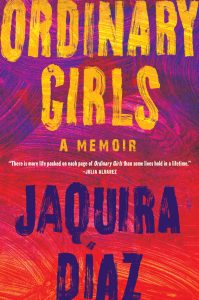 Ordinary Girls, Jaquira Díaz
Ordinary Girls is a memoir written mostly in the "I" voice but bookended by two chapters narrated by "we." "We were the wild girls who loved music and dancing. Girls who were black and brown and poor and queer. Girls who loved each other."  I asked Diaz about this unusual choice, especially for memoir, and she explained, "Ordinary Girls is not just my individual story. It's about girls, plural. About us. About my friends growing up, who are still my friends now. About the girls I ran with, the kinds of girls I didn't see represented in books. It's about my whole community." LikeThe Buddha in the Attic, Ordinary Girls gives voice to a group of women and girls who are too often silenced.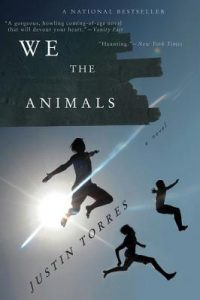 We the Animals, Justin Torres
We the Animals is the book that made me fall in love with the "we" voice and feel inspired to try it myself. It is a novel that feels as intimate as a memoir and as lyrical as a long poem. The "we" is a band of brothers a few years apart. For much of the book the father is gone—and when he's not, he's abusive. The mother can barely take care of herself, let alone her children, so the three brothers are left to fend for themselves, forced to rely on each other, their "pack," to survive. "We ate things from the back of the refrigerator, long forgotten things." The "we" breaks into an "I" at the end, when one of the brothers comes out as gay and the others don't accept that choice. That point of view change shows what being gay in a machismo culture like the one portrayed in the book, must be like. The "we" voice signaled to me: "We've got no one but each other, so we need to act as a unit to get through this."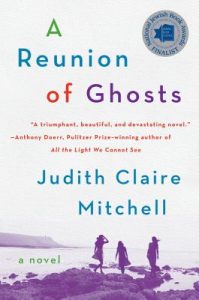 A Reunion of Ghosts, Judith Claire Mitchell
In A Reunion of Ghosts, the "we" is a group of three sisters, united by their mission to stop a family curse that has coursed through three generations. One of the sisters has a tattoo that reads: "the sins of the fathers are visited upon the children to the 3rd & 4th generations." They are the fourth generation, determined to stop that prophecy from coming true. But their plan will only work if they join together. The plural narration emphasizes their collective mission and the biologically determined fate they share.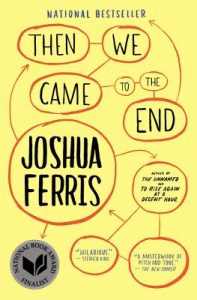 And Then We Came to an End, Joshua Ferris
In And Then We Came to an End, the "we" narration illuminates the ways in which people link their whole identities with their jobs. They are just cogs in a machine. They are who they work with. When the ad agency where the narrators work starts laying off these men and women—one by one—lose their identity and eventually the "we" dissolves: "It was nice to just sit there together. We were the only two left. Just the two us, you and me."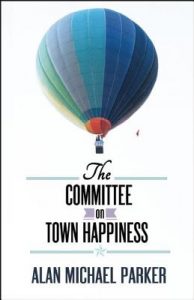 The Committee on Town Happiness, Alan Michael Parker
The Committee on Town Happiness is the most exuberantly experimental use of the "we" voice I have seen. It is a funny and spot-on satire about the ineffectiveness of decision making by consensus. People keep disappearing, so a town convenes a committee to take action. But committees say ridiculous things like this: "We had agreed to travel separately, to mix but never match, double-pump all handshakes, kiss a baby as required" and take votes on ridiculous things like this: "How many kisses for each baby?" At least they do in these 91 short novel-in-(very short)-stories.
*
Inspired by the most recent "we" voice narrator I have encountered—the one by Jaquira Díaz—I asked my students to read from Ordinary Girls and write their own "we" voice pieces. One woman wrote about growing up Mennonite. "I loved the exercise," she said. "It was a way to reflect on who it is I speak for, what I have been/am a part of," which is evident in this excerpt: "We were the girls, my sisters and I, called only the girls, while brothers had names, importance. We were merely girls, interchangeable, to do girls' work—wash dishes and prepare meals, fold laundry and make our brothers' beds, can and freeze. We knew our place. Everyone did."
Another woman, an Episcopal priest, wrote in the "we" voice of the church—first, showing the stereotype and then the reality. "The church is us, the people. Writing in the "we" voice makes that especially clear," she said. One woman wrote about sorority rush, a topic perfectly suited to plural narration because it reveals how the individual suppressed by the herd mentality.
And one man said, "I was surprised to find this POV enjoyable. In my experience, the "we" voice is often used to hide from personal feelings or assert unity where there is diversity. Now I see that the "we" voice, honestly applied, can open a door to commonality and Zeitgeist." He wrote about being part of two distinctly different groups—student activists and soldiers in Vietnam.
Years ago I attended a craft talk by Antonya Nelson at the Tin House Summer Workshop. She said many smart things, but the one that sticks with me the most is this: Fiction writers who choose an unusual point of view better have a good reason. "Unusual" meant anything besides what Nelson considered the default: third person. I've always been a rule follower in life and a rule breaker in writing, so of course I took her pronouncement as a challenge.
It's a challenge I'm passing on to you. At least as an exercise, we should all try writing in the "we" voice. It emphasizes what we have in common and smooths out some of the rough edges of what divides us. It reminds us that even as we are stuck in our separate homes, we are all in this together.
__________________________________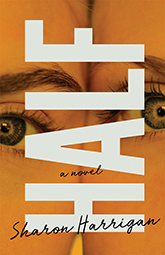 Sharon Harrigan's novel Half is available now.
---