Chang-rae Lee: Bourbon Doesn't Work For Writer's Block
A Conversation with the Author of My Year Abroad
Chang-rae Lee is the author of six novels, including Native Speaker, winner of the Hemingway Foundation/PEN Award for first fiction, and The Surrendered, winner of the Dayton Peace Prize and a finalist for the Pulitzer Prize; his latest, My Year Abroad, follows a college student Tiller who suddenly gets folded into the life of Pong Lou, a Chinese American entrepreneur. Tiller follows Pong on a trip across Asia, which launches him into a world where he reconsiders everything anew and where we are left to ponder the longstanding effects of stereotypes, capitalism, and global trade. Lee teaches writing at Stanford University.
*
Literary Hub: Who do you most wish would read your book (your boss, your childhood bully, etc.)?
Chang-rae Lee: All of my favorite teachers, from elementary school through grad school. I dedicate My Year Abroad to them, both because it's a book partly about learning and mentorship but also because whenever I finish a book I can't help but think of the brilliant and generous people who've shared their knowledge and wisdom with me, and without whom I'd be nothing as a writer.
LH: What time of day do you write?
CL: For the last twenty years or so I've been writing in the mornings, starting after my single but absolutely required cup of coffee. Then I work as long as I can, depending on what I can manage and also what other things I have to do that particular day. Usually I quit after five or six hours. I wouldn't call myself a morning person, as I'm not the kind that arises bolt-awake and has to go-go-go. I just can't sleep anymore, which doesn't mean I'm chipper. Still, I do find my mind clearer and less filled with to-dos and should-dos, which helps. When I was younger I could work in the evenings, sometimes very late, but looking back on that now I wonder if I ever wrote anything decent doing it that way.
LH: How do you tackle writer's block?
CL: I try to stay in my chair, is all. That's it, even if I'm totally empty or blocked or confused. Simply staying put, in the position, and letting my thoughts wander, is the key. Eventually something will appear or make itself known. I did once try the advice that Donald Barthelme gave to one of my writing teachers, Tracy Daugherty, which was to drink a whole bottle of bourbon in a kind of exorcism. Well, I couldn't come close to finishing and pretty much made myself ill for a few days, which didn't clear my head or give me new ideas but did make me feel I'd just been birthed again, and painfully.
LH: Which non-literary piece of culture—film, tv show, painting, song—could you not imagine your life without?
CL: Tough choice, but it's probably music. I'm always listening to something, and my tastes are quite wide-ranging, from sugary pop to classical to deep house to island reggae to folk to Latin dance songs etc. I'm no musician or musical expert, just someone who adores the amazing range and texture of the human voice and the beats and melodies musicians can dream up. This is no doubt partly because I can't carry a tune but so wish I could. We all have many songs to sing. . .
LH: What's the best writing advice you've ever received?
CL: That one be truly committed to what one is writing. Of course there are countless considerations of "craft," but none of that is much use if you're not all-in. This is not to say that you must completely understand the project, only that it's something that you can't help but obsess about, that creeps into your thoughts during meals, invades your dreams. I don't think this is something you can put on or manufacture or force; you can't simply write "well" about something and have the reader truly delighted and moved.
__________________________________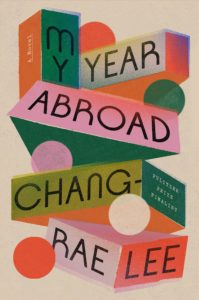 My Year Abroad by Chang-Rae Lee is available now via Riverhead Books.
---