Can There Actually Be an Escapist Summer Read in 2020?
Four Novels on the Unsettling Moods of Summer
Summer is going to be strange for so many of us this year. But for certain writers, summer has always been a little strange. Not so much a season of carefree escape as a suspended time-out-of-time where nothing much happens but everything gets emotionally shifted. Priorities and ways of being are questioned and a space for new connections emerges.
If summer can be a time of breezy abandon when the pace of life slows and relaxes, it can also be shot through with a dreamy, moody atmosphere that messes with our consciousness. The books below convey this atmosphere beautifully.
In these novels, the idea of what it means to escape is considered. Escape to where and from what? And if it's temporary, do we expect things to return to the way they were when summer is over? Should we want them to? These questions were on my mind when I was working on my own novel set over the course of one charged, unusual summer, The Summer Demands.
Article continues after advertisement
The seasons, especially summer, have always had a metaphorical power—rich with regeneration, transformation, and the passage of time. These novels were all written before climate change became the crisis we're now reckoning with, but while the seasons themselves are being affected and altered, I don't think of these novels—or the act of reading them—as nostalgic. They're too clear-sighted for that, even as they linger in the daze and the heat.
Honeymoon, Patrick Modiano
In Modiano's Honeymoon, the narrator, Jean, has reached a liminal, troubling age (forty-something) where he wonders how much longer he and his wife and his friends can go on being "old young people." He's a documentarian who makes films about lost explorers and, one summer, instead of getting on a plane bound for Rio de Janeiro for his latest work project, he goes missing from his own life, secretly holing up in a cheap hotel on the periphery of Paris.
He spends his days, in his solitude, trying to piece together the story of Ingrid, a woman he knew two decades earlier, who has since committed suicide. He walks around the city, "in the traces" of her and others, and of his own past selves. It's a novel built on echoes.
"For a long time," Jean thinks, "summer has been a season that gives me a sense of emptiness and absence, and takes me back to the past… the past and the present merge in my mind through a phenomenon of superimposition." Malaise entwines itself with fascination, and the tone is melancholic but engaged, as Jean reflects on Ingrid and her husband, and how he met them one long ago summer, on the French Riviera, when he was 20 and they were around 35.
Their interest in him—sort of custodial, sort of companionable, somewhat sexual—is brief in duration but lasting in its effects. And he is drawn, years later, to understand the couple's own murky past, from another 20 years or so earlier, during the Nazi occupation of France.
Themes of escape and departure run through Honeymoon on various levels. Even to read this, as an American, is an escape. There's no other writer I read with Google maps open, to situate myself in the Parisian streets and places he names (in street view, the city always seems to be leafy and green). But the book itself acknowledges that escape often doesn't come without a cost. Sometimes at your own expense and sometimes at the expense of others.
And how complicated it all is, especially in two of the contexts Modiano conjures here: the legacy of French colonialism and Paris during the occupation. In the former, exploration and adventure—discovery—is inextricably linked to exploitation and racism. In the latter, discovery and disappearance acquires another cast, in a time when people went missing or were taken away and others, like Ingrid, needed to stay hidden in order to stay safe.
The book itself is a paradox: a slim work that says volumes about boundaries, both literal and psychological, against the backdrop of a shimmering, almost hallucinatory season.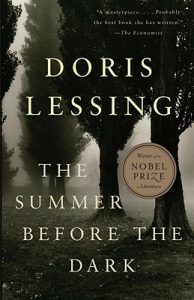 The Summer Before the Dark, Doris Lessing
Sometimes I wonder how the literary mainstream was so willing to accommodate and acclaim Lessing's weird, challenging books. Was the mainstream really all that different in 1973, when she published The Summer Before the Dark? Maybe it's the veneer of normality or at least recognizability that she starts from and the psychological authenticity she maintains? Or Lessing's skill at writing characters who are both inward and outward, as with Kate Brown, the protagonist here. Lessing draws a deeply interior portrait of a woman who also exists in larger sociological and political worlds.
Kate, 44, is a housewife and mother of four grown-ish children, in a long marriage where neither she nor her husband "expect too much from each other." In her comfortable, upper-middle class life in a suburban part of South London, everyone they know is "varying degrees of socialist, or liberal." She's not necessarily depressed, but she's "feeling something pretty strongly that she couldn't put her finger on," as her family scatters for the summer: her doctor husband to a four-month exchange at an American hospital, her kids on various travels abroad.
She rents out their house for the season, and then, like Modiano's Jean, disappears from her own life. First, into a highly paid temp job as a translator and conference planner for an organization called Global Food (they do something involving policy-making, with jet-setting, international delegates). This takes her to Istanbul for a bit, where she meets a younger man, and afterward, follows him to Spain.
It's a disaster, leaving her with a mysterious illness she then recuperates from in a fancy London hotel, before winding up in a bohemian quarter of the city, where she takes a room in the apartment of Maureen, a young woman around the age of her daughter. All the while, she has an ongoing, near-epic dream about carrying an injured seal to safety. She rethinks everything. And then rethinks some more.
If Kate's mode is one of dislocation and detachment—of looking at herself from outside of herself—it's not at all apathetic. Rather, Lessing is interested in layers of consciousness, in thinking about thought, a self-consciousness about one's own interiority. Is that why this novel still feels particularly current? Because we're all performing all the time now, even in our thoughts?
It could also have to do with lines like this: "Wars, strikes, floods, earthquakes… there was the feeling… that these events, once high and rare (or had they ever been, was that just false memory?) were moving into the first place of everyone's experience."
Everything Kate has been struggling with—her identity as a woman, a mother, an adult in middle-age—coalesces in the wonderful section where she becomes Maureen's roommate. Kate's maternal and caretaking impulses finally find a context in which they are transformed, in which Kate gives, but also, for a time, finally gets. She gets to be herself—whoever that may be—and not the various roles she's been inhabiting. This isn't exactly a frictionless triumph of self-actualization, though. By the time Kate's dream ends, when the seal is safe and the summer is over, the whole concept of "safety"—as a condition and a comfort—has been thrown into question.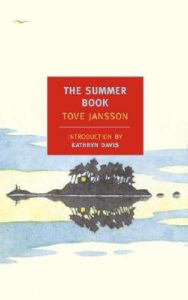 The Summer Book, Tove Jansson
Told in 22 vignettes, Jansson's novel traces the interplay between youth and age over the finite period of a season. Six-year-old Sophia and her grandmother inhabit a summer house on a remote island off the coast of Finland, where they are beholden to the weather, which alternates between calm, mild sun and stormy darkness. Sophia's father is there, too, but so often at his desk, "working" (it's not clear on what), while she and her grandmother explore and observe.
It's a book of the outdoors, of cold, salty water, moonlight, granite, and moss—and a time unlike the rest of the year, a time when Sophia has "hard summer feet."
We learn early on, almost in an aside, that Sophia's mother has died: "Sophia woke up and remembered that they had come back to the island and that she had a bed to herself because her mother was dead." And the summer that Jansson depicts is what's left in the wake of that loss.
"A person can find anything if he takes the time, that is, if he can afford to look. And while he's looking, he's free, and he finds things he never expected." The line is about a fisherman and odd-jobber who is a friend of Sophia's family, but it applies to this novel itself. In many ways, this is a book about time, about taking time and looking—and about who can afford to do so.
Amid moments of closeness and comfort, if not happiness, Jansson evokes the "slow sadness" of the season. Here she is on August: "A great warm, dark silence surrounds the house. It is still summer, but the summer is no longer alive. It has come to a standstill; nothing withers, and fall is not ready to begin… The can of kerosene is brought up from the cellar and left in the hall, and the flashlight is hung up on its peg beside the door."
This book falls into the familiar rhythm of the season, hits so many of the notes associated with summer, and still, there's a peculiarity to it. And as intimate as it is, there's also something distant about it. Perhaps it's because Jansson's writing is imagistic and descriptive rather than analytical. Events are to be experienced rather than interpreted, feelings are to be felt and not endlessly turned over and examined.
It's kind of the opposite of Lessing (and was published just a year before The Summer Before the Dark), operating on a different plane of intelligence, and in this way, there's something resistant about it, like an object you can look at and appreciate from many angles and still not completely understand.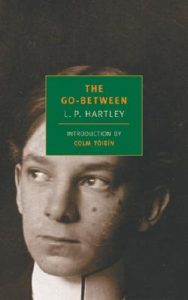 The Go-Between, L.P. Hartley
"The past is a foreign country: they do things differently there." So begins L.P. Hartley's The Go-Between, a book that should, by logic, be thoroughly nostalgic. Hartley, born in 1895, apparently set out to write a novel bounded by tradition and a rather rigid morality, that mourned the corrosion of an idealized past. But in many ways, this haunting novel betrays its own author.
The year is 1900, the summer is golden and glorious, as if to set a course for the century to come (but we know how that turned out). Twelve-year-old Leo Colston, self-conscious yet extraordinarily observant, spends his break at the grand country estate of a wealthier classmate, where he encounters his friend's older sister, beautiful and formidable Marian Maudsley. Engaged to be married, she's having an affair with Ted Burgess, a nearby farmer, and they enlist Leo to carry messages between them.
I don't think it's much of a spoiler to say the affair doesn't end well. And as Leo is caught up in a complicated game of manipulation and complicity, the experience not only disillusions him, but marks him for life with a fear of sex and intimacy. Hartley may have wanted the reader to see Marian and Ted's affair as corrupting, but what appears more corrupt are the class and social structures here that dictate and distort individual lives.
Colm Toibin, in his reissue introduction, suggests that Hartley was preoccupied by "the idea that the senses in all their heat and spontaneity, were the only useful weapons to withstand the demands of strict, dull, deathly English duty. Hartley the citizen was on the side of England; Hartley working on The Go-Between was not so sure."
And this novel is a great argument for summer being the most sensuous of seasons. It's there in Hartley's descriptions of everything from bodies (especially male bodies) to the weather. And in the current that runs through the book: how sensuality and desire are transfiguring and can contradict and undercut rationality and rules.
It makes sense that Joseph Losey directed the film version of the novel. Blacklisted by Hollywood during McCarthyism, Losey settled in England, where he made a trio of literary adaptations—The Servant, Accident, and The Go-Between—that explore the power dynamics and class systems that evidently obsessed Hartley. But Losey comes at this territory from a critical angle, concerned with interrogating and indicting these systems rather than preserving them. It's easy enough to read the book this way, too: a novel where the intensity of a summer reveals any number of truths and indelibly shapes what comes after.
__________________________________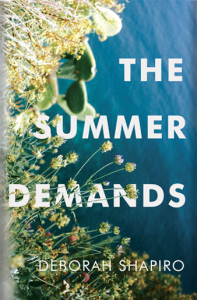 Deborah Shapiro's most recent novel, The Summer Demands, is now available in paperback.
---