By Us, For Us: On New Orleans Bounce
Where Did the Projects Go? They Found a Home in Song
"Project Music"—that's what they call it. This energetic, rambunctious, stuttering New Orleans variant of hip-hop that frequently pays homage to the city's neighborhoods, blocks, and housing projects. This musical lingua franca of New Orleans with its infectious rat-a-tat beat and colorful deejays exhorting hyperkinetic crowds to dance like electrified rubber bands or send up shout-outs to the places that elicit their allegiance. This musical style stuffed with New Orleans sonic heritage: Mardi Gras Indian-influenced chants; brass band music (that festive second line bass line); New Orleans funk; rip-roaring call-and-response; and a propulsive, swinging beat. This dance-party music-aptly termed "bounce"—ubiquitous in local nightclubs, block parties, and, more than anywhere else, the city's storied housing projects.
Although it has been enormously popular at home since it burst on the scene in the early 90s, beyond New Orleans bounce has been mostly an exotic alternative music. The common reasoning is that it's too incessantly repetitive—chant-propelled call-and-response songs tied to an omnipresent rapid-fire sampled beat (rightly called the Triggerman); that it's too raunchy—the music is nothing if not sex-drenched; and that it's too intensely local—its sound and concerns are idiosyncratically, unequivocally New Orleans. (Whenever New Orleans rappers went national, such as Master P, Mystikal, or the Cash Money Records' stable of Juvenile, B. G., and Lil Wayne, they moved beyond New Orleans partly by minimizing the influence of bounce or abandoning it altogether.) And bounce, its local popularity notwithstanding, is sidelined in New Orleans, too, not only for its vulgarity but also because of its unwelcome perspectives (views of and from the inner city). One suspects that it doesn't fit within the vision of New Orleans that the city would like to present (or market?) to the wider world. Perhaps this suspicion has made bounce musicians and fans all the more insistent on making and supporting music whose mantra, effectively, is "by us, for us."
* * * *
I ought to admit that I have an uneasy relationship with bounce: I dislike, even loathe, many of its lyrics (obscenity on overdrive), but find its exuberant sound, its joie de vivre, irresistible. I love its commitment to entertain its primary audience ("New Orleans is in the house!"); the way it insists that everyone participate ("Everybody, walk with it!"); its sense of humor (performers urging audiences to do dance moves named the Eddie Bauer, the Wiggedy Wiggedy, and the Walk Like Thriller); its energy (music and indefatigable dancers rattling away); and its devoted attention to the city's many neighborhoods (the de rigueur practice of giving shout-outs to every neighborhood, down to its popular blocks: "I'm down with the Ninth Ward!" and "I'm down with P and C!" [the corner of Philip and Clara streets in the Tenth Ward]). One of bounce's preeminent performers, DJ Jubilee, captured this multifaceted richness when he told me bounce was "dance-party-type music that represents everybody." That's as good a description of the music as you'll ever come across.
DJ Jubilee meets his audience: "Where y'all from?" "What's the name of your school?" The names that greet him get their due in song. But his recognition doesn't stop there: a list of significant neighborhoods and schools, especially those that cultivated popular hip-hop musicians (like Walter L. Cohen High) or marching bands (John McDonogh 35 High), come in for some love—and this includes some that no longer exist, such as St. Thomas Projects and Alcee Fortier High School. DJ Jubilee never uses the newly coined, post-Katrina names, but instead "gives props to the old names" that resonate with people who are not ready to trade them in. Sure enough, a nomenclature of recovery. (Thus Magnolia and not Harmony Oaks.) No wonder he insists, "My music represents where you from, what's the name of your school, your neighborhood. Represent your ward. Represent the dances and people who made them up. Represent the street. It's putting people on the map. Basically putting the whole city of New Orleans on the map." Whatever its shortcomings, then, bounce tries to speak for and to everyone as it supplies a rollicking time. This is its lifeblood. And this guarantees it will long keep New Orleanians under its sway.
But bounce also resonates in surprising ways among people from elsewhere, people who also feel—here's that word again—represented by it and have a visceral attachment to it. I often hear enthusiasts call New Orleans "the northernmost Caribbean city," and, though the city is indeed able to trace a Caribbean heritage, the claim frequently rings hollow (particularly because the speaker's idea of the Caribbean is colorful cottages and jubilant street life populated by folksy people who eschew the Protestant work ethic). But when I hear bounce, I can't help but hear echoes of Jamaican music, especially the subgenre called dancehall. Like bounce, dancehall is bass-heavy party music with a fast, driving beat and a simple, catchy rhythm recorded over by multiple performers. As with bounce, its detractors complain that "it all sounds the same," a grouse that sounds absurd to fans of both genres, whose eager ears are attuned to multiple differences. Bounce, which recalls early hip-hop even more than Jamaican dancehall, is fastened to samples from Derek B's (1987) "Rock the Boat" or The Showboys' (1986) "Drag Rap." Most bounce songs are built on a contagious hook from "Drag Rap" known as the "Triggerman" (the New York-based duo The Showboys, label-mates of Run-D.M.C., consisted of Buggs Can Can and Phil D Triggerman), and hearing innumerable performers rap over the same Triggerman rhythm feels like watching a bunch of your favorite athletes joust for supremacy. (Unlike most American hip-hop, bounce rappers don't offer narratives so much as they provide phrases tied together, nursery rhymes amped up on dope beats meant to get crowds hollering and hopping.) But competition is only half of it. More exciting, perhaps, is the ongoing dialogue: records on which performers interact with their predecessors by quoting (lyrics and musical phrases) and responding in their own inimitable fashion. What may strike outsiders as inane recycling—a whole genre constructed on a few dance-friendly samples—is really an opportunity to supply a riff that performer after performer improvises over, a practice ingrained in New Orleans's DNA. A simple rhythm track providing the framework for creative and comical competition and dialogue among scores of performers—that's bounce and dancehall for you. When I hear bounce, then, I hear not only New Orleans musical traditions and old-school hip-hop. I also hear a shout-out to Jamaica.
They were not full participants in the social order, but here they were, fully engaged in the cultural sphere, finding their voice individually and collectively through a music that acknowledged them.
The desire to witness a nod to my old and adopted homes, not to mention a readiness to participate in the joyfulness attending it, often led me to the famed Magnolia Projects, a breeding ground for bounce and the place local hip-hop notables such as Juvenile and Soulja Slim came from. Before Hurricane Katrina, I lived on Washington Avenue, a ten-minute walk from the Magnolia Projects, and a mere saunter down the street could lead to an ebullient world of cultural energy and allure. One might run into a crowd of thousands—on, say, St. Joseph's Day—dancing to syncopated grooves coming from both loudspeakers blasting bounce and brass bands parading in the streets. (Often I couldn't distinguish chicken from egg, as I heard the brass bands playing things I'd first encountered in a bounce song alongside bounce songs sampling brass band bass lines.) In the midst of this, in Shakespeare Park (renamed A. L. Davis Park, but never called this by anyone within my earshot), directly across from the Magnolia Projects, were Mardi Gras Indians in their gorgeous three-dimensional costumes constructed from hand-sewn beadwork and sequins and feathers—a pageantry of pink, green, orange, black, and white "suits"—out of which rose tambourine-driven chants. At that point, Magnolia Projects, a place that was often riddled with poverty, squalor, violence, and even despair, was transformed into a cultural crossroads where various New Orleans traditions and a mixture of dancing, singing, laughing people bumped into each other in happy coexistence.
And as soon as a bounce deejay or performer grabbed a microphone, he would pay tribute to Magnolia and any number of other housing projects, and the audience would acknowledge with their shouts and dances. "Shake it for the Magnolia," a performer would command, and everyone would readily oblige. Of course, the daily life of Magnolia Projects should by no means be romanticized (always a danger when considering New Orleans, a place drunk on its myths about authenticity and superiority). But neither should we fall into the converse error of seeing the spirited celebrations as mere revelers' delight, evidence only of New Orleanians' perpetual infancy. In a country where people increasingly retreat from public spaces and street life, I was elated to see the residents of Magnolia joined by thousands of New Orleanians in the street. They were not full participants in the social order, but here they were, fully engaged in the cultural sphere (if only for a moment), finding their voice individually and collectively through a music that acknowledged them.
* * * *
A few months after Hurricane Katrina, I returned to the city and visited some of my old stomping grounds. The Magnolia Projects were shuttered and looked like a giant crack den. The soundtrack and the bubbly people entertained by it were obviously gone—to different parts of the city, different parts of the country. For a moment, I resorted to the provincialism that rushes to invoke writer Lafcadio Hearn's boast about New Orleans: "But it is better to live here in sackcloth and ashes than to own the whole state of Ohio." Then, in near lockstep, the questions came. What has, what will, become of these streets? Where did the people go? Did they transplant their exuberance? I soon discovered that bounce had begun to make the national inroads it had previously been denied—a result of the dispersion that the hurricane caused. The subgenre "sissy bounce," with gay and transvestite rappers such as Big Freedia and Katey Red, became bounce's biggest thing. And bounce parties were happening all over the city. It was at these shindigs at home and abroad that one would hear the shout-outs to housing projects that had been depopulated, closed, or razed. It was there that a performer would singsong "Magnolia is in the building," and an enthusiastic crowd would affirm, "They say that." It was there that everyone would demonstrate the potency of the past by singing "From the Magnolia to the Melpomene to the Calliope," a roll call of the three most famous and honored housing projects in the city, places where many, if not most, of the celebrants no longer lived. Psychological record-keeping with a thrilling beat. Turns out that bounce answered the question "Where did the projects go?" They found a home in song, the location for so much in New Orleans that has been preserved by memory and sentiment.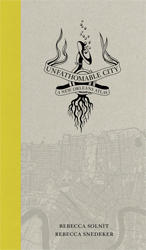 From Unfathomable City: A New Orleans Atlas, ed. Rebecca Solnit and Rebecca Snedeker. Used with permission of University of California Press. Copyright © 2013 by Garnette Cadogan. 
---