Building a Personality From 100-Year-Old Photographs
Nuala O'Connor on the Legend of Belle Bilton
The heroine of my new novel Becoming Belle was, among other things, a celebrated beauty. Belle Bilton, an actress at London's Empire Theatre, had a double act with her sister, Flo, simply called The Sisters Bilton. Both women had nut-gold hair and were petite with neat, curvy figures; Belle was acknowledged as the more handsome of the two. These women were public property, they were among the celebrities of their era—their outfits and choice of socializing spots were reported on, their paramours commented upon, and they were photographed by the celebrated cameramen of the day. The Bilton sisters were working women, they earned their own money and, from humble beginnings, rose high in their profession and, in Belle's case, in the ranks of society.
As actresses, the Bilton sisters weren't averse to being pictured in costumes that left little to the Victorian imagination; bare arms, shapely legs and deep cleavage were all on display. Their costumes in the photographs are often elaborate, rippling with feathered edges, and including starry crowns, yards of lace and glittering jewelry, all of which is enormously helpful to the historical novelist determined to get the details right.
In the course of my research I visited the archives at London's National Portrait Gallery and was allowed to view photographs of Belle, from both her public and personal side, that spoke to her roles as both woman-to-be-seen and as wife and mother. We see her pictured with the twin boys who were the first babies of her marriage: her arms are full of them and she's half-smiling and all looks relaxed and happy.
When it comes to writing about someone who was once public property, and who seems to have happily colluded in her own fame, the available images are an enormous help to gaining clues to their personality. When I studied the large array of publicity pictures of Belle, I could detect both defiance and melancholy in her looks and I wove those things into the personality I built for her in my novel. Of course, this is always just a guessing game—I'm amazed often by other people's interpretation of a sitter's expression in a painting. Where I see wry humor another viewer might detect a grimace. But Belle's enormous eyes seem to me to possess a sadness and depth that, maybe, I choose to see there because I believe in the complexity of the woman.
The more celebrity-driven images of Belle, taken by the likes of Bassano, W.D. Downey and Lafayette of London, were printed in popular magazines and newspapers, on playbills and posters, and on cigarette cards. These cards were a 1870s American phenomenon that caught on worldwide. Originally the cards were blank "stiffeners," put into packets to protect the cigarettes, but soon a clever marketer stuck pictures on them and the practice became widespread. In 1888, W.D. & H.O. Wills became the first British cigarette producers to include cards in their packs, and soon they, and others, were issuing themed sets of cards on everything from exotic animals to ships. They also including images of contemporary actresses and known beauties.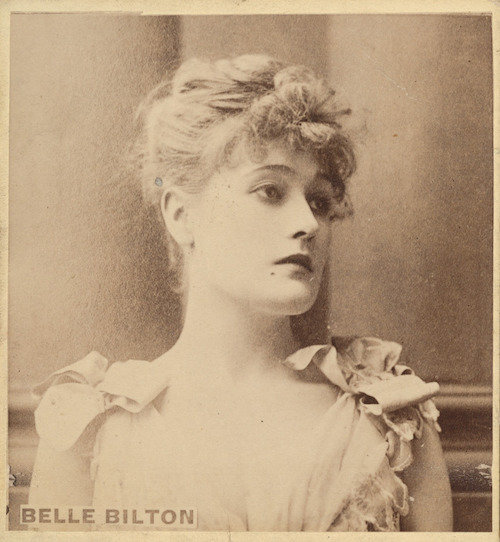 In an age before television and film, the regular cards—boats, flora, fauna—were perceived as educational, particularly those with explanatory texts on the reverse and, because they came in sets of 25 or 50, also extremely collectable. And so the hobby of cartophily was born where people vied and traded with each other to complete sets and to add to their collections.
Belle and Flo Bilton would have been well aware that they were being collected and used, most likely, as titillating subjects to be passed about, commented on and salivated over in men's clubs. Some women's groups even lodged complaints about the suggestive nature of certain cards, citing them as an offense to public morals and one group in Canada said that the inclusion of women on cards meant that little boys were taking up smoking solely to view the female form. But these actresses would have also known that the more their covetable cigarette card images were vied for and discussed, the more people would come to the theatre to see them perform and, therefore, the more money they would earn. Cartophily was good for the performing woman's business.
I became something of a cartophilist myself when I was researching and writing Becoming Belle. I scoured online auctions and managed to buy cards with Belle Bilton's image on them from Ogden's, Player's, Lorillard and Wills's. Cigarette and tobacco companies were not above cashing in on notorious celebrities and when Belle, amid some scandal, secretly married Viscount Dunlo, a member of the Irish aristocracy, several companies issued cards with Belle's new lofty titles: Lady Dunlo and, eventually, Countess of Clancarty. When I trawled card sites and eBay for cigarette cards featuring Belle, I set up alerts for all forms of her name: Isabel Bilton, Belle Bilton, Lady Dunlo, Countess of Clancarty. I would even search misspellings of those names on the off-chance that some vendors' spellings would be faulty and therefore the cards would be less easy to track down.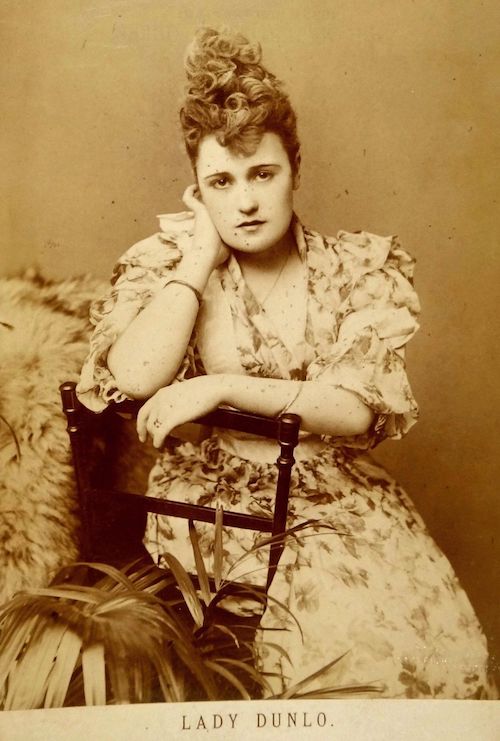 All of the cigarette cards are miniature works of art—the companies went to pains to make them covetable and collectable. Some of the ones I own feature black and white close-ups of Belle, emphasizing her curves as much as her pretty face. Others are lithographs with really true and bright colors that give the cards the look of fine miniature paintings. In one Ogden's card, Flo Bilton, holding aloft a puffing cigarette, has a healthy blush to her cheek and a satisfied pout to her cherry lips. What better advertisement for smoking than a pretty woman who dances for a living?
Belle Bilton to me is, of course, so much more than the gorgeous face depicted on cigarette cards. She was a proto-feminist in a man's world, a woman who earned her own living and had the courage and strength to overcome several large obstacles that life threw her way. Still, I'm glad her image was a prized one and that, therefore, my small foray into cartophily could be easily satisfied. Just as Belle Bilton danced and sang to honor her talent, I collect cigarette cards of her image to honor her and her extraordinary life.
---