Bringing Restaurant-Style Cooking to the Redzepi Home Kitchen
A Peek Inside the Fridge of a Foodie Power Couple
You might think that being the wife of René Redzepi, chef and owner of the world-renowned Noma, might be challenging if you also love to cook. But you'd be wrong—Nadine Levy Redzepi may well be the best chef in the Redzepi household. "René is not demanding at all. I just think he is appreciative of someone cooking for him, since he spends so much time cooking for others," she says.
Not only does she help run the Noma franchise, she also runs the household, does all the shopping and cooking for six people, throws together last-minute dinners for guests with aplomb. She even managed to write a best-selling cookbook in her spare time. 
Redzepi is the daughter of two street musicians. Her parents met in Paris—her Danish mother was an au pair, her father an English street busker. When they weren't bouncing from one capital to another and living out of cars and cheap hotels, they returned to Tavira, the tiny Portuguese coastal town where Redzepi was born and where her grandparents had bought them a house. 
"Every day seemed to revolve around food and eating," she says. "I remember pomegranates, warm from the sun, their sweetness, the bitterness of the skin, and the bright pink juice running down my arms and hands." Neighbors would come to trade tomatoes in exchange for their olives, almonds, and eggs. When they were on the road busking, she would get treated to an ice cream. "I always chose rum raisin or mint chocolate, flavors that remind me of France, and that I don't eat elsewhere." 
She started cooking early on, mostly porridge and scrambled eggs. But she really became obsessed with cooking at eight, when she happened upon the BBC show Ready Steady Cook as she lay sick in bed. "I was blown away that they could cook three dishes in twenty minutes, and I just grabbed my notepad and wrote everything down." She felt hungry for the first time in five days. 
Back in Copenhagen, where her aunt lived, Redzepi started working as a waitress at Noma when she was 19 and met René by chance when she got lost looking for linens on her third shift. He offered to help her. Clueless as to who he was, Redzepi asked how long he had been working there.
"From the beginning," he replied. "You know this is my place, right?" She blushed, went back to work, and replayed the conversation in her head throughout that evening. A month later at a staff party, he threw a piece of bread at her from across the room. The rest is history, she says. 
Influenced by her nomadic childhood, her cooking style is eclectic—she's a fan of big flavor and light ingredients, and not averse to experimenting with whatever her husband brings home. "I love playing around with things like chicken-wing garum and different ferments—they make everything taste so delicious and satisfying." 
She does all this from the Redzepi household's warm, lived-in kitchen, with its wooden countertops, fireplace, brass sink, and exposed beams. And although her newfound fame has made her an instant celebrity, the guests who have been at their home have always known that Redzepi is much, much more than the wife of a great chef. 
Smoked chili peppers, a gift from a Mexican friend
Cheese, from Paul Cunningham, an English chef in Copenhagen
Royal Belgian caviar—"I honestly like to eat it on really good potato chips with 50 percent full-fat crème fraîche."
Sun-dried tomatoes, from a former Noma chef
Morgenost cheese
Leftover chicken—"We probably have chicken once a week with roast potatoes."
Chicken fat
Pumpkin seed miso
Kelp salt—"It's great on steamed rice with some chili de arbol. I even like it on plain yogurt."
Eggs—"They're from a woman who used to be my mother's boss. She had a house in the country and would bring extra eggs to sell to the staff. My mom started buying them for us. René tasted them and wanted them at the restaurant."
Garum protein—"René brings them home from the restaurant's fermentation lab."
Vegetable garums
Vegetable reductions
Nomite—a Marmite experiment from Noma's Australia pop-up. "Being half English, I grew up with Marmite. When I feel a little nostalgic, I like to eat it on buttered toast with soft-boiled eggs. Actually, buttered toast with Marmite and caviar is also quite delicious."
Homemade hot sauce—"René and I made it together."
Egg whites, for the financier cake
Applesauce—"I always make homemade applesauce. The apples come from the communal courtyard where we live."
Sujuk sausage
Philadelphia cream cheese—"I'm the only one who eats this."
Sliced bacon
Mozzarella, leftover from a playgroup—"I asked my daughter what she wanted to have for dinner and she wanted them all to make their own pizza." 
__________________________________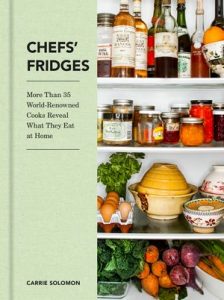 From Chefs' Fridges. Used with the permission of Harper Design. Copyright © 2020 by Carrie Solomon and Adrian Moore.
---