Big Songs, Big Emotions: On Glee, Santana's Coming Out Scene, and Naya Rivera
"Getting to write for her was one of the best things I've ever gotten to do."
Ali Adler, a TV writer who had come off Josh Schwartz's show Chuck, would quickly learn firsthand just how exhilarating and emotional it was to be a writer on Glee. The day of Adler's interview with Brad Falchuk, she was reeling from a breakup, had just moved out of her girlfriend's house, and was crashing at a friend's guest home.
She walked into Falchuk's office, a renovated loft at Paramount Studios that Ryan Murphy had redone, and encountered her interviewer, who looked like a gorgeous jock straight out of a John Hughes film. Adler is a self-described buttoned-up type, but when Falchuk opened the conversation by asking her where she lived, she started to cry.
Much to her surprise, this beautiful man gently explained that he understood her pain. He, too, was going through a hard time in his relationship. The duo really got into it, discussing their intimate feelings and experiences. It was a Gleelike lesson, seeing this guy who she had assumed was one kind of person turn out to be someone so different.
Adler left the meeting thinking she had either "fucked up that job interview or fucking nailed that job interview." She fucking nailed it. Later, Falchuk told Adler that he knew she was right for the show the second a tear fell from her eye. "The job is about relaying emotions," he explained. "I was just so excited to work with someone who had so much heart."
On Adler's second day of work, she was told to write a sequence around Beyoncé's song "Run the World (Girls)." She put her head down and dreamed up a complex scene that featured a flash mob starting in the hallways and ending in the auditorium, a frenetic performance of Brittany and the Cheerios tearing up the floor as the school band encircled them. The next day, Murphy told Adler to go to the set. There, she watched as her vision was brought to life, with 250 extras packed into that auditorium, Morris leading the charge, and a crane shot capturing it all.
"Every time I hear that song I think of that experience," Adler told me. "It was just so powerful to be a part of something so big."
Elodie Keene and Tate Donovan who, following The O.C., had gotten deeper into the world of directing—described it as a singular experience of sorts.
Donovan's first episode for Glee was a sweet, memorable one, "Silly Love Songs." It's Valentine's Day and romance is on the brain for New Directioners. Kurt tells Blaine he has feelings for him and the episode is peppered with buoyant love songs, like "P.Y.T." and "When I Get You Alone."
The second episode Donovan directed, "I Kissed a Girl," was a big one.
"That was a 180-degree difference [from] directing the teens in The O.C.," Donovan remembers. "[The Glee] kids were so hardworking and were just intensely into the show and into their characters. If they weren't shooting a scene, they were rehearsing a dance number or recording a song. It was like theatre camp. Twenty-four hours a day." Donovan felt like a teacher as he stood in front of the choir room, all the actors laughing, flirting, and goofing around. The second episode Donovan directed, "I Kissed a Girl," was a big one.
Santana comes out to her grandmother. The scene was based on a conversation that Adler had with her own grandmother when she came out to her at 18. After she shared that part of herself, her grandmother never spoke to her again. "You make your choices and I make mine," she told Adler.
Adler pitched the idea in the writers' room. "What if she comes out to her abuela and her abuela just says no?" Adler suggested. "That's real for a lot of people. And it's not like there's a cute, happy ending and she sees the error in her ways." Adler wrote that scene, weaving in dialogue pulled directly from her own experience.
Santana is sitting in her grandmother's kitchen when it happens. At first, she stumbles as she tries to get the words out. "I've watched you my whole life," she begins. "And you've always been so strong. Done exactly what you believe, and never cared about what anyone else thought of you…"
"Tell me about your life, I know mine," her grandmother responds. So, Santana starts talking.
"Abuelita… I love girls the way that I'm supposed to feel about boys… I've tried so hard to push this feeling away, and keep it locked inside… but every day just feels like a war. I walk around so mad at the world, but I'm really just fighting with myself. I don't want to fight anymore. I'm just too tired. I have to just be me." Her grandmother sits there silently.
"Say something, please," Santana begs.
"Everyone has secrets, Santana," she responds. "They're called secrets for a reason. I want you to leave this house. I don't ever want to see you again."
"Abuela, you… "
"Go."
"You don't… "
"Now."
As she watched the scene unfold from behind the monitor, Adler cried. Looking back now, it was cathartic. "I'm sorry that I missed out on my oma's life, I'm sorry she missed out on mine and my kids,'" she told me. "I'm glad that we got to show that because so many people have that experience too. They get to know that they're OK because it's happened to a lot of other people."
The script said that Naya Rivera should be weeping when her grandmother rejects her. The actor diligently did just that. ("Naya could pop a tear like nobody's business," Donovan remembers.) But something told him that she shouldn't cry during that scene.
"I think save the tears; let us cry rather than you cry," Donovan told Rivera. Later, Donovan found out that Murphy was angry that he didn't get the shot of Rivera crying. "So, that was a point against me," Donovan cheerfully recalls.
It's hard to fit in every wonderful thing people told me about Naya Rivera.
Santana does cry later in that episode. Finn sings a gentle, slow version of "Girls Just Want to Have Fun" to her in the choir room, and the tears slowly come. Donovan made sure that Cory Monteith's performance felt stripped down and simple that day. "We just kept trying to get him to not perform it," Donovan said. "He's a great singer and performer, and [we wanted] to have him let the song and the moment happen. The choreography was super simple. You run the risk of being boring. But a really good script has hills and valleys, and this is a valley that I really wanted to have. That's one of my favorite moments that I had with those guys."
It's hard to fit in every wonderful thing people told me about Naya Rivera. But I'll try, in their words.
Rivera died tragically in 2020 while boating with her four-year-old son, Josey, on Lake Piru, a reservoir in California's Los Padres National Forest. Josey, who was found asleep on the boat later that day, told authorities that he saw his mom disappear under the water after she boosted him into the boat. Ventura County Sheriff Bill Ayub suspected that in her final moments, she was saving her son. "She mustered enough energy to get her son back onto the boat, but not enough to save herself," Ayub said.
An autopsy determined that she had died from an accidental drowning.
When I asked Jess Meyer about her proudest writing moments on Glee, she responded: "Any line of dialogue I got to write for Naya Rivera. She was a fucking star. She would show up and knock a monologue out on the first try. She lived and breathed that role. Getting to write for her was one of the best things I've ever gotten to do."
Later in our conversation, she mused on Santana: "That was a character who showed very few cracks in the veneer and boldly was determined to be herself and go after the things she wanted in this world."
Sometimes Meyer will go on YouTube and look up a commercial that was written for Santana's character, in which she hawks Yeast-I-Stat, a yeastinfection medication, all while cheesily running around with a floaty ribbon and beaming from a swing. So many actors would have refused to shoot a commercial like that, Meyer said. But Rivera was completely game.
"She came to set and brought it so hard," Meyer remembers. "That feels like a career high to me. That character will never stop living in my brain… for the rest of time."
After Rivera died, tributes poured in. Not just from people who knew her but from so many fans who had fallen in love with her performance as the fierce, funny teen with razor-sharp pride in who she was.
"As a lonely queer Chicana growing up central in Texas, it was monumental to see a character like Santana Lopez from Glee be unapologetically herself," Polly Anna Rocha wrote in an essay for them, following the death of Rivera. "When Santana confidently strutted down the fictional halls of McKinley High in her signature Cheerios uniform, millions of people were watching, including women and girls like me who had been waiting for a main character to represent both femme queerness and Latinidad on a major network television show."
Rivera knew how much Santana meant to struggling teens. In 2017, she penned a love letter to the LGBTQ+ community for Billboard in honor of Gay Pride Month.
Here's how she ended it:
"We are all put on this earth to be a service to others and I am grateful that for some, my Cheerios ponytail and sassy sashays may have given a little light to someone somewhere, who may have needed it."
________________________________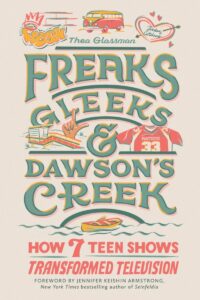 Excerpted from the book Freaks, Gleeks, and Dawson's Creek: How Seven Teen Shows Transformed Television by Thea Glassman. Reprinted by permission of Running Press, an imprint of Perseus Books, LLC, a subsidiary of Hachette Book Group, Inc. Copyright © 2023 by Thea Glassman.
---