Betsy Bonner on Wuthering Heights, Bluets, and Mary Gaitskill's Sex Scenes
Rapid-fire Book Recs From the Author of The Book of Atlantis Black

Welcome to the Book Marks Questionnaire, where we ask authors questions about the books that have shaped them.
This week, we spoke to the author of The Book of Atlantis Black (out this week in paperback), Betsy Bonner.
*
Book Marks: First book you remember loving?
Betsy Bonner: As a child: A Wrinkle in Time.
As a teenager: Frankenstein and Jane Eyre.
BM: Favorite re-read?
BB: My mother's copies of Wuthering Heights and Tess of the D'Urbervilles—both were cheap 1960s paperbacks, with lots of underlines by Mom, and her occasional marginalia. Rebecca by Daphne Du Maurier—I have a hardcover that belonged to my grandmother. To the Lighthouse.
BM: What book do you think your book is most in conversation with?
BB: The Red Parts by Maggie Nelson. Blood Will Out by Walter Kirn. Round Lake, my first poetry collection?
BM: A book that blew your mind?
BB: Alison Bechdel's Fun Home.
BM: Last book you read?
BB: The Cost of Living by Deborah Levy.
BM: A book that made you cry?
BB: Natasha Trethewey's Memorial Drive.
In the Dream House by Carmen Maria Machado.
BM: What book from the past year would you like to give a shout-out to?
BB: The past year two years have felt a bit like one, because of the pandemic. Rebecca Solnit's Recollections of My Nonexistence—the essay titled "Life During Wartime" is extraordinary. Tove Ditlevsen's The Copenhagen Trilogy was published in the sixties and seventies in Denmark, and collected for a new edition in English in this country last year. The third part, "Dependency," made my hair stand on end. Also, it may have won the Pulitzer, but why not continue to give a shout-out to Natalie Diaz's poetry collection Postcolonial Love Poem? Jenny Offill's Weather, since she predicted the future.
BM: A book that actually made you laugh out loud?
BB: Mary Robison's Why Did I Ever—it also made me cry.
BM: What's one book you wish you had read during your teenage years?
BB: Bluets. Does everybody say that?
BM: Favorite book to give as a gift?
BB: The Islands, by the Irish writer William Wall. I was lucky enough to meet him when he was in the United States on a book tour. Also: I recently gave Ottessa Moshfegh's My Year of Rest and Relaxation to a friend who needed it.
For kids: The Wizard Children of Finn or The Wolves of Willoughby Chase.
BM: Classic book you hate?
BB: I don't hate books, but I despise anything misogynistic or cruel to animals.
BM: Classic book on your To Be Read pile?
BB: Northanger Abbey! Insane that I haven't yet read it, given my interest in the gothic and in Austen. I'm saving it. I've read all of her other novels—Emma multiple times.
BM: What's a book with a really great sex scene?
BB: There are several in Mary Gaitskill's story collection Because They Wanted To.
BM: Favorite book no one has heard of?
BB: I think that people have heard about My Sister Life by Maria Flook—set around Wilmington, Del., where I went to Catholic school—but I only heard about it recently, when Amy Hempel mentioned it in relation to my memoir.
BM: Favorite book of the 21st century?
BB: My good friend Chloe Honum's poetry collection The Tulip-Flame is one. I first read her poems in 2009, when we were both in a workshop led by Henri Cole. Our writing shares some of the same themes—her mother, like mine, committed suicide. It was inspiring to watch her poems grow into her first published book—something I'd been hoping for myself. (Her new collection, The Lantern Room, will be published next year.)
BM: Favorite book you were assigned in high school?
BB: The Handmaid's Tale by Margaret Atwood. (I'd already read it, since my mom had a paperback of it in our house.) It now seems surprising that my English teacher included it on our syllabus, in my public high school, in the mid-nineties.
BM: Book(s) you're reading right now?
BB: Rebecca Donner's All the Frequent Troubles of Our Days. She's visiting my class of memoir-writing students next week at the 92Y Unterberg Poetry Center.
BM: Favorite children's book?
BB: Tuck Everlasting by Natalie Babbitt. I didn't read it until my late twenties, after I'd become a teacher. I remember going to a talk by Babbitt, who said that the inspiration for the Tuck family's house—a magical cottage in the woods—had been struck by lightning and burned to the ground when she went looking for it.
BM: Book you wish would be adapted for a film/tv show?
BB: The Islands, because it's so damn beautiful. I want to see those Irish landscapes. Memorial Drive, which begins with a striking image of Trethewey's mother.
Betsy Bonner is the author of the memoir The Book of Atlantis Black: The Search for a Sister Gone Missingand the poetry collection Round Lake. She is a former Director of the 92Y Unterberg Poetry Center, where she now teaches creative writing. She is a fellow of the MacDowell Colony and the T. S. Eliot House. She grew up in Chadds Ford, Pennsylvania, and lives in southwestern Vermont.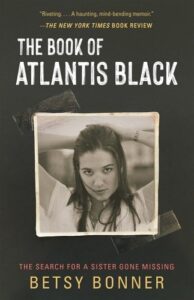 Betsy Bonner's The Book of Atlantis Black is out this week in paperback from Tin House Books
---