Avoid the Pathways to Psychic Pain
Dr. David A. Kessler on Depression, David Foster Wallace, and Capture Theory
David Foster Wallace had a cavity. He'd never had one before—but now the dentist who'd always praised him for his pristine teeth was telling the 14-year-old boy that he was not invulnerable. "I remember him . . . being stunned and disgusted," recalled his sister Amy Wallace.
"I think he just wanted to be as perfect as possible. I think he liked to set himself apart from other people or from what normal is supposed to be." This was an early dilemma for Wallace: creating expectations that were so exacting, he was guaranteed to fail eventually. Wallace's intention may have been to prove his superiority but instead he provoked a doomed inner narrative, one that would echo through his life: he had not measured up; his life was a hoax; he was a failure.
This doubt threaded through his success as a writer; the fame he achieved with his epic novel Infinite Jest deepened it. Public acclaim and critical affirmation, the novelist Mark Costello recalled of his old friend, did not convince him. Costello tried on Wallace's inner voice: "I'm a performing monkey. I'm just giving people what they want. There's this David Foster Wallace persona and I'm just sort of an organ grinder. I want to write something that goes beyond that."
It's impossible to say what drove Wallace to suicide at age 46 but it is clear that—despite a career that reflected otherwise—he struggled with a constricting sense of inadequacy. And it became a formidable enough worry that Wallace—an astute and successful writer, someone who consistently endeavored to connect with others through his work and community, recently married when he died—was not able to overcome it.
Why do we think, feel and act in ways that we do not want to think, feel and act? It's a question psychiatry has been trying to answer for the last 100 years. Sigmund Freud, father of psychoanalysis, thought the answer could be found in human drives, essential biological urges he believed were repressed by social norms. These unfulfilled urges—the libido and death drive chief among them—transform, Freud argued, into phobias, obsessions and neuroses. Though psychoanalysis became the dominant paradigm for the first half of the 20th century, ultimately there was little empirical evidence to support Freud's findings and the talking cure was not clinically proven to eradicate psychopathology. Toward the end of the 20th century, Eli Lilly sought to answer the age-old question in scientific terms—by altering brain chemistry. The pharmaceutical company put Prozac, a serotonin reuptake inhibitor, on the U.S. market in 1987. Initially, the antidepressant was considered a revelation but, over time, it has proven to be only moderately effective—if at all. In the end, both efforts, by Freud and psychopharmacology, were steps in the right direction. While we can now view the brain with much greater accuracy, our emotional lives will never be held in a single neurobiological function or theory. Blending the two disciplines, I have developed a theory that I call capture, which encompasses both subjective experience and neurobiological evidence.
From one minute to the next, we are bombarded with an astounding variety of stimuli—externally and internally. A plane flies overhead, the streetlight changes from red to green, a biker whizzes past—all external stimuli—while, internally, a memory of a former professor (the biker looked like him), a thought to turn left up ahead and a nagging uneasiness about last night's conversation with a friend come to mind. This—and much more—arrives steadily at the gates of the mind without form or structure. In order to create a coherent framework, the brain engages in a continual process of automatic filtering, with rapid-fire neurological actions electing where to aim our attention.
The brain is composed of neurons (nerve cells responsible for relaying information through electrical and chemical signals) organized in discrete layers, networks, and regions. Every time we experience something new, a neural pattern—a kind of microcircuit that connects different areas of the brain—is created in response. When we remember this experience, or something connected to it, or even when we do something that calls to mind a thought or feeling we associate with this experience—this neural pattern is reactivated.
When something grabs hold of a person's attention—such as Wallace's belief that he was not measuring up—neurons respond more vigorously to that particular stimulus than, say, to the fact that Michiko Kakutani described the author as "a writer of virtuosic talent who can seemingly do anything" in her 1996 New York Times review of Infinite Jest. (Though the line "Perfect, however, Infinite Jest is not," also from that review, may have lit up an old neural pattern for Wallace.) As this process takes place outside of awareness, how we choose to view the world—and ourselves—happens as something like a secret within ourselves.
These networks of neurons that allow us to make sense of the world distinguish between what matters more or less at a given moment, what is out of place or threatening—and to channel our attention in a pertinent direction. This is called selective attention. While this process has practical applications, such as helping us to become aware of the child who has just run in front of our car, it is also responsible for selecting which experiences come to define each of our individual realities.
The power and authority capture exerts is such that it can seem the only way; that this is who we are. Therefore, it is difficult to see change as an option. But it is possible to reshape the sway of capture. While we cannot live free of capture entirely, we can substitute one for another; that is, we can put ourselves in the way of a more positive influence, and its attendant stimuli, in order to overcome a prior capture.
By actively trying to shift the ways in which we deploy our attention, we may even develop a beneficial flexibility of mind, one that allows us simultaneously to tell varied, sometimes even contradictory stories about ourselves. Rather than accepting a static diagnosis, such as "anxiety" or "depression," we should try to be aware of the ways in which certain negative stimuli commandeer us and endeavor to find a compelling—and positive—alternative. For too long, we have neglected the evidence of a neural mechanism underlying diverse forms of psychic pain as well as the more constructive experiences of artistic and spiritual transcendence. My hope is that by recognizing capture, we will begin to develop more effective—and safer—strategies for treating the most debilitating forms of it.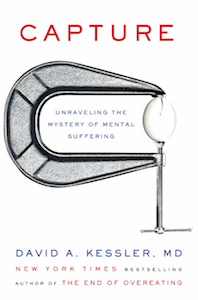 ---