AudioFile's Best Audiobooks of October
The Month in Literary Listening

Each month, for your literary listening pleasure, our friends at AudioFile Magazine bring us the cream of the audiobook crop.
This month's feast of fantastic audiobooks includes Neil Gaiman's The Sandman: Act III (read by the author and a full cast including James McAvoy, Kat Dennings, and Wil Wheaton), Adam Hochschild's American Midnight (read by Jonathan Todd Ross), and George Saunders' Liberation Day (read by the author and a full cast including Tina Fey, Michael McKean, and Jenny Slate).
*
FICTION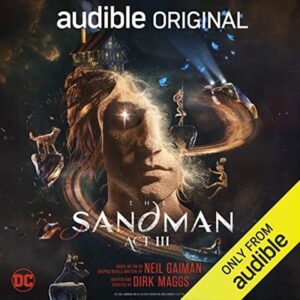 The Sandman: Act III by Neil Gaiman, Dirk Maggs | Read by Neil Gaiman, James McAvoy, K.J. Apa, Kat Dennings, Shruti Haasan, David Harewood, Regé-Jean Page, Kristen Schaal, Wil Wheaton, and a Full Cast
AudioFile Earphones Award
[Audible, Inc. | 11.5 hrs.]
Neil Gaiman lends his enchanting voice to the narration of this acclaimed graphic novel series. This epic drama, written by Gaiman and adapted by audio producer Dirk Maggs, plunges listeners into a fully realized world with dynamic sound effects and impressive vocal performances from a five-star cast. James McAvoy flawlessly portrays Morpheus, the Lord of Dreams, as he and Delirium search for their elusive brother, who renounced his role in the Endless. Each episode may enlighten, amaze, or appall but will undoubtedly entertain.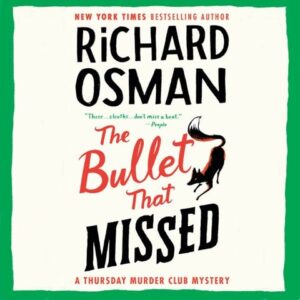 The Bullet That Missed: Thursday Murder Club, Book 3 by Richard Osman | Read by Fiona Shaw, Richard Osman, Steph McGovern [Interview]
AudioFile Earphones Award
[Penguin Audio | 11.25 hrs.]
The great Fiona Shaw's performance of this third outing for the Thursday Murder Club is a multilayered joy. New to the series? Start here; start anywhere. You'll catch right up. Shaw's technique is impeccable as she delivers the deliciously funny dialogue of Osman's elderly characters. Just for instance, late in the plot, sweet, fluttery little Joyce finds a 6'7" Swedish thug in her house aiming a gun at her and promising to shoot. Shaw's disarming performance of her unflappable reaction will make you laugh out loud. The whole production is a comic marvel.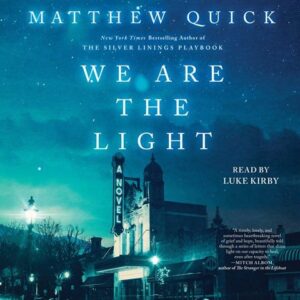 We Are the Light by Matthew Quick | Read by Luke Kirby
AudioFile Earphones Award
[Simon & Schuster Audio | 6.25 hrs.]
Matthew Quick's latest novel, told through letters written by Lucas Goodgame, is brought to life by Luke Kirby's heartrending narration. Kirby is the voice of Lucas, who is reading letters written to Karl, his Jungian analyst, as Lucas tries to cope with the tragedy that shattered his life and the lives of all the citizens of Majestic, Pennsylvania. Kirby speaks with wonder as Lucas recounts events that reaffirm how forgiveness and the support of community can rekindle hope and healing.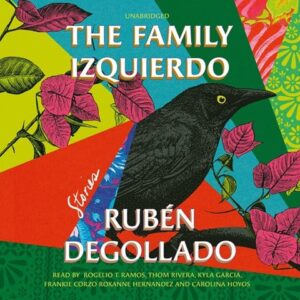 The Family Izquierdo: Stories by Rubén Degollado | Read by Rogelio T. Ramos, Thom Rivera, Kyla Garcia, Frankie Corzo, Roxanne Hernandez, Carolina Hoyos
AudioFile Earphones Award
[Blackstone Audio | 8 hrs.]
A luminous ensemble brings this delectable audiobook to life. Listeners follow three generations of the Izquierdo family. In 1958, Papa Tavo and Guadalupe moved from Reynosa to McAllen. The Izquierdos are sure a neighbor has placed a curse on them. They attribute all their sadness or bad luck to the curse. But not all the Izquierdos believe in this curse; listeners get a chance to hear different perspectives from various family members. The narrators are consummate professionals, creating a rich and rewarding listening experience.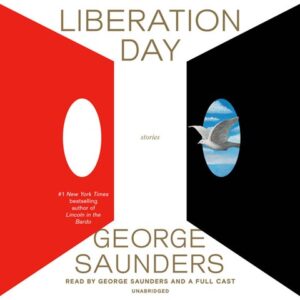 Liberation Day: Stories by George Saunders | Read by George Saunders, Tina Fey, Michael McKean, Edi Patterson, Jenny Slate, Jack McBrayer, Melora Hardin, Stephen Root
AudioFile Earphones Award
[Random House Audio | 7 hrs.]
George Saunders has won many awards for his writing. His skill as an author and as a narrator is on display here. He delivers the first and last stories in this audio collection, bookending an excellent cast. All nine of the stories focus on people with problematic identities, and each narrator embodies his or her protagonist's particular problem in an appropriate and evocative way. There are elements of science fiction and fantasy, but they never lose touch with relatable human experience, even in (so far) completely impossible circumstances. Excellent performances of excellent stories.
**
NONFICTION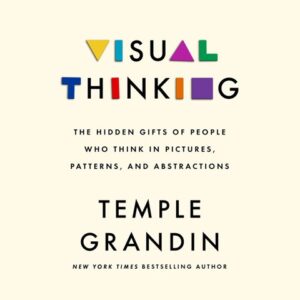 Visual Thinking: The Hidden Gifts of People Who Think in Pictures, Patterns, and Abstractions by Temple Grandin | Read by Andrea Gallo, Temple Grandin
AudioFile Earphones Award
[Penguin Audio | 12.5 hrs.]
Andrea Gallo delivers a graceful performance that makes this important audiobook a joy to hear. Her lithe phrasing patterns bring a softer quality to the straightforward writing, while her mature pacing and tonal quality give listeners a notable connection with the 75-year-old author's message and personal stories. Grandin draws listeners into the perceptual world of an autistic animal science engineer whose visual/spatial thinking patterns have put her at odds with language-based thinkers her entire life. A moving and personal audiobook.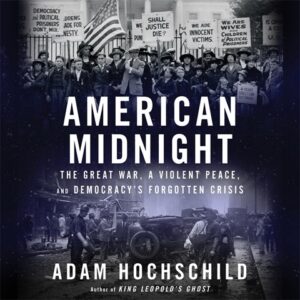 American Midnight: The Great War, a Violent Peace, and Democracy's Forgotten Crisis by Adam Hochschild | Read by Jonathan Todd Ross
AudioFile Earphones Award
[Harper Audio | 15 hrs.]
Narrator Jonathan Todd Ross has a particular gift for making topics of narrow interest palatable for general listeners. Few eras in American history are as unpalatable as that ignited by WWI and extending into the 1920s, a time when unchecked racism, union opposition, and patriotic fervor stoked violence. None of it makes for easy listening, but this is undoubtedly one of this year's best and most important histories, narrated with impressive skill, balance, and restraint. The many links to our own uneasy present are implicit, and the evil precedents described here are critical history that bears on dozens of relevant issues today.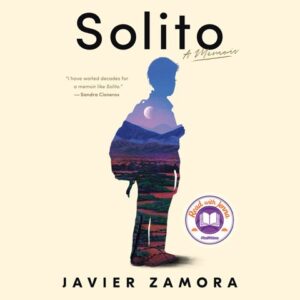 Solito: A Memoir by Javier Zamora | Read by Javier Zamora
AudioFile Earphones Award
[Random House Audio | 17.5 hrs.]
Javier Zamora narrates his memoir with a singular power. His account of his childhood migration from El Salvador to the U.S. provides listeners the truly heartbreaking first-person experiences of a child in the midst of a life-or-death struggle. In 1999, Zamora traveled thousands of miles, with a group of strangers, through Central America and Mexico. His parents, already in the U.S., had no ability to contact him, and Zamora misses his parents and longs to hear their voice. Zamora conveys this heartrending listening experience with quiet, beautiful humanity.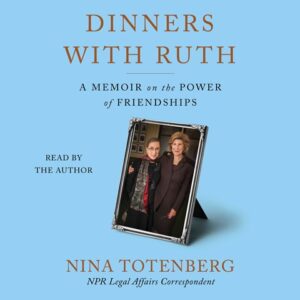 Dinners With Ruth: A Memoir of Friendship by Nina Totenberg | Read by Nina Totenberg
AudioFile Earphones Award
[Simon & Schuster Audio | 9.5 hrs.]
Nina Totenberg's remarkable memoir about friendship, love, fortitude, and the marvelous Ruth Bader Ginsberg is a gift to each woman's multitudinous fans. Listeners will be moved by Totenberg's affecting, wise, and often funny reflections on loving the people we love. Narrated by the author, a renowned journalist and NPR legal reporter, the audiobook is performed with Totenberg's trademark energy, attentive pacing, smart tonal shifts, and talent for reproducing lively conversations. The work combines memoir, social commentary, and philosophical considerations, and violin interludes played by the author's father, the late superstar Roman Totenberg, are the perfect icing on this delicious cake.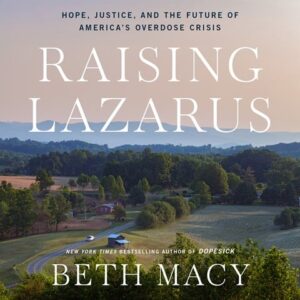 Raising Lazarus: Hope, Justice, and the Future of America's Overdose Crisis by Beth Macy | Read by Beth Macy
AudioFile Earphones Award
[Hachette Audio | 10.5 hrs.]
Few works bring home the realities, the sadness, and the politics of the opioid crisis as well as this audiobook. Narrated with conviction by author Beth Macy, this firsthand account presents the victims and the unsung heroes who fight valiantly to help them and to bring about meaningful change in a system created for profit, not health. Macy's performance hits every note, from the emotional torment that strikes families to the outrage against the companies and others that enable and facilitate it.

---