AudioFile's Best Audiobooks of August
The Month in Literary Listening

Each month, for your literary listening pleasure, our friends at AudioFile Magazine bring us the cream of the audiobook crop.
This month's bevy of brilliant audiobooks includes Silvia Moreno-Garcia's The Daughter of Doctor Moreau(read by Gisela Chìpe), Gabrielle Zevin's Tomorrow, and Tomorrow, and Tomorrow (read by Jennifer Kim and Julian Cihi), and Elaine Castillo's How to Live Now (read by the author).
*
FICTION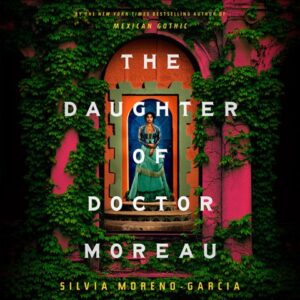 The Daughter of Doctor Moreau by Silvia Moreno-Garcia | Read by Gisela Chìpe
AudioFile Earphones Award
[Random House Audio | 11.5 hrs.]
Gisela Chìpe's performance of this audiobook is exceptionally touching. She deftly captures the spirit of these richly defined characters and the mood of mounting dread. Set in the Yucatán peninsula during the 1800s, Moreno-Garcia's audiobook is a recasting of H.G. Wells's mysterious scientist who builds animal-human hybrids. When the truth behind this disturbing story becomes clear, it threatens to upend the lives of Dr. Moreau's family. Chìpe's voice effectively moves between every point of view, and she embodies the theatrical, action-filled story's combination of science fiction and coming-of-age excitement.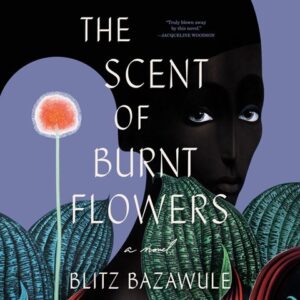 The Scent of Burnt Flowers by Blitz Bazawule | Read by Dion Graham
AudioFile Earphones Award
[Random House Audio | 6.25 hrs.]
Narrator Dion Graham delivers Bazawule's debut novel about an African American couple who flee the U.S. to avoid prosecution for defending themselves during a confrontation in the 1960s. Melvin and Bernadette board a plane headed to Ghana to seek asylum. Unknown to them, CIA Agent Hughes is hot on their trail. Ever the vocal chameleon, Graham builds tension as Melvin's options narrow and Bernadette protects a secret. Graham slips in and out of American and Ghanaian accents with seeming ease and pronounces Akan words with precision in this thriller with a touch of fantasy.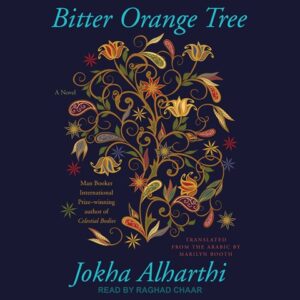 Bitter Orange Tree by Jokha Alharthi, Marilyn Booth [Trans.] | Read by Raghad Chaar
AudioFile Earphones Award
[Tantor Media | 5 hrs. ]
Narrator Raghad Chaar's performance of this audiobook is mesmerizing. She narrates with music in her voice. Her delivery of the many Arabic words and passages intensifies this nonlinear work. Her deft pacing and cadence give form to the memories and experiences that create the plot. The novel ties together the past life of the solitary narrator, the student Zuhoor, and the vivid remembrances of her grandmother, Beit Amin. The author, winner of the Man Booker Prize, writes lyrically about the lives of women and girls in traditional societies. The listener comes away bathed in the poetry.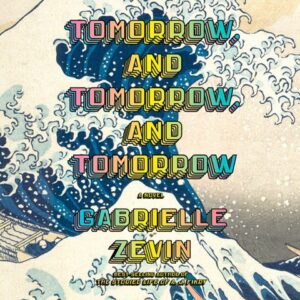 Tomorrow, and Tomorrow, and Tomorrow by Gabrielle Zevin | Read by Jennifer Kim, Julian Cihi
AudioFile Earphones Award
[Random House Audio | 13.75 hrs.]
Jennifer Kim's narration shows an understanding of how relaxed pacing can lead to poignancy. Kim portrays three young gaming geniuses, Sadie, Sam and Marx. She reveals their relationships as she powerfully expresses how talent and collaboration yield success—but not without trials. Sadie feels unrecognized, and Sam is traumatized by a past accident. Marx is likened to a minor nonplayable game character, until Julian Cihi delivers a short second-person section from Marx's point of view. His voice is soft, distant, and dreamy as the hero hovers between life and death. An audio that will be loved by gamers and non-gamers alike.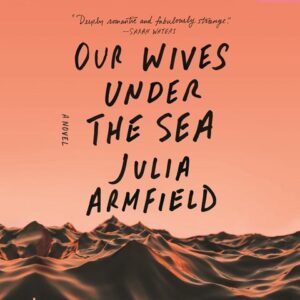 Our Wives Under the Sea by Julia Armfield | Read by Annabel Baldwin, Robyn Holdaway
AudioFile Earphones Award
[Dreamscape | 6 hrs.]
Annabel Baldwin's genre-bending love story is beautifully written, and it is artfully narrated by Robyn Holdaway. Leah, a marine biologist, returns from a submarine research mission that trapped her at the bottom of the ocean for six months. When she returns, her wife, Miri, is frustrated by inexplicable changes in Leah. Holdaway captures Leah's pre-mission excitement and her post-mission distraction, especially her seeming otherworldliness. Baldwin precisely reflects Miri's heartache, distress, anguish, and shock as Leah undergoes mysterious, horrific transformations. Thanks to fine performances, Leah's diary entries, Miri's flashbacks, and the unimaginable mystery of the deep ocean all seem real.
**
NONFICTION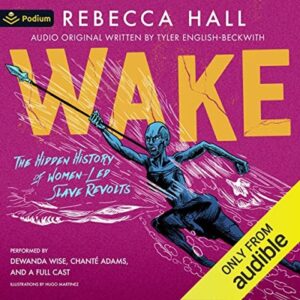 Wake: The Hidden History of Women-Led Slave Revolts by Rebecca Hall, Tyler English-Beckwith | Read by DeWanda Wise, Chante Adams, Jerrie Johnson, Bahni Turpin, and a Full Cast
AudioFile Earphones Award
[Podium Audio | 1.75 hrs.]
Opening with the film-like sounds of a gathering storm at sea and a group of captive African women staging a desperate battle for their freedom, this combined memoir/audio play/graphic novel bursts with energy, inspiration, and historic facts. The story becomes personal when author Rebecca Hall, portrayed with verve by DeWanda Wise, insists that slavery should be taught as an integral part of American history. She is dismissed from teaching at prestigious law schools and universities until, finally, a high-school class, played by the spirited ensemble cast, insists that the truth about Black women must come out. History should always sound this alive.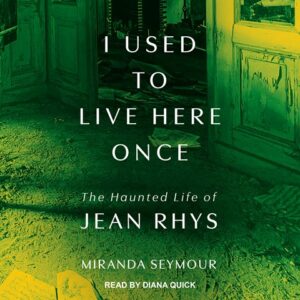 I Used to Live Here Once: The Haunted Life of Jean Rhys by Miranda Seymour | Read by Diana Quick
AudioFile Earphones Award
[Tantor Media | 14.25 hrs.]
British actress Diana Quick brings her aristocratic voice and impeccable pacing to this biography of the writer Jean Rhys. Most known for her mesmerizing novel Wide Sargasso Sea, Rhys was as extraordinary as the women in her work. Of mixed Welsh, Scots, and Creole descent, she was raised on the Caribbean island of Dominica. After moving to England at age 16, she lived a fascinating independent life. Quick deftly captures Rhys's Dominican Creole-English when narrating autobiographical passages. Her prodigious dramatic skills are on full display in the many excerpts from Rhys's novels. Listeners will be inspired to discover (or revisit) the writings of Jean Rhys.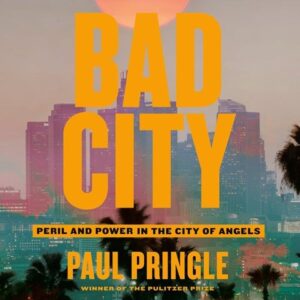 Bad City: Peril and Power in the City of Angels by Paul Pringle | Read by Robert Petkoff
AudioFile Earphones Award
[Macmillan Audio | 9.75 hrs.]
Robert Petkoff is especially effective at narrating this account in which the author's judgments heavily dominate the narrative. L.A. Times reporter Pringle's painstaking multi-year investigation into the dean of the USC's Keck School of Medicine, starting in 2016, pitted him against the prestigious university and his own editors, who did not want to run afoul of the city's most influential advertiser—or its friends. Pringle's no-holds-barred journalism is dramatic listening, and Petkoff keeps a brisk pace, maintaining suspense and narrative tension. Petkoff takes on the author's gripes and ruminations, along with his passion, indignation, and abiding sense of justice—for a true-crime story as compelling as any novel.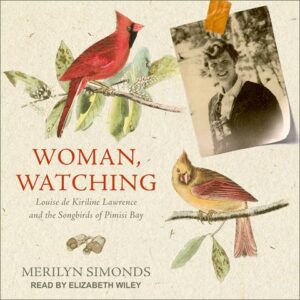 Woman, Watching: Louise de Kiriline Lawrence and the Songbirds of Pimisi Bay by Merilyn Simonds | Read by Elizabeth Wiley
AudioFile Earphones Award
[Tantor Media | 15.5 hrs.]
Elizabeth Wiley's warm voice and audible enthusiasm welcome listeners to the remarkable story of Louise de Kiriline Lawrence, a Swedish aristocrat who became a WWI front-line nurse, then a Canadian wilderness nurse, and finally a pioneering bird-watcher known as Canada's Rachel Carson. Simonds's book blends her own first-person remembrances with crisp, engaging biography and extensive quotations from de Kiriline Lawrence's delightful letters. Wiley shines as she switches seamlessly among lively readings of the letters with a hint of a Swedish accent; well-paced and lilting narration of the biographical sections; and cheerful performances of Simonds's personable memories.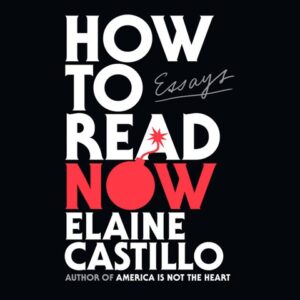 How to Read Now: Essays by Elaine Castillo | Read by Elaine Castillo
[Penguin Audio | 9 hrs.]
Elaine Castillo is that rare author who writes a stimulating series of essays and is also a fine narrator. She uses pauses adeptly, restrains irony, and has a naturally empathetic tone. Plus, she has a gift for languages. Her essays have a distinctively political valence as white supremacy in publishing, literature, and life is skewered. Sacred cows like Joan Didion and Jane Austen are milked. But there are real appreciations of the late English author John Berger and Native American poet Tommy Pico. The book is more of an invitation to examine how we read—what predispositions we bring—than a how-to manual. Provocative and fun.

---