At D.C.'s Newest Book Store, the Best Customers are Toddlers
Interview with a Bookstore: Solid State Books
Solid State Books is Washington, D.C.'s newest book store serving the H Street neighborhood. Co-owners Jake Cumsky-Whitlock and Scott Abel met while working in another D.C. bookstore back in 2004. In 2017, they teamed up to create Solid State Books with a commitment to dynamic programming and diverse titles.
What's your favorite section of the store?
Scott (Co-owner): Travel Writing. Some of my favorite titles—like Travels in Siberia and Into the Silence—are part of this section, which is great for inspiring new adventures.
Jake (Co-owner): Cookbooks. They have become the new coffee table book, and with good reason. They are objects of beauty. One gripe for the publishers: don't bother with dust jackets. They are pointless! That goes double for children's books, by the way.
Gwen (Bookseller): Poetry—one of our most well-curated sections, full of inspiring titles for our (well-attended) poetry book club. Who says poetry is dead?
Chris W. (Bookseller): New Non-Fiction
Chris P. (Bookseller): Science Fiction & Fantasy
Sarah (Bookseller): True Crime—home to some of my favorite books, like In Cold Blood and I'll Be Gone in the Dark.
Laura (Director of Programming & Events): The Children's Section. It's bright and colorful and makes you want to wander or sit and read forever. Or, if you're an actual child, you'll want to climb all over the steps and run through the tunnels.
What is your bookstore's specialty?
Maria (Bookseller): General interest but we are becoming known for our children's section
Scott: Poetry and Children's books.
Gwen: Our selection! There is something for everyone in every section—the best in the city.
Chris W.: The kids' sections.
Tia (Bookseller): Being open and welcoming to a very diverse community
Kromeklia (Bookseller): Smart titles that can be hard to find in most bookstores.
Sarah:  Sass (wink), and a great backlist selection.
Jake: Our deep and varied selection of books and sidelines—we have something for everyone. That and our ability to provide customers with a relaxed space to browse and imbibe.
Laura: Serving the neighborhood. It's great to feel like kids, families, teachers, and other small business owners and local organizations know us and make us a part of the fabric of their lives.
What's your favorite book to hand-sell?
Maria: The Immortal Irishman by Timothy Egan.
Scott: Barkskins by Annie Proulx.
Gwen: Kafka on the Shore by Haruki Murakami. A uniquely powerful coming-of-age story full of strange adventures, great for the beach or at home on a rainy day.
Jake: The Story of Crime (10-book series) by Maj Sjowall and Per Wahloo. These books are so good and they function as both police procedurals and social commentaries on the sweeping changes taking place in late 1960s Sweden.
Laura: Probably something old and considered "fusty" or outdated, which I would argue is not fusty and should be revisited like Colette (Cheri and The Last of Cheri) or Kipling (Kim).
Chris W: The Intuitionist by Colson Whitehead
Chris P: Go Ahead in the Rain by Hanif Abdurraqib
Sarah: Into the Silence by Wade Davis. A beautifully written book that contextualizes Mallory's attempt to summit Mt. Everest as a direct response to the carnage of the First World War. And it's a cracking adventure!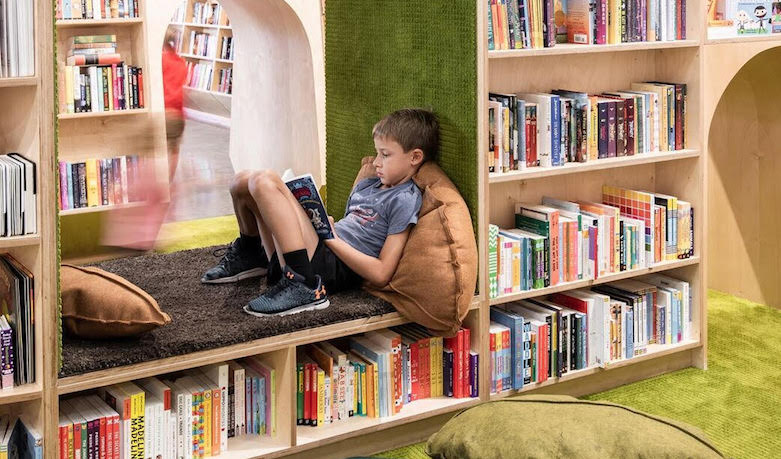 If you had infinite space what would you add to your store?
Scott: A bowling alley in the basement.
Gwen: Infinite space, like a black hole inside a glass case.
Chris W: A display of all Pulitzer-winning fiction and non-fiction since the year 2000.
Kromeklia: More books! And more seating, and a larger kid's space.
Chris P: Wall space for local art work and a vinyl section.
Sarah: An entire section dedicated to stationary, journals, cards, and pens. No jokey sidelines or crap! Just beautiful paper goods.
Jake: A recording and sound engineering booth to record podcasts and produce author talks.
Laura: A room we could rent out for private events and parties.
Who's your favorite regular?
Sarah: Charlie. She's a toddler.
Gwen: Charlie. Our kids' section attracts lots of great families in the community.
Chris W: Jason Reynolds. He lives in the neighborhood and is a great supporter of local bookstores, as well as fellow authors.
Chris P: Jason Reynolds
Laura: Our UPS guy, Eric. He's unfailingly kind, considering all he has to do for us, plus I get excited to see what books or goodies he brings us!
Jake: My kids!
Favorite display?
Scott/Jake/Tia: The custom pegboard at the front of the store.
Gwen: The Michelle Obama tree.
Sarah: The new and favorite fiction paperbacks table. There's always something fun and interesting to recommend.
Laura: Our Michelle Obama tree over the holidays. Our caption contest for the tree on Instagram was pretty funny.
Most memorable author event?
Laura: Having Rebecca Makkai talk about her beautiful book The Great Believers in our newly opened store—with almost no other books on the wall—was a highlight for sure. It was like a Rebecca Makkai-only bookstore.
Chris P: Jabari Asim came to discuss his book We Can't Breathe with Wesley Lowery. There was this amazing opportunity for an open dialogue about race and tension and understanding.
Sarah: Selling Michelle Obama, Becoming, at the Capital One Arena. I'll never forget seeing Barack Obama coming in through the back right before the event and then surprising Michelle on stage during her conversation with Valerie Jarrett.
Chris W: Jabari Asim discussing We Can't Breathe with Wesley Lowery was a probing and insightful discussion of racism past and present.
Gwen: Yannis Simonides performing Socrates Now, a moving portrayal of Socrates and his trial. It was the first time we had live theater in the store.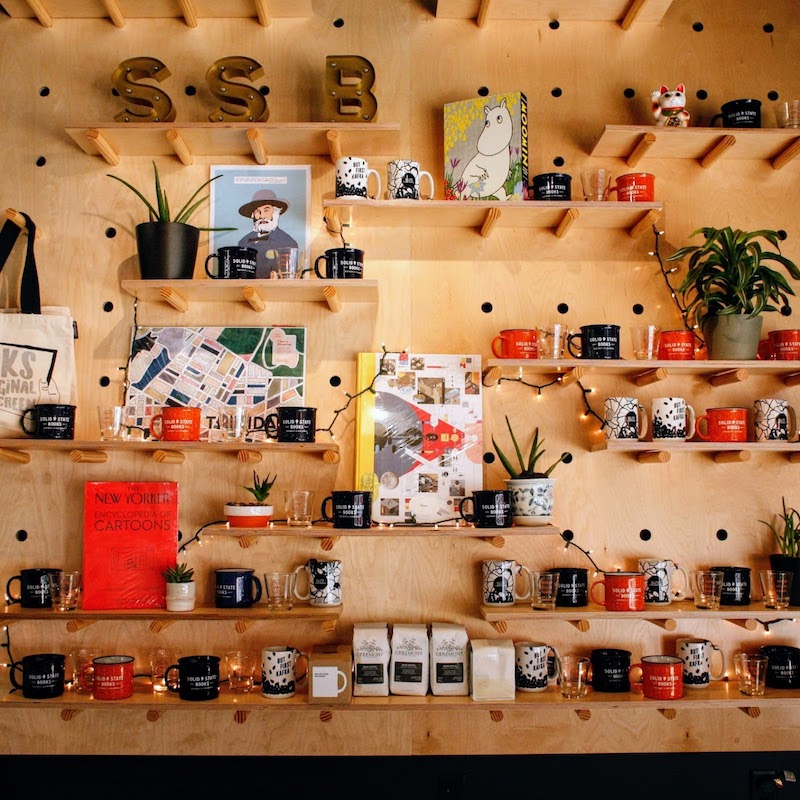 What's the book you want to bring back in print? Your most requested out of print book?
Chris W: Me: To the White Sea by James Dickey. Customers: Dream City: Race, Power, and the decline of Washington D.C. by Harry Jaffe and Tom Sherwood.
Laura: Life List by Olivia Gentile. It's a crazy story about one of the world's top birders (for real) and what she went through to achieve that distinction. I'm not even into birds and I found it riveting.
Kromeklia: Any Roddy Doyle children's book, i.e. The Giggler Treatment, The Meanwhile Adventures, Roves Saves Christmas.
Chris P: The Adventures of the Black Hand Gang by Hans Jurgen Press, a childhood favorite of mine.
Gwen: Magical Tales from Many Lands by Margaret Mayo and Jane Ray. Incredible illustrations and fantastic fairy tales from around the world.
Scott: Trouble for Trumpets by Peter Cross. It's a great book from the 80s with cutaway graphics that a kid can endlessly explore.
Jake: The Great Brain series by John D. Fitzgerald and all of Gordon Korman's early books (the Bruno & Boots series and No Coins Please! in particular). Also The Bear Comes Home by Rafi Zabor—that was a fun read.
What's your message to Amazon? (and Amazon customers)?
Scott: Use Amazon and your joy will turn to ashes in your mouth.
Gwen: The cost is greater than you think.
Sarah: F you! Pay taxes!
Chris P: A question: Are the discounts you receive worth the personal information of yours they sell to make even more money? How's your spam filter looking?
Kromeklia: Cheap books are great but being recognized and greeted by name at your favorite bookstore is priceless.
Laura: If you can make a purchase with a local store, that employs your neighbors and friends, and keep your dollars in your community, why wouldn't you? There are other costs associated with that cheap hardcover book. What price are you actually willing to pay for convenience?
Chris W: Skynet was cool until it wasn't.
Jake: Piss up a rope.
What's a children's book that made you cry / that you think all adults should read?
Chris P: Andrew Henry's Meadow by Doris Burn.
Tia: The Tale of Despereaux by Kate DiCamillo
Kromeklia: I Need a New Butt! By Dawn McMillan. It made me laugh until I cried.
Gwen: The Country Bunny and the Little Gold Shoes by DuBose Heyward and Marjorie Flack. It tells the store of a lady bunny rabbit who learns she doesn't have to sacrifice career for family. Published in 1939, it was ahead of its time.
Maria: I have a twin who is taller than me. I loved looking at Frog and Toad are Friends by Arnold Lobel before I knew how to read. One is taller than the other.
Chris W: The Little Prince by Antoine de Saint-Exupery.
Laura: I love The Twenty-One Balloons by William Pène du Bois, since the character went on what—to a kid living in the suburbs of Chicago—seemed like the ultimate adventure.
Jake: The Three Robbers by Tomi Ungerer.
What's a bestseller that could only be big in your town?
Scott: Doing Justice by Preet Bharara.
Chris W: S Street Rising: Crack, Murder, and Redemption in D.C. by Ruben Castaneda
Kromeklia: Vladimir Putin: Life Coach by Robert Sears. Only in DC.
Jake: Go-Go Live: The Musical Life and Death of a Chocolate City by Natalie Hopkinson
Sarah: Chocolate City: A History of Race and Democracy in the Nation's Capital by Chris Myers Asch and George Derek Musgrove
Chris P: Chocolate City
Laura: The Mueller Report. 700+ pages of legal documents, some of it redacted… ndfjhdsjd;lfsfhgs… Sorry, I just fell asleep on my keyboard.
Gwen: The Mueller Report.
---