Asale Angel-Ajani on the Push and Pull of Mother-Daughter Relationships
Jane Ciabattari Talks to the Author of A Country You Can Leave
The tensions between teenage Lara and her Russian-born mother Yevgenia sizzle in Asale Angel-Ajani's wry and tumultuous first novel. She opens as the pair arrive in a trailer park in the Southern California desert, after a hot, dusty nonstop drive from Las Vegas. Ever alert, Lara watches as Yevgenia cleans herself up, flirts with the property manager, and gets a discount on their latest temporary home. It is here, as Lara enters "what will be the merciless year of sixteen," she is ready for the longing for her often absent mother to finally loosen—ready to make her first stutter steps toward independence.
Angel-Ajani paints a shimmering portrait of Lara's coming of age—her contradictions and confusions, her ironic familiarity with her mother's vices and admirable qualities, her secret yearning for love, her sophisticated understanding of how women manipulate men, her innocence beneath it all. A Country You Can Leave is filled with passion and humor, rawness and loss; it is a fresh and vivid reminder of how good storytelling works.
*
Jane Ciabattari: How have the past few years of uncertainty and tumult been for you? How have you managed your life, your work, your writing?
Asale Angel-Ajani: The last few years have been difficult, which is a hard reality to admit to because though generally, I have not been at the center of death, illness, or redundancies, I have been on the sidelines bearing witness and grieving for my community, my friends and my loved ones who have been more directly impacted by the pandemic and by racial violence and terror in this country and by war and political upheaval in Ukraine and Russia.
I am sure I am not alone when I say that managing life and work and writing has been a slog. On the one hand, how does one not slip into catatonia and on the other, burn the whole thing down? I teeter. But I did manage to find an excellent therapist and I am privileged to now have a space to write that is all my own, with a door I can close. This is a coup for me as I have three children, two dogs, a cat, and two lizards in New York City.
A desert is a place that lulls a person into believing that nothing is required of them until it's nearly too late.
JC: How did you come to your title, which draws from your Joseph Brodsky epigram: "I would prefer the country you can leave to the country you cannot"?
AA-A: I think I came to the title before I came to the novel, only I didn't realize it. I was living on an island, an archipelago actually, Hong Kong, and I never felt like I could get away or escape without some elaborate planning. So when I came across Brodsky's conversations with Solomon Volkov talking about why Brodsky preferred being in the U.S. over the former Soviet Union, the line from the epigram clicked.
For Brodsky, it was the way justice was administered by a jury of twelve in the US and not by the surreal forces of gossip and political maneuvering under the Soviets, that drew him to the U.S. Oddly, I came to the title pre-pandemic and pre-Russian invasion. But I thought it was a fitting title for this story because there is a way that neither Lara nor Yevgenia and perhaps other characters in the novel, can answer, because it's still a question if this is a country they can leave or not.
JC: What inspired your story of Lara, a biracial sixteen-year-old with a single mom, Yevgenia, who "accidentally defected from the Soviet Union in the 1980s?"
AA-A: Two moments inspired the novel. The first was a memory, the second was the feeling of nostalgia.
We constantly moved when I was a kid but I remember that the one feature that never changed was my mother's framed picture, cut from a magazine, of a family portrait of the last Tsar, the Romanovs, about three years before they were executed by the Bolsheviks. It was the only framed photo in my house and clearly meant a lot to my mother, though I never knew why.
I was living in Hong Kong for nearly a decade when I began thinking about the novel. I was homesick in a way that I couldn't articulate. I didn't miss friends or family. I missed the feeling of dry heat and the long draining hours that came with adolescence when I was trying to figure out who I going to be in the world when everything and nothing was a possibility.
JC: As the novel opens, Yevgenia and Lara arrive at the latest in a string of temporary residences, the "dubiously named" Oasis Mobile Estates in the Southern California desert. What drew you to choose as a setting this place near the San Jacinto mountains, with its coyotes, its hateful winters, its desperate people?
AA-A: A desert is a place that lulls a person into believing that nothing is required of them until it's nearly too late and suddenly, you need all of your faculties to survive. I was especially interested in seeing what these characters, Lara and Yevgenia, would make of the place. Also, I spent many formative years living near the San Jacinto mountains—terrified of coyotes and wild dogs, not to mention the people, and also, I wanted to memorialize, I guess you could say, a kind of Southern California that is fast disappearing—the open landscapes, not yet charred by fires, or excessively built up by developers.
JC: Early on, Lara tells us that Yevgenia's spiral-bound notebooks with her communiques about "sex and men and politics and reading habits" are to be her "meager inheritance." You weave Yevgenia's "lessons about men" ("Sometimes you have to play nice to get what you want. But always carry a knife in your back pocket.") throughout the book. How did you arrive at that structure?
AA-A: Every culture has its strange idioms that signify a kind of truth, so it made sense for me that Yevgenia had her own, especially because she doesn't give Lara much else of herself—not her language, not her personal history or even the history of her country, so these edicts are a stand-in for all of that.
Also, because the novel is narrated by Lara, I knew that there had to be a way to have Yevgenia be a domineering presence on the page even when she is not in a scene. It was sort of like a "Big Brother" moment, no matter how far Lara traveled away from her mother, the judgments, the reminders, or the "words of wisdom" would always be looming.
JC: Lara's odyssey unfolds in the course of the novel, with glimpses of her early years with Yevgenia, her years in foster care, her more recent stay in Mexico, with her mother and her latest lover Diego, always with new men in her mother's life. What has Lara really learned about men? 
AA-A: There's a way in which Yevgenia has objectified men and reduced them to their sexual capacities and performances that Lara, with her very limited experiences (and general lack of interest), knows is an elaborate distraction. Lara feels sorry for the guys who become part of her mother's orbit, as a lover or as a friend. And yet, for Lara, men can be a means to an end or serve as a counterbalance to her mother's indifference. She decides early that men are not tied to her sexuality. Sure, she tries to pursue sex as a replacement for affection, but it's really her friend Charles who gets her to see that it might be time for her to expand her understanding of her sexual identity.
What I love about books is how they can, for lots of people regardless of life circumstances, be part of our earliest memories.
JC: Lara has been clinging to her mother (when her mother is there) for many years. But at sixteen, she has an impulse to pull away, to discover her own identity. Her friendship with Charles, a budding poet, takes her into another world, a world that teaches her something essential about herself: "I will not live a lie. I will not contort to the will of others." How did you shape this acute and nuanced portrait of literary Los Angeles, and frame it as a step toward independence?
AA-A: The literary scene is a whole other world for Lara and Charles. For Charles, it's the site of hope and potentiality but for Lara, it's a space where the onus is on her to make herself legible. And she can't do it, maybe because she realizes that, unlike Charles, there is nothing these people can give her that will add to her self-worth. Lara is a reader, a denizen of the library and yard sale paperbacks, so she's not a consumer of books in the way that the literary world imagines its readers to be. It's a strange contrast of refusals. There's the limited imagination of literary Los Angeles to hold space for the reality of people like Charles and Lara and conversely, there's Lara's lack of literary ambition. Both of these refusals create a kind of opening, leading to independence for both Lara and Charles.
JC: Even though their tastes are different (Yevgenia calls Harry Potter "crap," e.e. cummings "garbage," touts Khlebnikov, Mayakovsky, Pasternak, Dostoesvsky), Lara develops a love of books like her mother. Ironic, and intriguing, that when Lara is in a complicated sexual situation with Charles and the hosts of a literary party, lines from an Anna Akhmatova poem erupt from her mouth. How does this love of books create a generational connection?
AA-A: What I love about books is how they can, for lots of people regardless of life circumstances, be part of our earliest memories and are part of inherited knowledge transfer. Like Lara, I grew up in a house where my mother, when she wasn't at her job, was always reading and so was my grandmother—it was the most important way they experienced joy because it was leisure time, something that is in very limited quantities as single working-class women. What they read, I read, and in that way, it gave shape and added meaning to my life.
JC: Lara's father is an Afro-Cuban musician, a "Black schizophrenic" gifted with synesthesia who performs with some of the greats. He and her mother meet during a specific moment in Soviet history, but he doesn't play a role in Lara's life until she is a teenager and goes in search of him. What ways did Lara's parents allow you to delve into the nuances of race and class?
 AA-A: The fact that Lara's parents, as immigrants, are newcomers (but not strangers) to the U.S. racial paradigm allowed me the opportunity to have my characters question the ways in which whiteness and white supremacy is a complex set of tacit agreements that are both shaped by class and shape class status in the U.S. The failed alliance of Yevgenia and Miro, Lara's father, took the pressure off of Lara to have to be a "tragic mulatto"(a tired trope that decenters historical violence). Lara knows who she is in the world, in part due to her mother's invitation into white America, but also because she grows up in economic precarity that crosses racial lines.
 JC: What are you working on now? 
AA-A: I am finishing up a collection of essays that is due out with Algonquin in 2024. It's part social history and part memoir that looks at racial terror and intimacy. I am also chipping away on my second novel, a story that centers on a sex scandal and a Black family fleeing climate change and gentrification in California, and I'm doing research for a historical novel that I am eager to start writing.
__________________________________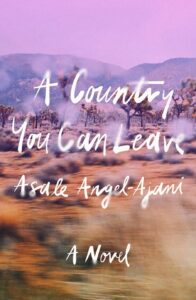 A Country You Can Leave by Asale Angel-Ajani is available from MCD/FSG, an imprint of Macmillan.
---