Are Basketball Superstars More Loyal to Their Teams, or Sneaker Companies?
Ethan Sherwood Strauss Offers a Steph Curry Case Study
In theory, Steph Curry and Kevin Durant had powerful market forces working against their alliance. They joined up anyway. One did it for the Warriors, in defiance to his business partners. The other did it for his own reasons, in a move that made more business sense for his company than for himself. 
Following a December 2015 victory over the Celtics, then Cleveland Cavaliers superstar LeBron James took the typical postgame questions, until a query deviated from the norm. A reporter asked him about the sneaker brand Under Armour—or at least tried to. LeBron interrupted, saying, "Who? Who? Who is that?" 
James ended the conversation by revealing that only one (sneaker) team is fit for his lips, saying, "I only know Nike. That's it. Lifetime." 
James indeed has a lifetime contract with Nike worth more than $500 million, according to USA Today. He's changed NBA teams three times, but he's always been and always will be a Nike guy. If that reporter had been allowed another subversive follow-up, perhaps this question would have yielded interesting results: "Who is your primary employer?" 
"Your primary employer is who pays you the most money," ESPN's Bomani Jones said when I spoke to him about this particular exchange. Jones, a keen observer and commentator on modern sports culture, expounded on that point. "LeBron was Team Nike before he was a Cleveland Cavalier or a member of the Miami Heat or any of those things. We contextualize guys around the teams they play for because that's the relevant variable for the kind of work that we do." 
It's perhaps more comforting to believe the team commands primary allegiance. Of course, when it comes to success on the court, what's good for the goose is good for the gander. Nike wins if LeBron's Lakers win. It just so happens that James still wears Nikes for his next team, should he ever decide to ditch Los Angeles. And James will still draw checks from Nike, long after he's done with the Lakers. He's "lifetime," after all. 
To many a player and sneaker executive, basketball is the means and one's brand is the ultimate end. The sneaker business exists parallel to the basketball business, except not completely. Estimates peg total sneaker sales somewhere north of $20 billion annually, and rising. The total worth of NBA basketball is harder to gauge, but the $2.15 billion sale of the traditionally ignoble Los Angeles Clippers in 2014 speaks to its riches.
Both basketball and basketball shoes are massive operations, deriving their dollars from the consumer's obsession with winners. More specifically, with cool winners. Football can be ugly and popular. Baseball can be slow and profitable. The NBA needs physical charisma, individuals with moves so graceful viewers ache to imitate them. 
You can't be Michael Jordan, but you can rent a part of his life when you wear Jordans. For millions of people, that slice of happiness is worth the cost. 
Corporations fixate on whatever built them up to success. Nike was made by Michael Jordan, a high-flying wing.
In spring of 2016, kids the nation over were renting a slice of Steph Curry, at the expense of LeBron's and Nike's business. Nike had ignored and overlooked Curry, who used to be on their payroll until 2013. When pitching him to remain with Nike, they botched the meeting with some unintentional foreshadowing. 
The pitch meeting, according to Steph's father, Dell, who was present, kicked off with one Nike official accidentally addressing Stephen as "Steph-on," the moniker, of course, of Steve Urkel's alter ego in Family Matters. "I heard some people pronounce his name wrong before," said Dell Curry. "I wasn't surprised. I was surprised that I didn't get a correction." 
It got worse from there. A PowerPoint slide featured Kevin Durant's name, presumably left on by accident, presumably residue from repurposed materials. "I stopped paying attention after that," Dell said. Though Dell resolved to "keep a poker face," throughout the entirety of the pitch, the decision to leave Nike was in the works. In the meeting, according to Dell, there was never a strong indication that Steph would become a signature athlete with Nike. "They have certain tiers of athletes," Dell said. "They have Kobe, LeBron and Durant, who were their three main guys. If he signed back with them, we're on that second tier." 
Corporations fixate on whatever built them up to success. Nike was made by Michael Jordan, a high-flying wing. Smallish, less than athletic point guards don't factor into this model. That's how Steph Curry, whose launches aren't leaps, snuck up on them. The reason he was ignored was also the reason he became popular. Children gravitated to the dominant player whose teammates once nicknamed him "Middle School" for his youthful appearance. He was simultaneously the underdog and overdog, a crusher of opponents who could literally crush him. 
On March 3rd, 2016, at the height of Curry Mania, Business Insider relayed a note from Morgan Stanley analyst Jay Sole on Under Armour's business prospects. In it, Curry's potential worth to the company was placed at more than $14 billion. 
His note read, "UA's U.S. basketball shoe sales have increased over 350 percent YTD. Its Stephen Curry signature shoe business is already bigger than those of LeBron, Kobe and every other player except Michael Jordan. If Curry is the next Jordan, our call will likely be wrong." Wrong, as in, at that moment, Steph Curry had the potential to be even more valuable than a mere $14 billion.
In the end, Curry never got close to that mark. Maybe such a feat was beyond his capability; maybe he was just too small, not durable enough, to be a dominant playoff superstar year after year after year. We would never quite find out what Steph Curry could have been as a cultural figure had he remained the undisputed Number One option on his team for the duration of his prime. 
Instead, he went another way, sacrificing status and business for the sake of success. 
The basketball sneaker industry is as volatile as sports itself. A corporation that invests big-time shoe deals in players is like being a nation that pegs its currency to another country that's in a perpetual state of revolution. It's a high-variance business because so many eggs are in so few baskets. Potential billions are tied up in the outcomes rendered by a human body. If the body breaks, the corporation fails.
There's a fair argument that Michael Jordan was more influential in building Nike than even Steve Jobs was in building Apple. Many nations have smaller GDPs than what would have been squandered had Michael Jordan torn his knee off a Bill Laimbeer hip check in the 1980s. Injury didn't topple Steph's empire in such a definitive way, but it left it wobbly. His business prospects didn't truly change until he decided, soon afterward, to share the stage. 
The ebb of Steph's brand started on April 16th, 2016. In Golden State's opening playoff game against Houston, following that incredible seventy-three-win Warriors regular season, Curry hurt his right ankle on a routine play. It looked like a mere nuisance. He turned on a change of possession, and started to limp slightly. Nothing dramatic and surely, we all assumed in the moment, nothing that would matter much.
Steph had been dominant in his 20 minutes of action, scoring 24 points with an assertive command we've perhaps not seen since. He still has fantastic games and certainly has moments. Today's Steph is great, but his artistry rarely recaptures total command, powered by a subtly athletic burst, of that gestalt aura of Steph's 2016 superstardom.
That minor injury led to two missed playoff games. Slightly ominous, but who could be that worried when he returned to action in Game 4? Steph had been so confident in his health that he'd neglected to bring dress clothes on the road to Houston, the NBA sartorial version of Hernán Cortés burning his own ships on the beaches of Veracruz. Cortés was lucky, though. His conquest path never ventured into the dangerous waters of a Donatas Motiejunas sweat slick. 
Steph was not so lucky. Motiejunas, a less than nimble Lithuanian big man, accidentally clicked his heels midsprint and slid, mostly on his ass, a literal 30 feet. Oblivious to the deluge, Steph moved across the path of the Motiejunas slip 'n' slide and collapsed into a quasi split, spraining his MCL. 
As Steph bowed his head in the huddle and prayed for medial collateral salvation, he gripped an oversized bag of popcorn, slung over the pastor's shoulder.
Unlike the ankle tweak a few days before, the slip and fall in Houston was a legitimately scary sight. Curry cried on the court, comforted by Draymond Green. In the second half, the Warriors redoubled their efforts and, absent their superstar, still overwhelmed the Rockets. I remember that evening quite well. It was a shock to witness the vulnerability of the previously invincible. Steph was slight, but he'd overcome so much that you could have been lulled into thinking this arc a fairy tale, absent the accidents that fell mere mortals. 
After the game, backstage of the Toyota Center, Joe Lacob was talking up the waiting media scrum, a rare-if-ever sight. He was gregarious, projecting optimism about the team in spite of Steph's possibly dire circumstances. Lacob could be counterintuitive that way, putting up a buoyant front in the wake of disaster. His never-ending quest to speak success into existence came with an impulse to speak it louder when it seemed farthest away. It's difficult to predict how NBA insiders will react to awful news.
The night of Kevin Durant's torn Achilles in 2019 brought a loud kind of public mourning from the Warriors, with Bob Myers literally crying in a press conference. April 16, 2016, brought a different vibe. Curry sat on a folding chair by his visitor locker and bantered, despite the circumstances. The Warriors role players who had come through weren't happy about what happened, but weren't weighed down by it either. "You got to," said Shaun Livingston, who himself had once suffered a devastating knee injury. "With athletes, you have to have a 'next man up' mentality." 
That was a different Warriors team, one with more veterans and more resolve. Athletes tend to be optimists, so they probably assumed an ability to hold the fort for as long as it took to get Curry back. 
Backstage of the Toyota Center, Steph's camp wasn't so confident. Ralph Walker, Curry's sage bodyguard, grimaced and shook his head. He lamented how the allowance of a James Harden game winner had changed everything, how the Warriors nearly swept the Rockets and earned their superstar some needed rest.
"We were so close," Ralph muttered. He then excused himself to join Steph and a local pastor in a prayer circle. As Steph bowed his head in the huddle and prayed for medial collateral salvation, he gripped an oversized bag of popcorn, slung over the pastor's shoulder. Postgame popcorn on the road is a must for Steph. There certainly have been worse amulets. 
__________________________________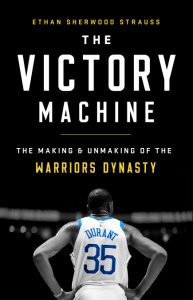 This article has been adapted from The Victory Machine: The Making and Unmaking of the Warriors Dynasty by Ethan Sherwood Strauss. Copyright © 2020. Available from PublicAffairs, an imprint of Perseus Books, LLC, a subsidiary of Hachette Book Group, Inc.
---