Ann Napolitano on Seeing Her Book Dear Edward Adapted for TV
"I was meeting a figment of my imagination—what could be more magical?"
I never considered the possibility of my work being made into a television show or film. When my novels receive one-star reviews on Amazon or Goodreads (which of course they do), the complaint is consistently the same: Nothing happens in this story! This always amuses me, because even though this review is ungenerous, the reader is not technically wrong.
I'm interested in the interiority of my characters more than anything else. Emotional nuance is my jam, and some readers find that dull. It's also not usually the making of great cinema, so to the extent that I gave it any thought, I assumed film or television adaptation was for other writers' work.
But my third novel, Dear Edward—though still the recipient of the same one-star complaints—has an undeniably dramatic plot point: a plane crash.
To my surprise, Hollywood showed interest in the book, and before I had fully wrapped my head around this, a writer I respect immensely—Jason Katims, writer and showrunner of Friday Night Lights and Parenthood—asked to option the novel. I felt, and feel, delighted and grateful about this development. I keep thinking, How fun! I trust Jason as an artist, so from the beginning I've simply been curious about how he would reimagine the story I invented. What elements of the novel would he keep? What would he change? What would the story look like through his eyes?
What delights me most about the idea of an adaptation is the very expansiveness baked into the concept. I love the idea of art inspiring more art, the idea that a story I wrote to be contained within the covers of a book will be played out with real people and real scenery on a television screen.
When production of the show started, I was told that an entire airplane (cut into three parts) was being trucked to a soundstage in Queens. There was a field upstate in New York where the crash site was being filmed, and other scenes were being shot in Los Angeles and Miami. There was, of course, a little boy cast as Edward. All of this information felt abstract, though, until I visited the Dear Edward set last May.
The production was shooting in Central Park, and the scene I watched was between Edward and his Aunt Lacey. When Colin O'Brien, the young actor playing Edward, walked over to meet me, I was shocked to have to fight back tears. The older I get the more easily I cry, but I still rarely cry in public, and almost never without warning. But I suddenly understood that part of my heart and imagination, and a character I loved and cared about as much as any real person, was standing in front of me. I was meeting a figment of my imagination—what could be more magical?
Since that day, when I consider the idea of the Dear Edward show, most of my reactions are emotions. I cried when I watched the trailer (alone, thankfully), and when I watched an advance copy of the series on my computer with a watermarked, password-protected link, I was awash in gratitude. Emotional nuance is my jam, as I said, and I realized that I didn't care at all about the distinctions between the show and the novel—what has always mattered most to me about Dear Edward is it's heart, and that heart has just grown bigger.
________________________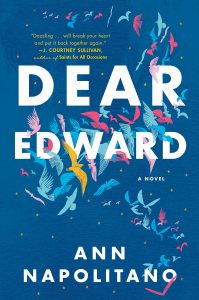 Ann Napolitano's Dear Edward is available now from Dial Press.
---