Ann Napolitano: Offer Yourself Grace When the Writing is Hard
The Author of Hello Beautiful on Writer's Block, Loving Basketball, and Bad Advice
Ann Napolitano's Hello Beautiful is available now from Dial Press, so we asked her a few questions about her writing process, advice she might give to young writers, and what she might be doing if she weren't writing.
*
How do you tackle writer's block?
I don't believe in what's commonly described as writer's block, in which a writer sits down to write and finds themselves unable to. What I do believe in are the many legitimate issues that can make writing difficult: depression, anxiety, fear of failure, a story problem that feels unfixable, self-doubt, exhaustion, full-time "real" jobs that vacuum up all of your time and attention, not being able to afford childcare, caring for an aging parent, etc. Life can be hard, and solving problems in a narrative can be hard too.
If your life is draining your battery, it's understandable that you don't feel capable of writing your best work. In these instances, please don't beat yourself up, and take a break if that's what's best for you. I get depressed when I don't write, so during challenging life stretches, I find the best course for me is to commit to writing for only five minutes a day. That way I keep my head above water, and still have time to focus on what needs to be focused on. The best choice for someone else might be to commit to taking three months off from writing, to remove that daily failure from showing up at your desk with no energy or bandwidth. Offer yourself grace.
It's also helpful to look at your issues with honesty. Figure out the nature of the underlying problem that's holding you back from your work, or holding your work back. It might be a lack of time or self-belief. Another possibility is that you always struggle during a specific phase of the writing process, and that's why you feel stuck right now. If you recognize that this is a pattern—a repeated rough patch—you might feel better equipped to muscle through it.
Perhaps the blank page presses all your buttons and fills you with panic. Or there's a particular wave of revisions (there are many waves of revision) that always tips you into despair and self-doubt. This knowledge can be extremely helpful and instructive. I think the more honest you can be when you look at where and why you're stuck, the better you'll be able to keep your writing moving forward.
What's the best or worst writing advice you've ever received?
There's one very frequent piece of writing advice that I dislike: Write what you know. I think this advice is counterproductive and limiting, particularly for beginning writers. If you're a young writer (in age or experience), this immediately shackles your imagination to the settings and characters of your own life, which means you aren't free to invent a world that feels real to you, even if it's completely fictional.
To be clear, there's nothing wrong with anchoring your fiction in your own history. I've done this myself, and there are many amazing novels and short stories that spring from the writer's personal experience. But I prefer the advice: Write what you like to read. This challenge opens the door of the writer's imagination. If you love the work of Dickens, don't hesitate to start your own sweeping epic. If you love the lyrical beauty of Jesmyn Ward's work, please write your own gorgeous, tone-perfect story.
And if you love romances set in foreign cities—go for it! During a writing workshop I taught for beginning writers, I gave them this prompt: Write a three-paragraph story about a character who is best friends with a horse, set in a country you've never visited. The students came up with the most delightful stories I could have imagined. Please write from your heart, not your history (or, write from both!).
How do you decide what to read next?
Sometimes, I read a book because I feel beholden to—perhaps I've been asked to blurb it, or it was written by a friend or former student and I want to show support—but in an ideal world, I read only the books I feel drawn to read. That might mean that I saw something online about a novel and the description piqued my interest. Or maybe I picked up a novel with a beautiful cover and read the first line and didn't want to put it down. Or a writer whose last book I loved has a new novel—for instance after reading Yaa Gyasi's novel Homegoing, I knew I would read her next novel as soon as it came out. Or, it's a nonfiction book on a subject I think might factor into my next novel.
In all these cases, I feel a warm excitement in my chest when I pick up the book. I'm excited; something inside me is reaching out for that story, and the satisfaction that comes from meeting that curiosity is immense. Here are some books I've loved in the last year (or so): Sea of Tranquility by Emily St. John Mandel, Demon Copperhead by Barbara Kingsolver, Deacon King Kong by James McBride, Hamnet by Maggie O'Farrell, Tomorrow and Tomorrow and Tomorrow by Gabrielle Zevin.
Which non-literary piece of culture—film, tv show, painting, song—could you not imagine your life without?
Can I say basketball? I follow the Golden State Warriors very closely, which basically means that I could name every player on the roster and tell you their backstory. I enjoy nothing more than sitting on the couch watching a Warriors game with my family, and I love the beauty within the game of basketball: no-look passes, athletic dunks, a player dribbling past five players on the way to the basket.
A few years ago, I became obsessed with the history of basketball; I was and am fascinated by how the history of this American sport parallels the history of racism in our country. In pursuit of this obsession, and as research for Hello Beautiful, I read many books about basketball and still listen to a ridiculous amount of basketball podcasts. I enjoyed all of the books, but since I've done the work I can tell you that best one is The Breaks of the Game by David Halberstam. And if you want to do a deep dive on a single player, both for his on-the-court prowess and his off-the-court activism, please read about Bill Russell.
I love stories, obviously, and there are complex, exciting, inspiring stories woven throughout the history of the NBA, right into the present. Steph Curry is perhaps the most joyful elite basketball player we've ever had the privilege of watching. LeBron James has built his body, career and life with formidable attention to detail. Giannis Antetokounmpo, "The Greek Freak," grew up poor in Greece and was discovered by an overseas NBA scout. I could go on and on…
If you weren't a writer, what would you do instead?
My writing professor in college, a wonderful novelist named Blanche McCrary Boyd, used to tell her students: If you can do anything other than be a writer, do that. But if you feel like you have to be a writer, it can be the most wonderful life imaginable. I was only twenty years old when I heard this, but I nodded in recognition; I already knew I had to be a writer. That doesn't mean I knew I could make a living as a writer; I certainly didn't, and indeed I wouldn't come close to making a living from writing for the next twenty-five years.
But I knew, even at that young age, that I had to write in order to feel whole. Whether or not anyone else read my work, or paid me for it, was a separate matter. For a decade, I was an excellent personal assistant, first for a self-help writer and then for a rock musician, so I do have that skill set in my pocket. However, in my daydreams, I can also imagine being a therapist. I am fascinated by what makes people tick, and helping a person who is going through a hard time find a way to the other side, feels like meaningful work.
______________________________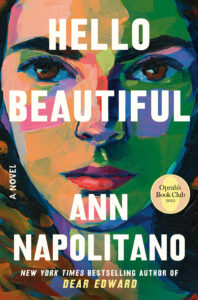 Ann Napolitano's Hello Beautiful is available now from Dial Press.
---