Ann Beattie: What to Eat When Your Book Tour Comes to an End
An Essential Guide, from Newt Soup to Armagnac
Of course you can drink Bombay Sapphire straight from the bottle, with a shotglass of tonic water on the side, or indulge in a bag of Hershey's Kisses (as much fun for your thumbs as texting), or scoop peanut butter straight from the jar with your finger, which will also beneficially coat your stomach in advance of Excedrin PM., if not CBD. But think a bit more—here's the word of the day—creatively:
1. Eye of newt. It was good enough for Macbeth's wacky, broth-making Witches—so think small. What's the point of public parks if they don't offer more than brightly colored tulips with heads the size of toilet-plungers? Cook it in your crock pot. Leave the cauldron on the top shelf. You've done enough baggage lugging. While things simmer, you can unpack.
2. Here, again, you'll either have to go foraging—nature's always in short supply during book tour, which tends to feature hotel lobbies, rooms, auditoriums, bookstores—or buy a box of dried rue at your local health food store and steep your own. Sip while the Newt Soup is brewing. (Husband, no matter how happy to see you, probably didn't have his own feeding plan, did he?).
3. Enjoy a cruciferous vegetable, peeled (if necessary) but uncooked. The crunch sound's what you're going for—that echo in your head, so similar to a microphone's screeching when you speak into it. With a cruciferous vegetable, you'll have the advantage of swallowing the thing that's noisy.
4. Chicken soup, to help cure the nasty cold you got on the plane, lest we forget Grandma's good advice. Open a box of Swanson's chicken broth. Chop carrots and onions (should still be okay, after your long time away from them), add a bouquet garni (you DO stuff dried herbs into little pouches in your spare time, don't you?), and chopped chicken (preferably pre-sliced from the deli), and salt to taste. Rub some salt in your eyes, while you're at it, to bring back memories of those multi-city springtime allergies. Remember that sneezing attack you had on Delta, that resulted in your seatmate's walking the aisle for most of the flight? That's funny now, right?
5. If not used in your soup, prepare a side dish of peas. Eat some; the others are for tossing individually, with the baby. Important to re-bond. Baby is so silly, cringing every time Stranger-Mama comes near.
6. Of course you deserve champagne, for making it through such a difficult tour, but remember to hydrate! Keep a pitcher of cold water handy. You can also use it to wash down your over-the-counter cold pills, and even to splash on your face, the way you splashed, splashed, splashed at 4 am before Ubering to the airport.
7. Cream pie. It is a sign of maturity to put a slice on a plate and eat it with a fork, rather than mashing the pie into the face of your most hostile critic.
8. Finish with a mint. Take a tip from the hotel worker, who placed one nightly on your privileged pillow, as well as turning down the bed. Mints in packets not removed from pillows just don't taste as good. The large tip you left that can't be expensed was justified.
9. Indulge in a small, potent nightcap. Careful, though, about mixing alcohol with cold medicine. A fragrant swirl of armagnac? A smooth nip of Jameson? No, wait: those were only in the mini-bar in Chicago! The locked safe in your bedroom that contains print-outs of your writing, in case fire engulfs your MacBook Pro, is certainly not going to morph into a mini-bar!
_____________________________________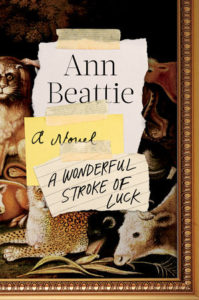 Ann Beattie's novel A Wonderful Stroke of Luck is available now.
---