Alli Warren Translates Five Books into Poems
From W. E. B. DuBois to Bernadette Mayer
I am a writer because I am a reader. I read in order to secure a foothold in the world. Reading brings me out of myself, and I'm trying to remind myself of this during the quarantine. One thing I know how to do is hunker down with books. I find comfort in books that remind me the world is not constrained by the limits of my tiny consciousness, by the here and now. I mostly read books that remind me that this hellfire world has a history, a context, that it didn't emerge out of thin air and that it doesn't have to be this bad, it doesn't have to feel this way. These books place me in a context of solidarity with others, an ecology in which I feel less alone.
I am with those no longer living, with those currently living who I don't (yet?) know, with those yet to be born who will come into the world we make for them. I read to educate myself and to broaden my perspective and to learn how to think and fight and to remind myself that human history is a blip. Books aren't the only source of this insight, of course—staring up at the sky, talking with friends and lovers, listening to birds yakking, all means to this end. Reading is a way of looking in in order to look back out with altered vision.
So, during the spectacle of this US election season, while a pandemic unfolds in us, around us and among us, hoarding and hunkering, I return to some books that have helped ground me and given me this long-seeing perspective, and from their words I made some poems. These are not my words, they are the words of their authors—I just translated them into poems, so that we can sing them and remember (poetry is a technology of memory), building up community memory, humming these fight songs.
*
Peter Linebaugh and Marcus Redicker, The Many-Headed Hydra
The emphasis in modern labor history
on the white, male, skilled, waged, nationalist,
propertied artisan/citizen or industrial worker
has hidden the history of the Atlantic proletariat
of the seventeenth, eighteenth, and early nineteenth centuries.
That proletariat was not a monster
it was not a unified cultural class
and it was not a race.
This class was anonymous, nameless…
It was landless, expropriated.
It lost the integument of the commons
to cover and protect its needs.
It was poor, lacking property, money
or material riches of any kind.
It was often unwaged
It was often hungry
It was mobile, transatlantic
It powered industries of worldwide transportation.
It left the land
migrating from country to town
from region to region
across the oceans
and from one island to another.
It was terrorized
subject to coercion.
Its hide was calloused
by indentured labor
galley slavery
plantation slavery
convict transportation
the workhouse
the house of correction.
Its origins were often traumatic:
enclosure, capture, and imprisonment
left lasting marks.
It was female and male of all ages.
It included everyone
from youth to old folks
from ship's boys to old salts
from apprentices to savvy old masters
from young prostitutes to old ''witches.''
It was multitudinous, numerous, and growing.
Whether in a square, at a market
on a common
in a regiment
or on a man-of-war
with banners flying and drums beating
its gatherings were wondrous to contemporaries.
It was numbered, weighed, and measured.
Unknown as individuals or by name
it was objectified and counted
for purposes of taxation, production, and reproduction.
It was cooperative and laboring.
It moved burdens, shifted earth,
and transformed the landscape.
It was motley, both dressed in rags
and multiethnic in appearance.
It included clowns, or cloons.
It was without genealogical unity.
It was vulgar.
It spoke its own speech
with a distinctive pronunciation, lexicon,
and grammar made up of slang,
cant, jargon, and pidgin—
talk from work, the street,
the prison, the gang, and the dock.
It was planetary
in its origins, its motions, and its consciousness.
Finally, the proletariat was self-active, creative;
it was—and is—alive;
it is onamove.
*
Silvia Federici, Caliban and the Witch
If we consider the historical context
in which the witch-hunt occurred
the gender and class relations of the accused
and the effects of the persecution
then we must conclude that witch-hunting in Europe
was an attack on women's resistance
to the spread of capitalism relations
and to the power women had gained
by virtue of their sexuality
their control over reproductions
and their ability to heal.
The battle against magic
has always accompanied the development of capitalism
magic is premised on the belief that the world is animated
unpredictable and that there is a force in all things
The capitalist organization of work must refuse
the unpredictability implicit in the practice of magic
Just as the enclosures expropriated the peasantry
from the communal land
so the witch hunt
expropriated women
from their bodies
which were thus 'liberated' from any impediment
preventing them to function as machines
for the production of labor
It was in the torture chambers
and on the stakes
on which the witches perished
that the bourgeois ideals
of womanhood and domesticity were forged
*
W. E. B. Du Bois, Black Reconstruction in America
White revolt against the domination
of the planters over the poor whites
was voiced by men who called for a class struggle
to destroy the planters
this was nullified by deep-rooted antagonism
to the Negro whether slave or free.
If black labor could be expelled from the United States
or eventually exterminated
then the fight against the planter could take place.
But the poor whites and their leaders
could not for a moment contemplate a fight
of united white and black labor
against the exploiters.
Indeed the natural leaders of the poor whites
the small farmer the merchant the professional man
the white mechanic and slave overseer
were bound to the planters
and repelled from the slaves
and even from the mass
of the white laborers in two ways:
first they constituted the police patrol
who could ride with planters
and now and then exercise unlimited force
upon a recalcitrant or runaway slaves
and then too there was always a chance
that they themselves might also become planters
by saving money by investment
by the power of good luck;
and the only heaven that attracted them
was the life of the great Southern planter.
*
Stefano Harney and Fred Moten, The Undercommons
They say we have too much debt.
We need better credit
more credit less spending.
They offer us credit repair
credit counseling
microcredit
personal financial planning.
They promise to match credit
and debt again
debt and credit.
But our debts stay bad.
We keep buying another song
another round.
It is not credit we seek
nor even debt
but bad debt
which is to say real debt
the debt that cannot be repaid
the debt at a distance
the debt without creditor
the black debt
the queer debt
the criminal debt.
Excessive debt
incalculable debt
debt for no reason
debt broken from credit
debt as its own principle.
*
Bernadette Mayer, Utopia
House and buildings
were left just as they were:
all doors are large
none are revolving
there are no cagelike places
elevators are transparent
all windows can open
places open out onto other places
hallways are generous
there is no rent
backyards behind city buildings
are joined without fences
so you could ride a horse
behind the streets
some pavements have turned back to dirt
there isn't any money
money became so physically large
that to accumulate five dollars
it would take a whole old-fashioned
room full of these big metal things
ellipsoid in shape
all the sewage of the world
makes fuel plus a generous
contribution from the stars
the ex-oil companies take care of that
we clean the streets
the schools are an essay on schools
you can get what you need
from the stores and storehouses
if you act greedy no one will look at you
drugs are dispensed by old people
if you want dope
you have to go to the museum
when you die
there is no hospital
it's safe to be born and safe to die at home
there's no accidents
hideous things have ceased to befall you
various women and men
come to your house when you need them
to work against these things
often old people say
"I have never suffered pain"
*
Emanuele Coccia, The Life of Plants
Plants are the breath of all living beings
the world as breath
In turn any breath is evidence
of the fact that being in the world is
fundamentally an experience of immersion
To breathe means to be plunged
into a medium that penetrates us
in the same way and with the same intensity
as we penetrate it
Plants transform the Sun's breath
its energy its light its rays
into the very bodies
that inhabit the planet
They make of the living flesh
of all terrestrial organs a solar matter
The Earth feeds off the sun
and constructs itself from its light
Plants metamorphose light
into an organic substance
and make life a primarily solar fact.
Every living being is only the effect
and expression of heliocentrism
on account of the fact that everything on Earth
exists thanks to the Sun.
__________________________________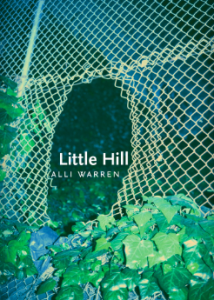 Little Hill by Alli Warren is available now via City Lights.
---