Alexandra Robbins Wants More Books Written From the Teacher's Point of View
A Reading List Featuring Celeste Ng, Sara Nović, Nathan Hill, and More
One of the most common concerns I heard from teachers when I interviewed hundreds of educators for my book, The Teachers: A Year Inside America's Most Vulnerable, Important Profession, was the negative portrayals of their profession by politicians, certain groups of parents, and on social media. It is astonishing that these underpaid, understaffed professionals, who are trained to educate and nurture future generations in their most formative years, are contending with such distressingly pervasive disrespect.
As a substitute teacher for almost four years, I have seen firsthand the tremendous efforts, heart, and soul that teachers give to students, staff, and schools. In The Teachers, I tried to convey that message by following three teachers and presenting their year-in-the-life stories in a way that readers can feel like they are curled up with a fast-paced novel. I chose this style so that readers would be so engaged in the characters' lives that they could truly see the school experience from the teachers' points of view.
Encouraging people to read books with positive portrayals of educators could help to sway public sentiment. Here are seven works of fiction that qualify.
*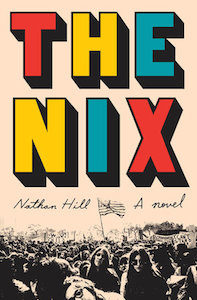 Nathan Hill, The Nix 
The Nix tracks community college English professor Samuel Andresen-Anderson, whose mother abandoned him when he was young and who is under contract for a book that he has failed to write. When a video of his mother goes viral for throwing gravel at a presidential candidate, Sam decides he has found his book subject. A short summary can't do justice to this epic, sprawling saga, which beautifully threads historical events, humor, various subcultures, and gorgeous writing. The Nix is on my longlist of favorite books.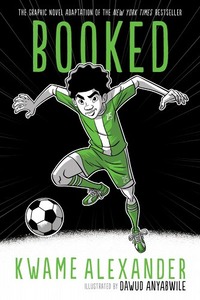 Kwame Alexander, Booked 
Alexander is a master at lyrical, thoughtful writing that can convey multitudes in relatively few words. Booked is no different. Booked follows 12-year-old Nick as he navigates school bullies, his parents' divorce, and other frustrating obstacles. Though he hates reading, Nick repeatedly ends up in the library, where the charismatic Mr. Mac, the school librarian and "the coolest adult in our school," takes him under his wing and teaches him that books are more than words and that words can both elicit and relieve emotions.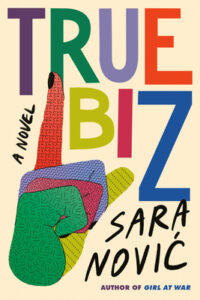 Sara Nović, Tru Biz
Charlie Serrano is a rebellious, Deaf 15-year-old who enrolls in a school for the Deaf, where the other kids communicate in American Sign Language, a language she hasn't yet learned. Tru Biz, an ASL term for "real talk," hops among the viewpoints of Charlie, her classmate Austin, and the school's hardworking headmistress, February Waters, a child of Deaf adults. February must fight to save both her school and her marriage to a hearing wife.
As Charlie's history teacher, February is a central figure whose lessons and assignments teach Charlie the nuances of Deaf culture and the importance of honest communication and accepting communities. I thoroughly enjoyed the story, the characters, and the lessons on ASL and Deaf culture that Nović, who is Deaf herself, scatters throughout the book.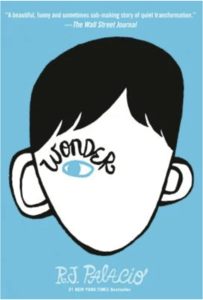 R.J. Palacio, Wonder 
Unforgettably poignant, Wonder introduces us to Auggie Pullman, an earnest fifth grader with a congenital facial difference who wants to fit in as a typical kid. Auggie's English teacher, Thomas Browne, works to foster an atmosphere of kindness by assigning his students a monthly precept to explore, such as "When given the choice between being right or being kind, choose kind." Mr. Browne is such an influential character that Palacio wrote a spinoff: 365 Days of Wonder: Mr. Browne's Precepts.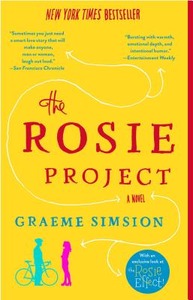 Graeme Simsion, The Rosie Project
Genetics professor Don Tillman, who is unaware that he has (what appears to be) Asperger's Syndrome, is fastidious, highly scheduled, efficient, brilliant, socially awkward—and in search of a wife. As he embarks on what he calls the Wife Project, using his self-devised 16-page scientific survey to which he believes there is only one right answer per question, he meets free-spirited Rosie, his polar opposite, who is on her own quest to find her biological father. The Rosie Project is an entertaining book, endearing and funny.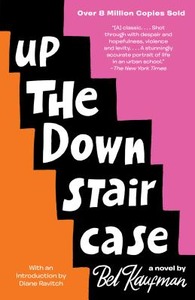 Bel Kaufman, Up the Down Staircase 
A classic novel about teaching, Up the Down Staircase chronicles new teacher Sylvia Barrett's semester at a large New York City public high school. Barrett navigates challenges among both students, such as teens reading at an elementary school level, and staff, including an assistant principal she refers to as Admiral Ass. Told through a collection of correspondence—memos, homework, notes, and so forth—Up the Down Staircase was a book ahead of its time.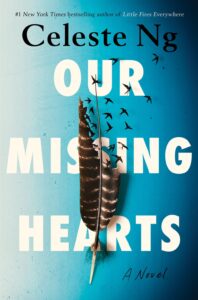 Celeste Ng, Our Missing Hearts
Bird Gardner searches for his mother in this powerful dystopian novel about freedom, nationalism, racism, communication and parental love. A constant in Byrd's life is his father, Ethan, a former linguistics professor who, because of "the Crisis"—a multi-year global economic breakdown blamed on China—is now an archivist. Ethan's passion for and devotion to words hums beneath the characters' fight to reclaim their Asian-American culture and Bird's quest to find his poet mom.
__________________________________
Alexandra Robbins is the author of The Teachers, available now from Dutton.
---