Alex McElroy on R.L. Stine, Casey Plett, and a masterclass of self-deception
Rapid-fire book recs from the author of The Atmospherians

Welcome to the Book Marks Questionnaire, where we ask authors questions about the books that have shaped them.
This week, we spoke to the author of The Atmospherians, Alex McElroy.
*
Book Marks: First book you remember loving?
Alex McElroy: Say Cheese and Die, by R.L. Stine. Also an unbeatable title.
BM: Favorite re-read?
AMcE: Jakob von Gunten, by Robert Walser. The best butler academy bildungsroman of all time.
BM: What book do you think your book is most in conversation with?
AMcE: Too many to name, but the most important ones are Tom McCarthy's Remainder and Alexandra Kleeman's You Too Can Have a Body Like Mine.
BM: A book that blew your mind?
AMcE: Sneaking in two again: The Sea, The Sea by Iris Murdoch and A Separation by Katie Kitamura. The Murdoch book is a masterclass of self-deception, and Kitamura's book is one of my favorite's to teach–quietly shocking every time.
BM: Last book you read?
AMcE: Open by Rachel Krantz. An honest and more-tender-than-it-deserves-to-be-in-a-good-way portrait of a relationship coming undone.
BM: What book from the past year would you like to give a shout-out to?
AMcE: Image Control by Patrick Nathan. Nathan understands the contemporary culture world and how we got here better than anyone else. I return to his thoughts often.
BM: A book that actually made you laugh out loud?
AMcE: Happy Hour by Marlowe Granados. A perfect book.
BM: What's one book you wish you had read during your teenage years?
AMcE: Casey Plett's A Safe Girl to Love. A friend let me borrow this book when I moved to Brooklyn last year—I still have it, sorry!—and it truly changed my life.
BM: Classic book on your To Be Read pile?
AMcE: The Magic Mountain by Thomas Mann—I started it years ago but never finished. Now's the time (I've been saying for months).
BM: Favorite book no one has heard of?
AMcE: Europeana by Patrik Ouředník. A sweeping portrait of the 20th century's absurd horrors.
BM: Favorite book of the 21st century?
AMcE: Calamities by Renee Gladman. A profound meditation on repetition and moving forward. There is no other book like it.
BM: Book(s) you're reading right now?
AMcE: Easy Beauty by Chloe Cooper Jones, The Magic Mountain, Margaret and the Mystery of the Missing Body by Megan Milks, and Belladonna by Daša Drndic (though I put a post-it over the cover).
BM: Book you wish would be adapted for a film/tv show?
AMcE: Nevada by Imogen Binnie. It's being reissued this year–hopefully that brings it the attention it deserves.
*
Alex McElroy is a nonbinary writer based in Brooklyn. Their debut novel, The Atmospherians, was a NY Times Editors' Choice. Other writing appears in The Guardian, NY Times, New York Times Magazine, The Cut, The Atlantic, and elsewhere. Alex was named one of The Strand's 30 Writers to Watch and has received fellowships from The Bread Loaf Writers' Conference, The Tin House Summer Workshop, The Sewanee Writers Conference, The Inprint Foundation, The Elizabeth George Foundation, and The National Parks Service.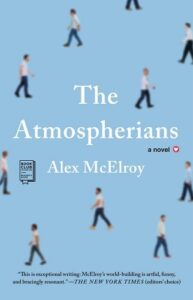 Alex McElroy's The Atmospherians is out now in paperback from Atria Books
*
---