Against Clarity (or In Praise of Youthful Wisdom)
Steven Church: You Don't Have to Be Old to Write a Memoir
The narratives we tell about our own lives are constantly in flux; our
perspectives at each age are differently valuable.
–Leslie Jamison
I've attended a lot of public readings given by writers of poetry, fiction, and nonfiction. I've heard a lot of wonderful, inspiring, thought-provoking, and emotionally powerful words; and I've also seen a lot of very very bad readings. But I've only booed one writer in my life.
Article continues after advertisement
At the time, I was a 30-year-old graduate student, taking my first tentative steps toward being a writer of literary nonfiction, memoir, and personal essay. I'd recently given up fiction writing and was working on a memoir, a manuscript that would end up being my first book. The visiting writer was a fairly well-known author who toured widely, and he was in town supporting his recently published book. I hesitate to say more than this about his work, if only because then it would be easier to identify this individual, and this isn't really about him, but instead about what he represents.
This writer was paid, probably not a lot of money, but more certainly than I was making in a month as a graduate student TA; and he was paid to come and talk with students about writing. He was paid to inspire and encourage them. So this writer read his work. I didn't care much for it, but I kept quiet. Then he asked the audience for questions; and in response to one I can't recall, he stood there at the podium, all puffed up and pompous, and told us all that, "nobody should be allowed to write personal essays or memoir until they've reached the age of 45 and achieved clarity."
This is when I did it.
I cupped my hands to my mouth and yelled, "Boooooooo!" as some people applauded.
Audience members turned and stared.
Article continues after advertisement
"Bullshit," I muttered.
It also helped, according to him, if you'd done something really exciting and story-worthy. The message was loud and clear. I didn't know shit. I had no "right" to write about anything because, apparently, I hadn't earned my license. Hell, I'd have to wait another 15 years before I could even start writing my book. I wondered if my "clarity" would come on suddenly, like a hot flash or a sneeze, maybe like a really incredible orgasm. And when would he mail me my laminated "writing license"? Wouldn't they need a picture and my height and weight? Is there some kind of multiple choice test? I had so many questions.
So after the reading, I approached the writer and introduced myself, "Hi, I'm Steven. I'm a 30-year-old memoirist."
Fortunately, I'm distrustful of fundamentalism in all forms and I immediately knew that I wasn't going to listen to this writer, and further that my frustration and distrust wasn't even so much with him personally but with the ideas about writing nonfiction that he represented. To me, he got it all wrong. There was no private club, no privileged position you had to earn before you could write. Or if there was, I wanted to kick the door in and take over the joint.
"There is a kind of clarity that can exist no matter what your age and experience, that it doesn't matter what you've done."
I'm now 46 years old, still kicking at doors, and wondering when the promised clarity might show. I'm anxiously awaiting some kind of "writing license," hoping they can use my latest author photo where the black-and-white exposure makes me look older and wizened and full of clarity, the kind of guy who is worthy of writing memoirs and personal essays. In the meantime, I've published two memoirs and four collections of essays and now I'm editing a whole anthology of essays—which I guess is sort of like driving around without a license and hoping I don't get caught.
At times I really do hope the 45-year-old clarity comes immediately, like a gift I wake up to on Christmas morning, and suddenly everything will make sense. But most of the time, I hope that it never comes and that life continues to be a crazy chaotic mess of surprises, that it is consistently unpredictable, and I thus have reason to continue writing. For me nonfiction writing—memoir and personal essay especially—has never been about clarity, which seems not only highly overrated as a state of mind, but also anathema to the origins of the essay, which saw the form as an exercise in self-doubt and noble confusion.
In other words, as I now enter the Age of Clarity, I realize that I don't actually want it. Take it. You can have it. I'd rather be happily confused. And maybe that's the most disturbing part of what that writer said—that false promise of clarity, which to me is just as much a lie as closure or any other posture of reflective control. And if that same writer—now more wizened with age—stood up today before an audience of my students and said the same sort of things, I'd probably boo him all over again. I'd tell him that there is a kind of clarity that can exist no matter what your age and experience, that it doesn't matter what you've done, because you don't have to earn your license to write or to think deeply about the world.
I'd tell him that my teenager and my ten-year-old are smarter than most adults; and I'd tell him all that matters as a nonfiction writer is that you're curious about the world, interested in thinking deeply about your experience with it, and capable of sharing that thinking with an audience. I'd tell him to read Lost Wax by Jericho Parms or Imagine Wanting Only This, by Kristen Radtke, maybe Dreaming of Ramadi in Detroit, by Aisha Sabatini-Sloan, or Don't Come Back, by Lina Maria Ferreira Cabeza Vanegas, or Circadian by Chelsey Clammer, or the forthcoming Quite Mad, by Sarah Fawn Montgomery, and then try to convince me that these under-45 essayists don't possess a clarity and wisdom that we could all hope to match, no matter our age or status in the writing world.
I know this: If he, or anyone who doubts the wisdom and power of young minds today, had been here in Fresno, California, or in other cities across the country, on March 24 with my family and I as we watched a strong, determined, and inspiring group of young women of color lead a rally and march for gun control here in Fresno, California, he would have known what I know—that there is a clarity of youth that just might save us all.
__________________________________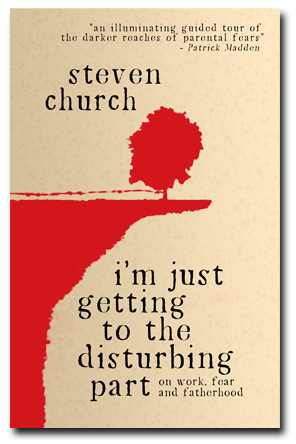 This essay is adapted from I'm Just Getting to the Disturbing Part, by Steven Church, courtesy Outpost 19. Copyright 2018, Steven Church.
---