A Small Parenthesis: How Gardens and Stories Can Create Space to Breathe
Juan Cárdenas Considers the Possibilities of Closed Spaces
Translated by Lizzie Davis, a translator, a writer, and an editor at Coffee House Press.
For Tatiana Andia
 I am tending a garden. Though it would be fair to say I'm writing about the tending of a garden. And if someone were to say that I'm writing a garden, that would also be true. The garden is not the forest, the forest is actually down below, at the end of the steep slope that abridges our small piece of land, but it's important to slightly accentuate the artificial character of my garden. Though I also don't want to exaggerate that difference, to create a kind of French garden, geometric, with its military syntax; my intention, if you'll allow me to stretch the metonymy, is to write a prologue to the forest, a footnote that can mimic certain gestures, certain scenes arisen from the body of the text, and at the same time form an overstory sufficiently dense for birds to come and feed there. So we planted a wide variety of fruit trees that are now, for the most part, just fistfuls of stunted sticks. The idea is that, within a few years, when everything has grown, the garden will feel like a continuation of the forest, although I'm not at all interested in the forest swallowing my garden, no. The garden, which should be at once open and closed, is not the forest and is to a certain degree its limit. I would like for all of this to be a human paraphrasis, a comment, a gloss of the forest.
A while ago, I read that garden comes from an Old English word, geard, which simply means closed space. And the same goes for the word paradise, which comes from the Greek word παράδεισος, which comes, in turn, from the old Persian word pairidaeza, which connotes a walled-in area, enclosed land. Paradise, then, would be defined not by what lies within it, but by what delimits it: human will, artifice, is there from the start, in the naming of these strange places. The garden appears only when apart from the rest of the world, and it doesn't surprise me that it's associated with property, privilege, even luxury.
It's obvious that there are few metaphorical rungs between that kind of haven and a tax haven, but I don't believe all etymological paths lead to capitalism, either. The garden is not necessarily, fatally, a property, a luxury good, as is demonstrated by many of the places campesinos create in this region.
Just kilometers from here, for example, there's a restaurant we go to on weekends for sancocho de gallina, a true microcosm of tropical beauty and bliss. The place is very modest, with different spaces for dining outside, bamboo tables, vinyl tablecloths, and it's run entirely by a small and prosperous matriarchy. Surrounded by dragonflies, one freely descends a sloping coffee field, with flowering guamos and heliconia and mountain immortelles, and gradually, in the middle of all that, a small ranch comes into view, where a campfire is burning, and a rabbit hutch with a zinc roof, and a seedbed with thirty-something species of succulents, banana, yucca, terraces of herbs both aromatic and medicinal, little chickens, fat and healthy, all the way to the gentle stream at the bottom of the ravine. I'd say the main effect of a garden like that one is not to delimit a property but to fabricate a singular experience of time.
The garden, in effect, grabs hold of external time, time subjected to the radiation of the present, and isolates a portion until it is denaturalized, just as literature does. Exactly as I'm trying to do now, as I write. I'd like to construct a small space, an abstract surface that cancels and also comments on what's happening on the outside. At this point, maybe I could distract myself from my mission and allow the visitor to glimpse my rage hidden among all this underbrush.
After all, I'm writing this garden in Valle del Cauca, one of those regions punished to an unspeakable degree by the war on drugs, the farcical and tragic and bloody war launched by the U.S. government to exercise control over our country and fill the pockets of the bankers who launder narcotrafficking money in Panama, the Cayman Islands, Andorra, or any other tax haven. I could also create a catalog of the atrocities, the immeasurable devastation, environmental and social, that stupid imperial war has provoked in this area. And if I don't, it's because the task would take up too much space and I'd rather not distract myself talking about sad things. My garden, therefore, grows at the foot of a small forest that, by a mixture of chance occurrences, has survived decades of violence. My garden prospers in the middle of a region marked by horror, and that enrages me, fills me with resentment. And even so, this small semantic bubble manages to translate the feelings of pain into something else, which doesn't yet have a name. Social time, here, modulates its rhythms, it runs through the measure of death, charges it with ample rests where if we're lucky, a bird might perch and sing.
The garden, in effect, grabs hold of external time, time subjected to the radiation of the present, and isolates a portion until it is denaturalized, just as literature does.
Any garden is, deep down, a proposed republic, utopia. The politics of the garden, the garden of politics. We're aware that war could return at any moment, at the whim of economic forces, or as the express wish of a politician or so-called venturer. For as long as I can remember, war comes and goes in this region, so I'm going to take advantage of this small breathing space to reclaim the right of all Colombians to imagine and write gardens, not game preserves for the sons of the rich, nor VIP lounges that privilege the selfish hedonism of a select few: I'm thinking of gardens enclosed in invisible punctuation marks, where the meaning of a future for everyone is tended. Gardens that can reorder the syntax of global destruction; a naïve fantasy, maybe, but what form of writing isn't?
Gardens, unlike museums, don't intimidate their visitors, nor do they overwhelm them with their art, and that's because here, art tends toward the invisible. In a decade or two, the gardener's hand would cease to be noticed almost completely, and yet the small capsule of singular rhythms would already be created. Here, in this small parenthesis, a small group of friends who love one another can talk for hours, as long it takes, tangling and untangling social time until the sun sets and the birds who come to visit compel us to keep a long silence. I want a garden for my friends, for you, friend, a garden where it's possible to contemplate how the thread of death passes into the eye of the needle that stiches life.
I hope we can. I hope they let us.
___________________________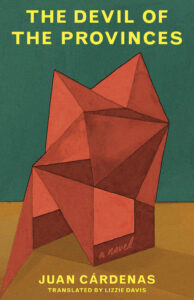 The Devil of the Provinces by Juan Cárdenas, translated by Lizzie Davis, is available now via Coffee House Press.
---