"A Sicko Producer's Dream." On the Infectious Textures of Britney Spears's Shifting Voice
Natasha Lasky Explores the Criticism and Dismissal of the Pop Star's Many Registers
In 2011, Nassima Abdelli-Beruh, a speech psychologist at Long Island University, conducted a study on the way teen girls talked. Abdelli-Beruh noticed that her students were speaking with "vocal fry," a raspy, deep tone caused by the slow fluttering of the vocal cords. She, along with some other speech psychologists, decided to investigate. She gathered thirty-four college girls to read aloud into a mic, and then assessed when and how long they slipped vocal fry into their sentences. The results didn't shock her. Abdelli-Beruh found that two-thirds of the women she tested used vocal fry, a slightly larger number than she thought.
Yet this finding was enough to unleash a torrent of think pieces about this apparently dangerous teen trend. According to the over-forty pundits that pumped out these scaremongering op-eds, vocal fry was annoying, unlistenable, and maybe even damaging to the vocal cords. Combined with "uptalk" and filler words, vocal fry made women easier to dismiss, less likely to get jobs, and unable to command respect.
According to Hofstra fine arts professor emerita Laurie Fendrich, vocal fry and the "Valley Girl lift," "reveals an unexplainable lack of confidence in one's opinions and a radical uncertainty about one's place in the world." Although uptalk and vocal fry are different sounds, impossible to use at the same time, Fendrich links them together—to her, they are equally annoying. These tics make women sound like "an empty-headed clotheshorse for whom the mall represents the height of culture."
Though critics were quick to condemn vocal fry, Abdelli-Beruh withheld judgment. She said, in an interview with MSNBC, "Anecdotally, vocal fry is judged to be annoying by those who are not as young as the college students we tested." Though Abdelli-Beruh and her critics may have disagreed about the effects of vocal fry, they agreed about the trend's cause: pop music. Abdelli-Beruh noted: "My son, who is a teenager, listens to 92.3 NOW in NYC. I noticed the way the voice said 'NOW' on the radio [is] clearly glottal fry." In fact, it seemed that these concerned citizens condemned vocal fry because it linked today's teenage girls with a new wave of valley-girl celebrities: Jessica Simpson, Paris Hilton, and, most infamously, Britney Spears.
On "…Baby One More Time" Britney Spears croaked out her first words, "Oh baby, baby," her light Louisiana drawl twisting "baby" into "Bay-bay." Her voice is thin, an effect heightened by the track's hyper-compressed vocals, and dips in and out of vocal fry, punctuating her high-pitched, nasal voice with a low flutter in the beginning and end of her tones.
Fans and critics alike wondered if this voice was put on. Early tapes of Britney sound almost completely different. On Star Search, she belted "Love Can Build a Bridge" in a preternaturally deep voice despite her tiny ten-year-old frame. On The Mickey Mouse Club, where she got her start, she sang the Staple Singers's "I'll Take You There," in her natural contralto (before her future boyfriend and fellow Mouseketeer Justin Timberlake emerged, rapping, inexplicably, in patois). For her auditions with record labels, Britney chose difficult songs to show off her powerhouse voice: two Whitney Houston songs ("I Will Always Love You" and "I Have Nothing,") and the national anthem.
Chuck Yerger, Britney's tutor on the Mickey Mouse Club, said this about the starlet: "In all that she did, Britney gave the distinct impression that if an adult says do something, you do it."
Britney's song choices reflected the pop landscape of the late 1990s, where Toni Braxton and Mariah Carey reigned, and labels were looking for divas of their own to compete. In this context, Britney was something of an oddity. She came into Jive Records's bland offices wearing a sundress, and her demo tape came attached with photos of her smiling in pigtails, evoking her status as a Louisiana teen queen. Even weirder, her deep voice seemed totally at odds with her girlish demeanor. But Jive A&R Steve Lunt saw something in Britney: "When her voice went up high," he said, "You could hear the girlish quality, and there was something really appealing about that."
Even though Britney's high register was only part of her range, this "girlish quality" was what signed her. While Jive was predominantly a rap and R&B label (their roster included Aaliyah and A Tribe Called Quest), they didn't sign "artists like Whitney or Mariah"—Black pop divas—because they were, according to industry stereotypes, "expensive and risky," which, as Eric Beall told pop reporter John Seabrook, was the position of Clive Calder, co-founder of Jive. Britney, however, was a nice white girl who wanted to defer to authority, no questions asked. Chuck Yerger, Britney's tutor on the Mickey Mouse Club, said this about the starlet: "In all that she did, Britney gave the distinct impression that if an adult says do something, you do it. She truly felt that all adults and people in authority were good people, who had her best interests at heart."
This quality made her easier to mold into something that could sell. She was dirt-cheap to sign and eager to please. She conceded to a "get-out" deal, giving her label the ability to cancel her contract within ninety days, and Jive got to work on creating a voice that could make her famous.
Jive scrambled to find the right songwriter for Britney—they had plenty of producers for rappers and R&B artists, but, as Seabrook reports, just one that specialized in pop, Eric Foster White. White and the label folks decided to pass Britney along to someone with whom they had worked with on a few tracks for the Backstreet Boys: a young Swedish songwriter named Max Martin. Martin was affliated with Swedish pop super-studio Cheiron, and had a song in mind for Britney—a slinky track called "…Baby One More Time." "Max, at that point in his career, thought he was writing an R&B song," Jive A&R rep Steve Lunt recalled, "whereas, in reality, he was writing a Swedish pop song. It was ABBA with a groove, basically."
Because of Martin's proximity to pop, and perhaps even because of his white toe-dipping in Black aesthetics, Jive set him up with Britney. Lunt recalled that Martin took the project because: "[Britney's] fifteen years old; I can make the record I really want to make, and use her qualities appropriately, without her telling me what to do."  The first "quality" he took advantage of were Britney's vocals: in order to get to a sexy register while retaining her sweetness, Britney sang at a higher pitch but wrapped her words in vocal fry to imbue her voice with a moaning texture. Britney told Rolling Stone in 2000, "I wanted my voice to be kind of rusty. I wanted my voice to just be able to groove with the track. So the night before, I stayed up really, really late, so when I went into the studio, I wasn't rested."
"…Baby One More Time" became an instant hit and, aft er a couple of months, launched Britney to the top of the charts. Martin continued to produce on Britney's subsequent albums, "…Baby One More Time," "Oops!… I Did It Again" and Britney, keeping her voice sweet and squeaky for cute ballads like "Sometimes" and turning up the rustiness for sexy numbers like Oops!… I Did It Again. This burbling sweet-and-sexy quality became Britney's trademark. Producers on her next albums manipulated her voice in the same way that Martin did—warping it to suit their purposes and develop their styles.
Nowhere was this more clear than her 2003 album In the Zone, which was, at that point, her most experimental record. Producing teams Bloodshy and Avant, RedZone, and The Matrix stretched her voice to fit the disparate genres that they tried to emulate over the course of the album. On "Toxic," "Breathe on Me," and "Everytime" Britney sings, singing in thin, airy falsetto. On "Outrageous" and "Showdown" Britney raps in sultry whispers, and on "Shadow" she belts a heartbreaking ballad. Some of these experiments pay off. "Toxic," in particular, shows off Britney's range—her feathery high register, her robotic valley-girl growl, her strong, pleading belt. Others don't quite land, particularly when she dips her toe into historically Black genres, like the reggae-inflected "The Hookup," where she hazards a cringe-inducing patois. The album is an eclectic mix, evidence of an artist trying different styles on for size.
Though In the Zone contains some of Britney's best songs, many critics tore it apart. The main issue they had with it was her voice.
Though In the Zone contains some of Britney's best songs, many critics tore it apart. The main issue they had with it was her voice. Rolling Stone's review notes, "Her voice is so processed, its physicality almost disappears… Beyond the glittering beats, Spears sounds about as intimate as a blowup doll." Other critics of In the Zone also critiqued Britney's vocal style using the language of sexual objectification: Entertainment Weekly describes her "pinched, porn-video-game delivery" as being so dehumanizing that she became nothing more than "a moaning, groaning, giggling sound effect."
These descriptions make Britney sound like a fleshlight that sings. They echo a 2000 interview with experimental musician Diamanda Galás, in which she said: "She doesn't even sound human! This is a producer's dream—a sicko producer's dream… she sounds like a radioactive worm and she just crawls right under your skin." To critics, Britney's constantly shifting voice made her seem vacant and spineless, an empty vessel waiting to be filled with her producers' ideas. Her voice was a symptom of her passivity, the same sweet girlishness that Steve Lunt noticed when she sang in Jive's New York conference room for the first time, the complete deference to authority Chuck Yerger saw in his classroom on the Disney lot.
But why interpret Britney's shifting voice as evidence of her exploitation? You could just as easily argue that it demonstrates her range, her creativity, or her willingness to experiment. If anything, footage of her in the studio suggests she had a collaborative, convivial relationship with the musicians who worked alongside her. She wasn't a doormat by any means. Max Martin has frequently called her a "genius," a creative powerhouse in her own right. Moreover, Britney, thankfully, does not seem to have suffered any abuse at the hands of her producers. So why did critics continue to impose this metaphor of sexual exploitation onto her music?
These criticisms of Britney's voice had more to do with the state of pop music in the early aughts than with her producers, or even Britney herself. In the 2000s, pop underwent its own industrial revolution, where teams of songwriters, producers, and label execs constructed hits, passing them from star to star as if they were on an assembly line. Producers became titans of the music industry—they often composed the songs, selected the sounds, and directed studio sessions.
As producers took over pop, critics wondered what pop stars brought to the music, if anything at all. As music journalist John Seabrook put it in The Song Machine: "The artists occupy a central place in the songs, but more as vocal personalities than singers. The voices belong to real human beings, for the most part, although in some cases the vocals are so decked out in electronic finery that it doesn't matter whether a human or a machine made them."
__________________________________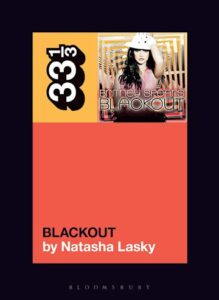 Excerpted from Britney Spears's Blackout by Natasha Lasky. Copyright © 2022. Reprinted with permission of Bloomsbury Publishing.
---