A Secret, Symbolic History of Pomegranates
Kate Lebo: "Cracking one open feels like lifting
the lid on a jewelry box."
When Persephone returns to her mother, the underworld is still on her. In one version of this mythic reunion, Yannis Ritsos writes:
I heard you all calling my name;
and my name was strange; and my friends were strange; strange the upper light with the square, pure white
houses,
the fleshy, multicolored fruits, pretentious and insolent . . .
Persephone has seen the dead, married their king, eaten three or four or seven seeds of his pomegranate. Her mother, the harvest goddess Demeter—having been flattened by grief, having refused to let new crops grow until her daughter returns, having starved mortals until the gods fear no one will survive to leave offerings, having, in another version of the myth, convinced Zeus to make Hades give Persephone back—welcomes home a changed girl, wizened and spooky, uneasy in her mother's empire of green. A married girl who hears and speaks of a world Demeter can't understand. "The voice is paler than the lips it leaves," says Demeter in Edith Wharton's retelling, her joy fading to confusion.
Pomegranates are unusual fruits, "no more than a closet of juicy seeds," as Jane Grigson describes them. Poets have been known to compare those seeds to jewels. Cracking open a pomegranate does feel a bit like lifting the lid of a jewelry box, in expectation if not sensation—unless one tears open a jewelry box in a defensive posture, anticipating a spray of red. Within the split rind, an ornate pattern, edible and glistening.
According to Jewish lore, the pomegranate contains 613 seeds, one for each mitzvah. For millennia across Europe, Persia, and Asia, in Buddhist, Islamic, Judaic, and Christian traditions, pomegranates have been invoked as a symbol of fertility and sometimes smashed in bridal chambers to encourage the birth of many children. In The Unicorn in Captivity, a medieval European tapestry one can inspect before touring the quince grove at the Met Cloisters in Manhattan, a unicorn sits within a low-fenced pasture beneath a pomegranate tree. He looks content in captivity, a symbol of fertility and marriage and the fertility of a soul's marriage with Christ. The unicorn appears to be bleeding from wounds of the hunt that chained him to this tree. On closer inspection, the wounds don't bleed—they weep seeds. The blood is pomegranate juice.
The word "garnet" comes from "pomegranate," as does "grenade," so named for the way a shrapnel-scattering grenade imitates the seed-scattering explosion of a smashed pomegranate.
Pomegranate seeds are incisor-shaped—fat at one end, where a blood blush pools, narrowing at the translucent tip, where the seed might, were it an actual tooth, root in the jaw. If we believe the Doctrine of Signatures—the idea that God has written a language in plants that we can read to identify our medicines—this shape means pomegranates can relieve oral maladies. "A strong infusion cures ulcers in the mouth and throat, and fastens teeth," wrote Culpeper.
It's strange to us now, this sort of anthropomorphizing that dismembers plants into humanlike parts instead of giving them humanlike personalities—tooth-shaped tooth fixers, not The Giving Tree. The Doctrine of Signatures was part of the worldview by which early doctors, herbalists, and apothecaries transformed an organism into a specific medicinal resource, an alchemy we present-day capitalists surely understand. "Each plant was a terrestrial star," Agnes Arber describes in her 1912 history of herbals, "and each star was a spiritualized plant." Modern marketing bypasses the Doctrine of Signatures and mines Greek myth instead, selling pomegranate juice as an elixir of youth, with antioxidant promises that fall just shy of raising the dead.
In my glass right now, as I write this: iced pomegranate juice and the black-winged corpse of a fruit fly. The juice is sweet, acidic, and tannic, wicking the moisture from my mouth in a pleasant way, a quenched feeling that also makes me want another drink. Tannins in pomegranate juice, as with good wine, balance acid and sugar and add a sense of chewiness and substance, like I'm eating something from the earth. Juicing a pomegranate can be as easy as pressing the fruit between your palm and a countertop, crushing it gently as you roll, then cutting off the top and inserting a straw. Eating pomegranate seeds requires a bit more work. Start by scoring the peel, then pull the fruit into quarters, revealing garnet-colored seeds. The word "garnet" comes from "pomegranate," as does "grenade," so named for the way a shrapnel-scattering grenade imitates the seed-scattering explosion of a smashed pomegranate.
Pomegranates represent fertility, but also a pause in fertility—in myth and in life.
In the myth, or a version of it—all versions of it—Demeter mourns her daughter's disappearance by letting the crops die. She abandons her duties and walks among mortals disguised as the sort of old woman who might look after the children at court. Nothing will grow until her daughter returns. And even after Persephone comes home, she has eaten the food of the dead and must go back to Hades for a fourth or a third or half the year, provoking another winter. This cycle of death and rebirth makes Demeter and Persephone empathetic to mortals as no other gods are. "In their grief and at the hour of death," Edith Hamilton writes in her 1940 anthology of Greek myth, "men could turn for compassion to the goddess who sorrowed and the goddess who died."
Pomegranates represent fertility, but also a pause in fertility—in myth and in life. In ancient Greece, Dioscorides recommended pomegranate seeds and rind as birth control. "Medical writings indicate that pomegranate was administered as a suppository," John M. Riddle writes in Eve's Herbs—not orally, as the myth might lead us to conclude. He reports that in 1933, date palms were the subject of the first experiment that found estrogenic compounds in plants—the first confirmation that herbal-birth-control lore had a biological and scientifically measurable basis (though the experiment's results were not duplicated and confirmed by peers until 1966). Subsequent experiments in the 1970s and 80s on the contraceptive powers of plants found that female rats fed pomegranates and paired with male rats who were not fed pomegranates experienced a 72 percent drop in fertility. In guinea pigs, the drop was 100 percent. The seeds, roots, and whole plant had no effect; the estrogenic compound was in the fruit—specifically, the skin around the seed and the rind. After 40 days off the pomegranate diet, the rodents' fertility returned.
Spring arrives with death still on her.
It hurts to be born.
–Emily Kendal Frey, from Sorrow Arrow
Frühjahrsmüdigkeit: the German word for an emotional state that sometimes translates as "spring fever" but is better translated as "spring fatigue," a mood disturbance that people like me say occurs when spring does that thing it does with Neruda's cherry trees. Früh (early) jahrs (year) müdig (tired) keit (ness). "Quiero hacer contigo / lo que la primavera hace con los cerezos." A split and froth of blossoms that makes me feel like breaking open, too.
After four years of standing on a low bridge to worship the Spokane River's spring run, I understand that I crave its green crash not because I want to jump but because spring is violent, resurrection is violent, being born is violent. Spring makes me want to be the river, a stream of particles flowing to the sea with no identity or personality, belonging to everyone and no one, being everything, just matter mixed with matter, cutting a bed from basalt while flushing heavy metals to the sea. People do jump, they do die, and it is awful. No one survives the biggest drop, the lower falls in the middle of the city that even salmon couldn't climb back when salmon ran like a river within this river, before the completion of the Grand Coulee Dam, which, in 1939, after tens of thousands of hundred thousands of millions of years swimming home, blocked them from their downtown spawning grounds. If you live in Spokane today, you do not know a river of fish, but you do know the peculiar crawl of a particular kind of traffic jam, that standstill that means someone jumped.
The difference between craving death and craving transcendence—Persephone doesn't always know it, either. It takes her a little time to come back to life.
By fall, she misses her husband.
In some retellings, Zeus instructs Persephone not to eat while she's in the underworld. By the time Hermes retrieves her, she's starving. Hades offers her his pomegranate.
In Rachel Zucker's Eating in the Underworld, Persephone leaves Demeter by choice,
Away from where the
body of my mother is
everywhere,
a journey that mimics the mature (but still painful) detachment of daughter from mother, who, because her mother is everywhere, must go to Hades—both a god and a place—to get free.
Only a mother could manufacture such a story:
the earth opened and pulled [me] down.
In this version of the myth, pomegranates represent the persistence of life, but they also create the marriage bind that demotes the primacy of mother-daughter relationships and interrupts fertility. Winter, in this story, is watching your daughter grow up into someone you can't understand. It's escaping your mother so you can know yourself without the crush of her fertility and love.
Winter is also rest. Demeter mourns and refuses to work. With fertility paused, a farmer can rest from the frenzy of planting, tending, harvesting, selling, preserving, and storing before planting again.
Remember, when you see me,
Persephone says,
I am inside who I was.
The earth where we raise our crops is the dirt where we bury our bodies. Pomegranates represent this same contradiction, this complete cycle: life and death and life again, returning new, returning transformed.
__________________________________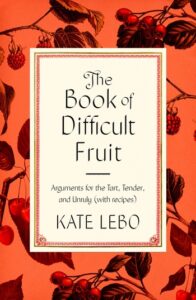 From The Book of Difficult Fruit by Kate Lebo. Used with the permission of Farrar, Straus and Giroux.
---