A Mysterious Canoe, a Flip Phone, and a Lot of Unanswered Questions
Ben McGrath on Tells the Tale of an American Odyssey
A streak of red on the shore: whatever it was, it hadn't been there on Thursday, the last time Barry Lowry went fishing for stripers. It was Saturday morning now, the end of a stormy late-November week in 2014. Lowry, a North Carolina soybean farmer, and his six-year-old son, Brayden, had just reached planing speed when they noticed the unfamiliar object. Lowry idled his engine, raised a pair of binoculars—"Oh, crap!" he muttered—and then lowered them. Trying not to alarm Brayden, he reached for his CB and radioed Grover Sanders, a fellow farmer who'd been out hunting ducks since dawn. Sanders had thirty years on Lowry, and an untrimmed white beard that conveyed authority.
"Can you come down here for a second?" Lowry asked.
"Boy, what are you doing?" Sanders said. This wasn't the first time Lowry had sought his help on the water.
"I see something by the stumps that looks like a boat, and I'm not going over there by myself."
"Oh, Lord."
Sanders recommended, instead, that the Lowrys retreat and join him in his skiff for a group inspection.
The stumps were cypress knees that perforate the northern shore of Albemarle Sound, giving the water the color of tea. Sanders had been out that way—just east of the mouth of Big Flatty Creek—the previous evening, at dusk, and saw nothing amiss. "So it come up during the night," he said.
Relief—there was no trace of a body—gave way to confusion.
Approaching slowly, they could see now that the red object was an overturned canoe. Sanders eyed the scene warily from a semicircular perimeter for fifteen minutes, while trying to steer clear of the stumps, a couple of which had snagged the errant boat. Ropes pulsed beneath it. They formed a kind of loose cage, trapping bags—or, as Sanders soon discovered, bags within bags within knotted bags, containing enough air that they amounted to a flotation device. Fearing what else might turn up when they righted the canoe, the two men ordered Brayden into the skiff's stern. Then Sanders unsheathed a knife and began to saw at the ropes.
Relief—there was no trace of a body—gave way to confusion. A paddle was secured lengthwise, along the canoe's starboard gunwale, so tight that it would seem not to have been in recent use. A spare? They scanned the nearby coast, fronting a thousand or more acres of swampy cypress and gum forest. Nothing. Behind them, to the south, lay a full horizon of sloshing, brackish water. Sanders called his friend Randy Cartwright, the Pasquotank County sheriff, on his cell phone.
They dragged the canoe, which was made of plastic, up onto the skiff, over the bow, along with as many of the bags as they could fit, and headed inland, via a narrow canal, passing the rickety docks and large oyster middens of a shellfishing operation called Frog Island. A sheriff's deputy and two officers of the North Carolina Wildlife Resources Commission, John Beardsley and Chase Vaughan, met them there and began combing through the effects, looking for clues.
No one had been reported missing in Pasquotank or its neighboring counties. The sheer quantity of maps and other gear packed into the canoe suggested a long voyage. So did a collection of sodden newspapers from towns nowhere close. The Poughkeepsie Journal. The Times of Trenton. They were dealing with a worldly voyager, from the looks of things: here was an interview with the economist Paul Krugman, clipped and saved from Princeton Magazine; and there was an issue of The New Yorker from a dozen weeks back. One of the maps—a bicycle map, of Plattsburgh, New York—had some handwriting in the margins. The deputy studied it closely.
A businessman goes down to the river with a bottle of pills and liquor, intent on suicide. He gets nice and comfortable on a blanket when the landowner arrives carrying a shotgun. "What are you doing on my land?" "Suicide. Say, may I borrow your gun? It'd be quicker than pills." "Sure, here." So the businessman shot the farmer, thought twice about it, and kept the gun.
But there were no weapons in evidence. Recovered artifacts included seventeen toothbrushes, fourteen Chapsticks, six cigarette lighters, a sewing kit, a socket, a digital camera, three Louis L'Amour novels, a mud-caked Samsung flip phone, two thumb drives, eleven pens, a deck of playing cards, a marine radio, a four-foot extension cord, two CVS key fobs, John Paul Jones: A Sailor's Biography. A Dell laptop case contained no laptop. When the contents had been inventoried and hung out to dry in a storage shed, using the severed ropes as makeshift clotheslines, they occupied two full trailer bays.
Packing it all into a fourteen-foot canoe came to seem like an engineering marvel, as remarkable in its way as the vessel's unheralded arrival in such remote country. The phone, when it was finally charged and turned on, flashed a message indicating an account balance of $0.00. The last incoming call, from a number in Bozeman, Montana, was logged on September 20, 2011, more than three years earlier. The last outgoing call, to Livingston, Montana, was November 24, 2011.
Receipts and other assorted documents bore notes and inscriptions, written in blue and black ink:
"If you allow poverty to hold you back, it means you have neither imagination nor will."
"Idea—SciFi: USB port from human nervous system directly into Internet."
"I have been denied what our men are supposed to do. So I do what I want, which is to navigate."
"I'm not good @ everything. I'm good @ long-distance canoe." Some of the receipts had been traced over with a ballpoint pen, as if to preserve the information from the fading effects of time and sunlight. Not just the essential numbers but "Expect More Pay Less" and "Your associate today is: Samantha."
*
Recreational boating accidents in North Carolina fall under the jurisdiction of the Wildlife Resources Commission, and Officer Beardsley, a thirty-year-old army veteran, assumed control of the investigation at Frog Island. He was immediately struck by the quality of the two sleeping bags they found. Beardsley had used similar equipment while camping for weeks in the mountainous region near Afghanistan's border with Pakistan. He remembered waking up comfortably with ice in his zipper. This canoeist, he felt, was amply prepared for winter.
Amid the papers arrayed in front of him on the dock, a handwritten phone number caught his attention. Not a local number; it appeared to be in New York. There was a name written above it. It was a start, at least—a shot in the dark.
__________________________________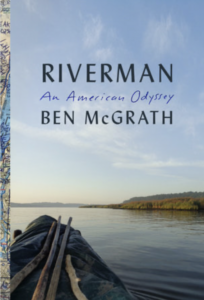 Excerpted from Riverman by Ben McGrath. Copyright © 2022 by Ben McGrath. Excerpted by permission of Knopf. All rights reserved. No part of this excerpt may be reproduced or reprinted without permission in writing from the publisher.
---